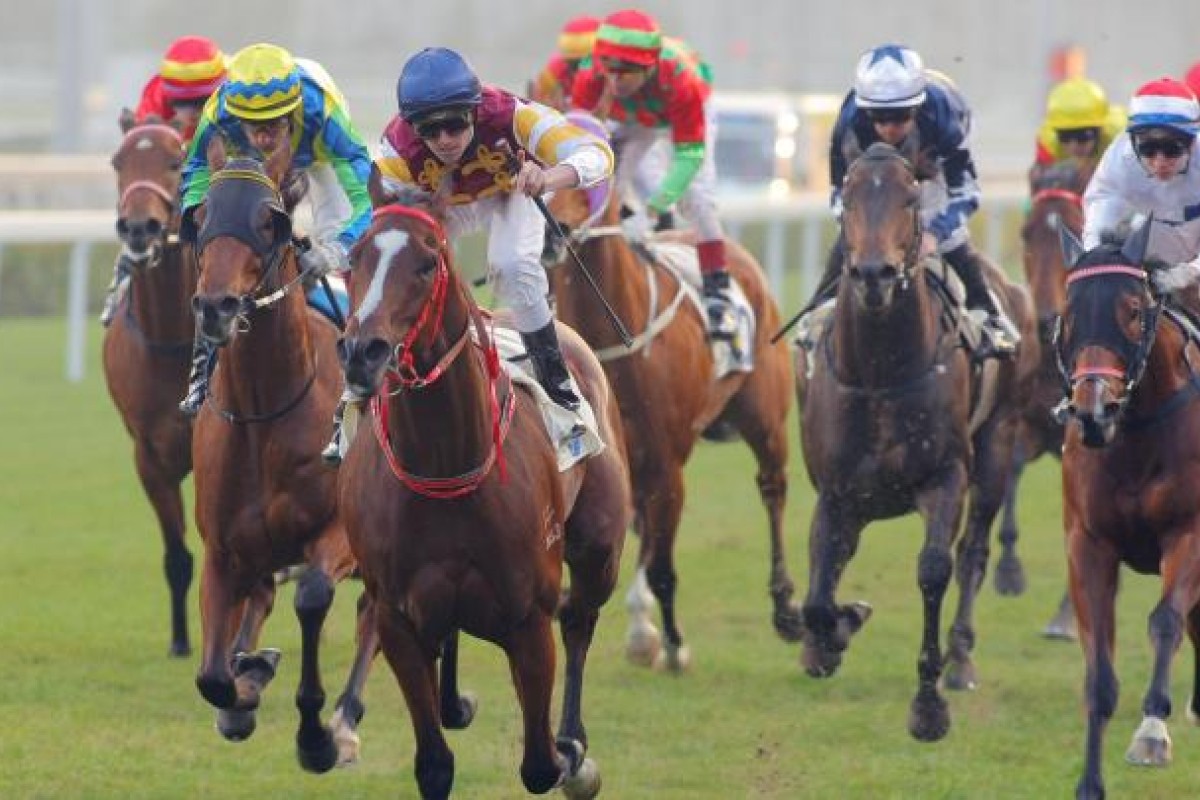 It took three days of bad moods and hunger but Tye Angland and Go Baby Go lowered the colours of boom three-year-old sprinter Amber Sky in the Victoria Racing Club Trophy (1000m) yesterday.
For the second time in his six starts, Amber Sky was beaten as a red-hot odds-on favourite, this time finishing out of the placings but trainer Ricky Yiu Poon-fai's disappointment was tempered by the vet report that revealed "a substantial amount of blood" in the young horse's trachea at post-race inspection.
"He wasn't himself - the blood and mucus was probably irritating him. We're all very disappointed," said Yiu.
But for winning jockey Angland and trainer Dennis Yip Chor-hong, there was plenty of serious effort that went into getting Go Baby Go back in winning form under 120 pounds.
"That's as light as I ever ride and it takes me three days to get there," said Angland after landing the Class Two trophy. "It's really hard work and I get very difficult and moody when I'm doing it, so my wife Erin is on the wrong end of things for a few days, so it's a relief when it pays off."
Like the favourite, Amber Sky, Go Baby Go had an imposing record of four wins from five starts up the straight course but was before Yip had to give the gelding six months on the bench with injury issues last year.
Since his return, Yip had tried Go Baby Go at Happy Valley, and in blinkers, none of which worked out, but he was a different horse back to his preferred course.
"His form early in the season had been below expectations, so I decided to take everything off his head, the blinkers and the hood, and bring him back to where he had gone well before," said Yip, who had a double after Das Auto scored earlier.
Amber Sky has previously won his races by burning off any opposition in the early and middle stages of his races - much the same way Go Baby Go had won his way through his classes - but Angland said the plan was to be aggressive and stay in touch on Go Baby Go if he had the speed to do that.
"His style is to go for the lead anyway but we've seen Amber Sky could be beaten earlier this season if you can get there and press him early - it wasn't easy to get forward from my middle gate, there were a few others trying to push up early and my bloke had to work to get across next to the favourite and he was probably closer than I even expected," Angland said.
"When I went for him, he got to Amber Sky pretty easily so I played with him for a few strides, then went for him and kicked clear. When he hit the lead and he could see the outside rail, he wanted to get out to it so I had to keep him straight and couldn't really get at him fully. He's a pretty handy horse."
He held off the finish of Straight Gold comfortably by a length, with the John Moore-trained sprinter just heading off Rich Tapestry - the best-backed runner against the favourite at his first attempt up the straight course - for the runner-up spot.
The disappointment of Amber Sky's defeat didn't end there for Matthew Chadwick, either, with the rider copping a two-day ban and HK$40,000 fine for a careless-riding charge on the youngster.