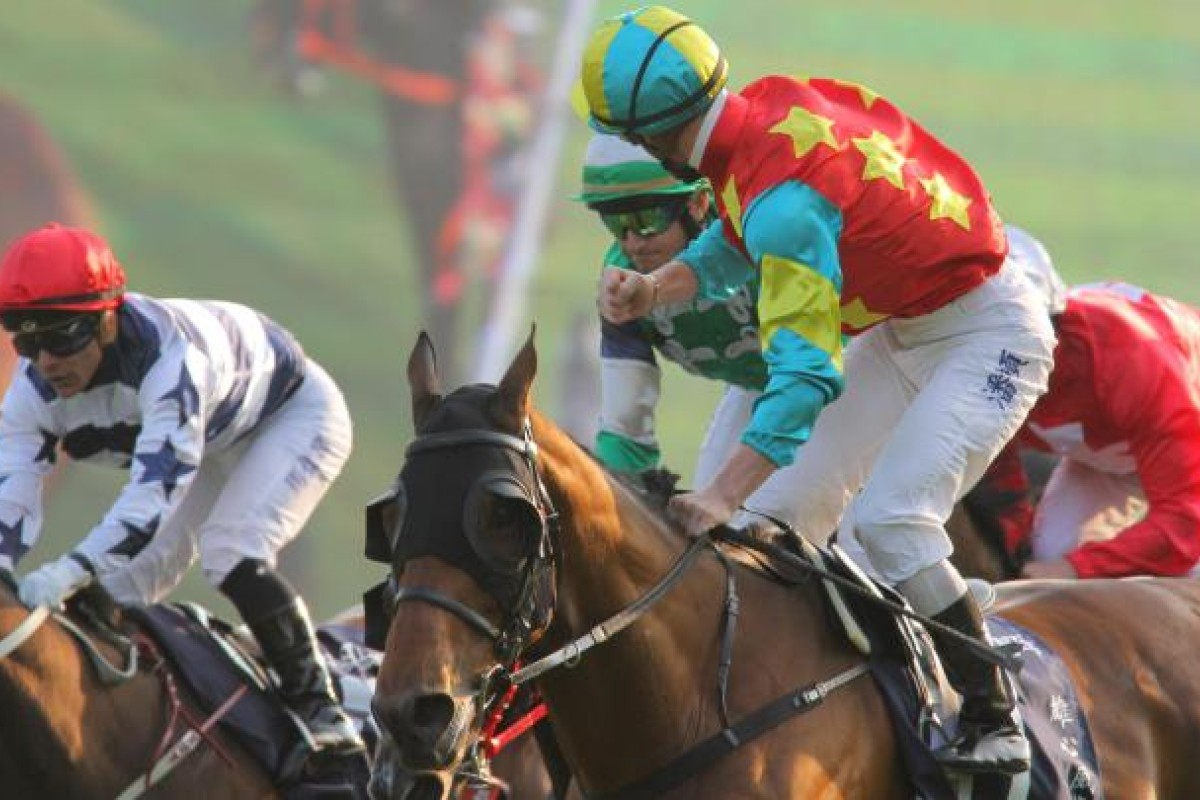 You know you've made it when you've got a proper nickname.
Zac Purton has been tagged the "Whyte Pointer" by colleague Michael Cox after the colourful post-race high jinks this season, as he simultaneously becomes a legitimate contender to unseat the Durban Demon after his 12 straight championships.
But let us play the old, wise Yoda here. Seen this all before, we have.
During those 12 title wins, at this still-not-yet-halfway stage of the season, we've seen Douglas Whyte engaged with other serious contenders, like Robbie Fradd, Shane Dye, Felix Coetzee and most notably, Brett Prebble.
Whyte had actually ridden here for some years - though at least one stint was just part-season - before he won a championship at all.
Basil Marcus saw him off three times, including one epic battle that saw the pair ride 187 of the 614 races in that season, and Fradd was reigning champion when Whyte overturned him to take his first title in 2001 - the final margin of 26 wins doesn't reveal that it was still a race until March.
There are those who say Whyte won't win now because he is not the rider he was, or he is not hungry, or carrying an injury, others still who are just pulling his tail for no better reason than he has won it for so long.
But there's a danger in making any of these calls, or wishes, so far out.
Was anyone ever home and hosed quite like Brett Prebble three years ago when he appeared to have ended the matter with that historic six-timer at Happy Valley? Prebble already had the lead and extended it to nine wins, with only 59 races left in the season.
Whyte, as he does, found a way to win, with a five, a treble and a four at the next three fixtures while the Australian was out of bullets. It was an extremely unlikely victory but seemed as logical as gravity after the fact, because it was Whyte.
That's not to say Purton The Pointer can't do it. What will make that happen in this closed environment will be not the cockiness of an outstretched finger or even the steely faced assurance of a long and powerful reign but politics.
Much is made of John Size's role in Whyte's continued dominance; if Whyte were a country's dictator, the reigning champion trainer would be the powerful military behind him.
If a jockey's main provider has a good year, then the jockey will too. When Coetzee briefly threatened Whyte in 2004-05, it was the year his main partner, Tony Cruz, broke all the records in winning 91 races.
And the first time Prebble gave Whyte a battle, 2006-07, was notable for being Size's worst season, finishing ninth with 32 wins.
So much of Whyte's ammunition - Size has provided Whyte with 43 per cent of his mounts this season, just over the approved 40 per cent policy - comes from the Size yard, which is geared towards collecting the Class Three and Four races that win championships.
Of Size's 719 career wins in Hong Kong, 477 of them have been in that bread-and-butter bracket, and that kind of supply gives Whyte the advantages.
The percentage of wins supplied to Whyte by Size in the last five seasons has been 35, 38, 54, 45 and 44, and, win or lose in the training championship, he is important to the South African.
Purton has to keep riding as well as he is now, especially through the next three months to negate the Size factor.
A graph of Size's in-season averages in the past six seasons looks like a shallow umbrella.
September is usually slow, his final weeks are often slow, and the peak is from November to the end of March, averaging about seven wins a month as his main weapon, the PPG, comes on line, wins his two or three races then reaches a mark.
Yet, in part that presumed over-reliance on Size is historically unfair to Whyte, too.
Size was not here for Whyte's first title win and the trainer was batting for the other side in his first three championship-winning seasons at Sha Tin.
Back then, Size was supplying Shane Dye - and in percentages almost double that 43 per cent - yet Whyte won each of his titles by a minimum of 13 victories from Dye.
In 2003-04, Whyte rode 106 winners with a margin of 37 over Dye, even though Size won the championship and Whyte didn't even have one particular supplier of winners.
But he did have Dennis Yip Chor-hong, and, while Yip is always just outside the circle of four contenders for his own championship, he looks an unheralded but pivotal factor in the race for the jockeys' title.
Since his debut in 2002-03, Yip has averaged better than 40 wins a season, behind the likes of Size, John Moore, Caspar Fownes and Tony Cruz but enough to see him hovering close behind and beating one or two of them home in individual seasons. Crucially, Yip wins a higher percentage of his races in Class Three or lower than any of the other leading yards - more than 86 per cent.
Whyte was a regular on Yip's runners until 2008-09, when a falling-out between them saw the jockey without a ride from the yard for 16 months and only 12 over two full terms. Prebble stepped in, his mounts for Yip rising by 500 per cent with a double-figures strike rate. The shift in allegiance was vital in that epic 2009-10 battle. In 2010-11, their relationship fadedand Whyte was back in the picture winning 15 of 82 rides; he won 10 races for Yip last season at close to 25 per cent.
In his first four Hong Kong seasons, Zac Purton had just four rides for Yip without a win and it was his proactive pursuit of the trainer in 2011-12 which could prove the swing factor.
Purton won 11 of 58 rides for Yip but, more importantly judging by comments from the trainer, he was available to be the stable's regular partner, which Whyte was not.
As a result, Purton has won eight of his 32 rides for Yip this term and gets on the best chances for the stable.
Even if the Whyte Pointer does pick up all of the Durban Demon's last-season wins for Yip, a 20-win turnaround isn't enough to win it, but it can put him in range and momentum can be an unpredictable phenomenon at that point.