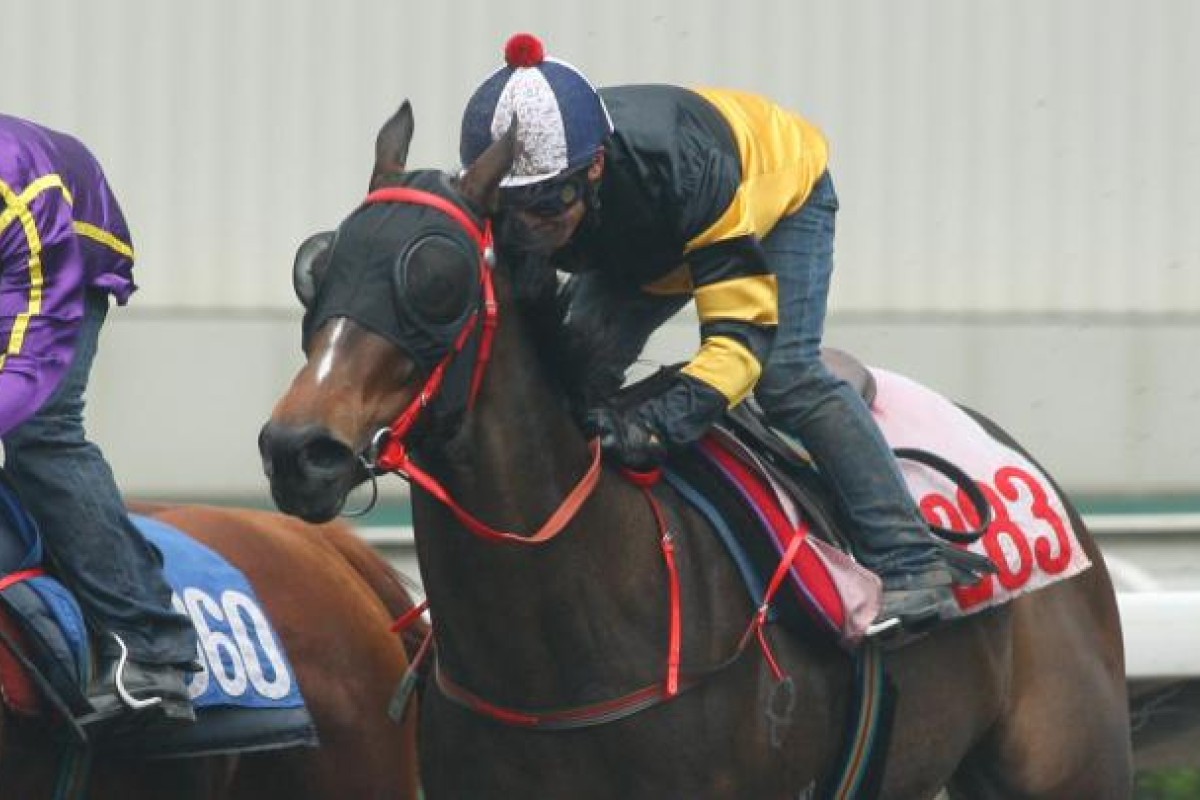 Second-up after a meritorious effort and dropping from the worst barrier to the best, the John Size-trained Keep-A-Pin can break his maiden and looms as a solid banker in the final leg of the Triple Trio at Sha Tin on Sunday.
From barrier 14 last start over the same course and distance (1,400m) he contests tomorrow, Keep-A-Pin was trapped three wide the trip, much of it without cover. He also critically gave race winner Why Not a trail into the race.
Despite the extra energy expelled during his wide run, Keep-A-Pin produced a turn of foot at and surged to the front with around 300m to go. Whether it was the toll the torrid run took on him, or just greenness and inexperience, Keep-A-Pin seemed to stop on his run once he saw clear ground in front of him, sticking with the first and second horses as they hit the line, as he was beaten just half-a-length.
Keep-A-Pin can compensate for a lack of apparent speed in the contest with some gate speed of his own he has shown some toe in barrier trials previously, so Douglas Whyte can take as close a order as required.
Also include Demon Demon (Howard Cheng Yue-tin), Good Hong Kong (Olivier Doleuze), Supreme Genki (Gerald Mosse) and Perfect Hedge (Umberto Rispoli).
The TT carries just under $2 million in carryover, but also has an opening leg that has another jackpot written all over it - a Class Four on the dirt over the extended mile.
At least Chater D'Cat (Whyte) provides what looks like a decent enough banker to lead off with.
There could be a mad dash to the first turn here, with go-forward types Healthy Blueberry and Real Dragon drawn out wide. Best placed to not get caught up in the battle, but still be handy enough to strike if the track plays to the leaders, are Hinyuen Paladin (Terry Wong Chi-wai) and Suisse D'Or (Doleuze) - drawn one and two respectively. Both have speed, but don't have to lead. Seven unplaced runs on the surface are a bit of concern for Hinyuen Paladin, but he is racing in excellent form, and in many of those runs, he struck terrible draws. Suisse D'Or saves his best for the track, and fourth run in, he will be right there in the run and is a genuine place hope.
Fulgurite (Rispoli) is next to be considered from gate four and his form has been consistent and, despite being first time on the track, he deserves consideration.
The middle pin is a Class Four over 1,400m, with Dennis Yip Chor-hong's All You Wish (Whyte) to appreciate the added 200m.
The three-year-old easily dispatched a restricted field early last month over 1,200, and he is likely to start high in the market again, despite barrier 12. It's a weak enough race to say that he could overcome the draw, and he is a possible banker. Throw in Electronic Fortune (Tye Angland), with Manfred Man Ka-leung going to the blinkers, Sunny Pearl (Mosse) - also with shades on for the first time - and Ambassadorship (Vincent Ho Chak-yiu).
TRACK STARS
RACE 1: (1) Solar Boy, (2) Happy Friends, (3) Happy Kaiser, (10) Plot Ratio.
RACE 2: (1) Call Me Achiever, (6) Time Winner, (11) Good Smile, (12) Gracytom.
RACE 3: (1) Ultimate Winners, (3) My Goal, (4) Slick Bullet, (12) Sunshine Kid.
RACE 4: (1) Healthy Blueberry, (5) Chater D'cat, (11) Gold Fortune, (14) Prince Of Sunshine.
RACE 5: (1) All You Wish, (5) Sunny Pearl, (13) Five Stars Hotel, (14) General Danroad.
RACE 6:(4) Good Hong Kong, (8) Perfect Hedge, (9) Keep-A-Pin, (11) Perfect Joy.
RACE 7: (2) Windicator Star, (8) Dynamic Voyage, (11) Eastern Promise.
RACE 8: (4) Classic Jewellery, (7) Champagne Days, (8) Racing Hero, (11) Happy Cha Cha.
RACE 9: (2) Flagship Shine, (9) Smiling Watch, (11) Ho In One, (14) Lucky Omens.
RACE 10: (2) Fulfil A Wish, (3) New Vision, (7) Cosmic Boom, (9) Akeed Mofeed.
Read Michael Cox's blog – A Class Five world Cup and other ideas for rejuvenating Hong Kong racing. Go to: http://www.scmp.com/author/michael-cox-0