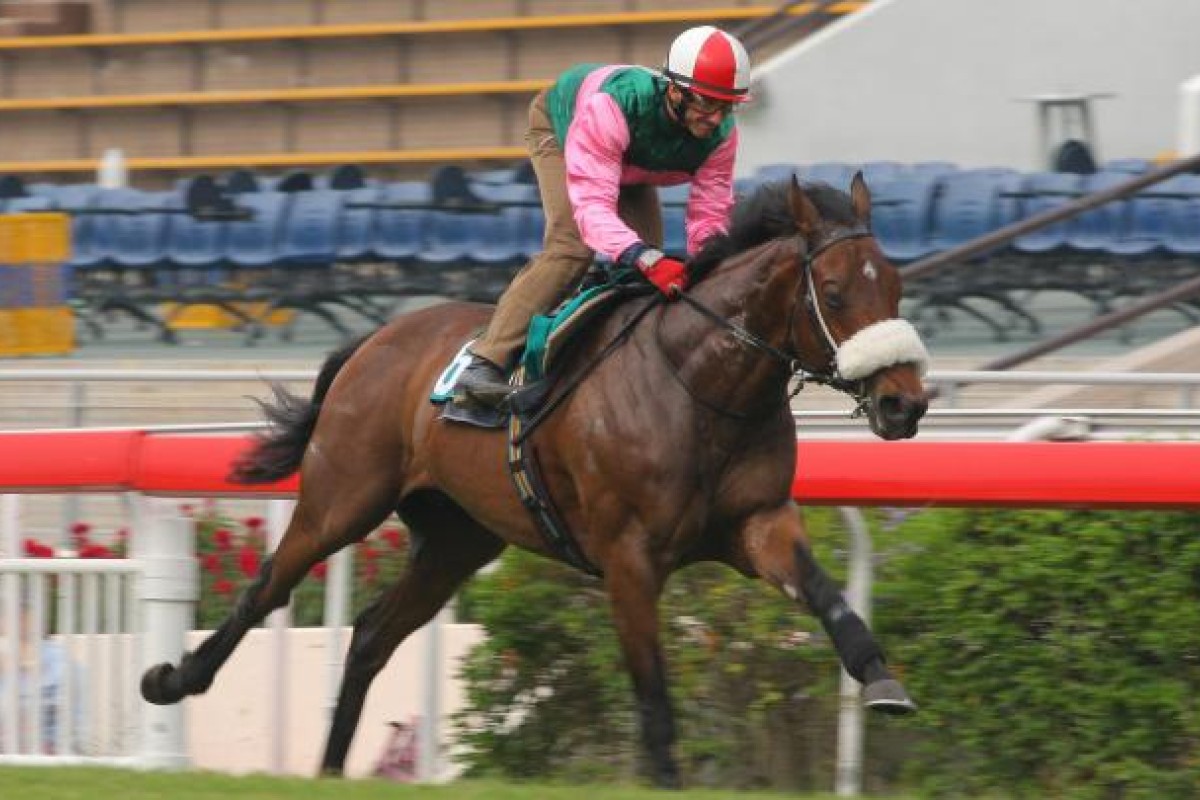 Class Four handicaps can either be a collision course for horses headed higher in the grades or bereft of both quality and depth - and a tough second leg of Sunday's Triple Trio at Sha Tin sits firmly in the latter category.
The middle pin sees two progressive-looking last-start winners clash, but it is a Richard Gibson-trained four-year-old coming out of a solid form race that can swoop on them both.
Sunday's TT will be boosted by a HK$7.2 million jackpot, and Glacier Blue is a decent banker after two excellent lead-up runs over 1,200m and 1,400m.
Divine Diya (Tye Angland) and Luffy (Umberto Rispoli) scored similar-looking, sit-and-sprint victories last time out, where they box-seated and then won with something in hand, and both jump from their 52 ratings to near the top of the weights. Divine Diya copped six points and Luffy five and the pair is again favoured by low draws.
Even though they look to get soft runs, and the progression of Divine Diya from 1,000m to 1,200m, and now 1,400m looks ideal - Glacier Blue (Olivier Doleuze) could just be a step above his rivals in class.
Gibson has brought the Australian-bred through two starts over 1,200m and then this course and distance last time out.
Glacier Blue's closing sectionals were impressive enough on their own as he unwound with a long run from the tail of the field and came up just a short head of winning. But what franked the quality of the performance were the subsequent efforts of the horses finishing around him.
The winner of that race, Why Not stepped out over 1,600m last weekend and won even more impressively, while third-placed Keep-A-Pin also won his next start with something spare. Even the fourth-placed Thanksgiving has won since.
Other dangers in a race that should be run at a solid tempo are Sight Lover (Douglas Whyte), who can be given another chance, and Rocket Proud (Alvin Ng Ka-chun).
The 2,000m first leg comes under another category of Class Four altogether, one where every horse is reasonably exposed and the field have seen plenty of each other previously.
One horse open to improvement and coming off a flashing last-start second is The Fast Lane (Doleuze), with trainer Peter Ho Leung stepping him up to the trip for the first time.
Barrier 12 isn't great, but the way he got to the line last start over a mile gave the indication he is crying out for this distance.
Also throw in Jade Pins (Derek Leung Ka-chun), Super Strike (Angland) and give All Bountiful (Whyte) one more chance.
The final leg is a Class One - ratings 110-90 - over 1,400m, a distance where this even field is hard to split.
Perhaps barrier one gives Penglai Xianzi (Matthew Chadwick) an edge. He was stuck three deep last start, but from this draw, he can be handy in a pressure race. Green Eagle (Weichong Marwing) is the new horse on the scene - he has a seasonal record of three from six, with two seconds and hasn't finished worse than fourth. Trouble here, for a horse that likes to sit handy, is drawing 12.
Fat Choy Oohlala (Gerald Mosse) is probably better over a mile these days, but remains a threat, especially from gate two. Also consider Chater Way (Tom Queally), Let Me Handle It (Zac Purton) and Rich Tapestry (Doleuze) - horses that could all start long odds because of the field's depth.
---
Track Stars
RACE 1:
(2) Nicku, (3) Ferrabosco, (12) Gorgeous Ruler, (14) Sammy's Fortune.
RACE 2:
(3) All Times Lucky, (7) Little Men, (8) Touch Well, (12) General Danroad.
RACE 3:
(2) Jun Dao, (5) Beauty Sparkle, (7) Oriental Prosper, (8) Secret Sham.
RACE 4:
(1) Super Strike, (4) The Only Kid, (7) All Bountiful, (9) Jade Pins.
RACE 5:
(1) Supreme Winner, (2) Divine Diya, (5) Bet On Me, (6) Glacier Blue.
RACE 6:
(1) Supreme Win, (2) Fulfil A Wish, (9) Fat Choy Oohlala, (10) Let Me Handle It.
RACE 7:
(4) Agiaal, (6) Jolly Victor, (8) Beauty Mission, (10) Winning Instinct.
RACE 8:
(2) Joy And Fun, (3) Eagle Regiment, (8) Frederick Engels, (11) Vital Flyer.
RACE 9:
(1) Deep Thinker, (4) Racing Reward, (6) Metallic Star, (9) Rewarding Hero.
RACE 10:
(1) Straight Gold, (2) Happy Index, (3) Horse Galore, (8) Solar Great.
Read Michael Cox's blog - Handfuls, head cases and a horse named Fat Choy Oohlala - parade ring analysis is more than skin deep. Go to: http://www.scmp.com/author/michael-cox-0