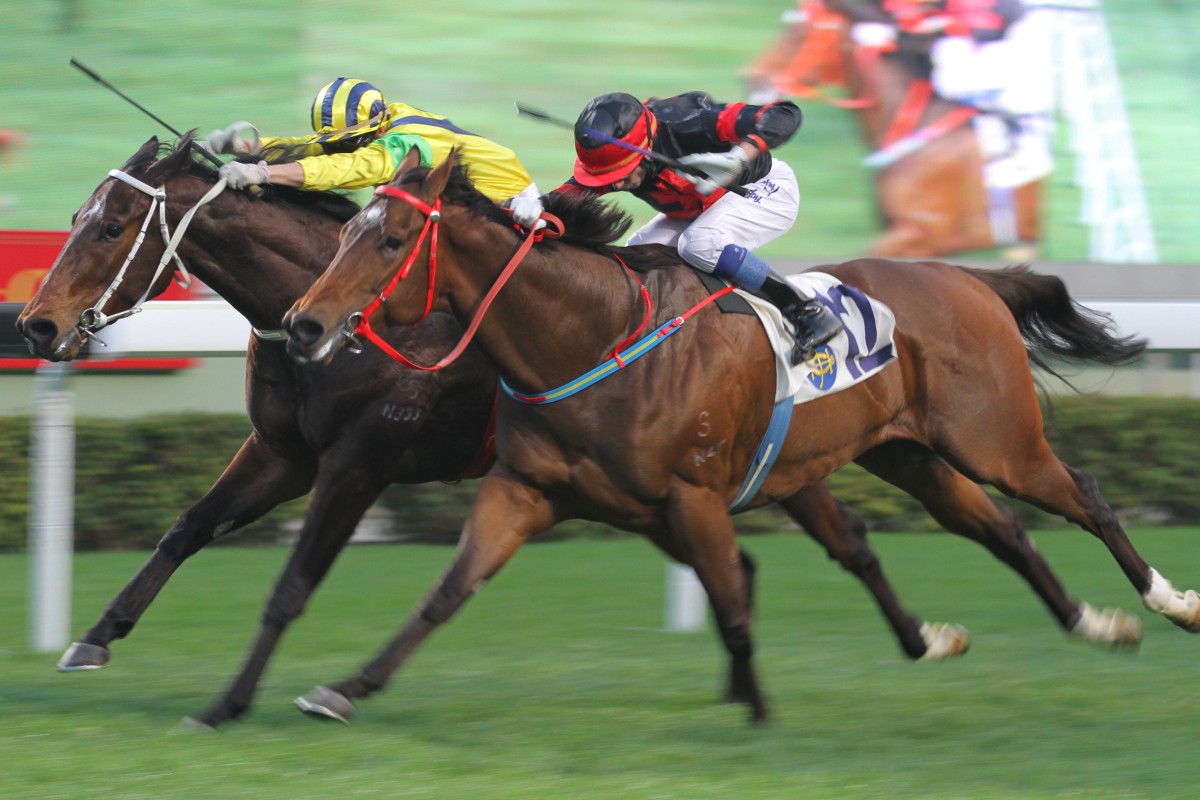 Sha Tin's capacity is 86,000 so how did the Hong Kong Jockey Club come up with a crowd figure of nearly 112,000 at the bumper Chinese New Year race day? Believe it or not, a free ornamental brooch may have had something to do with it.
It certainly looked and sounded like every bit of 111,000 on Tuesday as punt-drunk fans packed the public grandstand to welcome the Year of the Snake. At one stage it seemed like the gates would need to be shut.
But 111,909 is the number how many times the turnstiles clicked – yet apparently not how many people were crammed into the course at anyone time. As it turned out, more than HK$1.5 billion in bets wasn't the only thing turned over at the track, as the constant coming and going of fans inflated attendance figures.
Chinese punters love free merchandise and a delightful little horse brooch – based on Xu Beihong's masterpiece Ben Ma Tu (galloping horse) – given to every person through the gates was the reason for at least a few re-entries, along with an extra chance in the lucky number draw.
A strategic exit and re-entry is just another chance to have a bet. The defeat of yet another odds-on favourite, Little Men, would have sent plenty scurrying for the exits too, but they were quickly replaced by a few more trainloads of eager fans.
One of the fascinating aspects of total attendance figures is the amount of fans that flock to Happy Valley to watch the Sha Tin meeting on the big screens. Nearly 7,000 punters at the city track bolstered the total attendance up to nearly 119,000. In the 1990s, crowds of more than 10,000 were the norm at Happy Valley for big day-time Sha Tin fixtures.
Douglas Whyte may have felt the wrath of the masses after Little Men got strung up in traffic, but if the champion didn't have thick skin before, he is certainly developing an even tougher epidermis this season and still rode two winners on the day.
Tuesday's meeting was number 42 of 83, so we're on the downward slope from here. The biggest storyline of the first half of the term has been the Whyte versus Zac Purton rivalry and it will continue to provide more twists and turns.
Purton has his early season wish to be within striking distance of Whyte in February – in fact, he still leads by two (45-43). But it does look like a case of man versus machine as Purton wills his way to every win, riding on emotion and stretching every sinew to snatch narrow victories.
Purton is at the peak of his powers and has the confidence to match, but there's an emotional price to pay for the sort of heart-on-sleeve efforts he has produced this term. You get the sense it may have taken everything he has got just to lead at half-time. All the while, the even-tempered Whyte does what he has done for the past 12 seasons; ride consistently and bang home winners with monotonous regularity.
A second win to Sea Dragon – the prototypical John Size-trained "progressive type" – a maiden win to Size's Sight Lover and even the strong run-on performance of yet another stablemate, Little Men, were ominous signs for Purton.
There's bound to be a comedown after Tuesday's sensory overload, but the Whyte-Purton rivalry and a steady stream of good races – starting with a feature race double this weekend – should keep things interesting in the next few months.