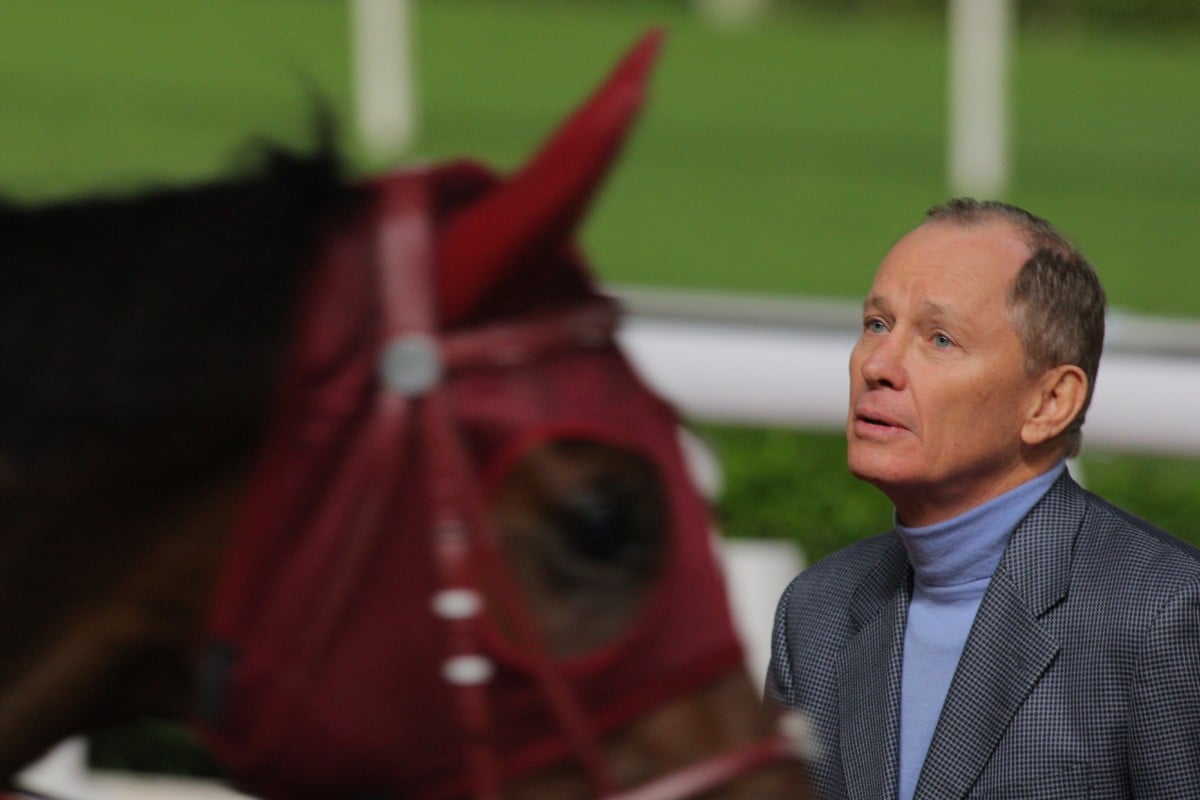 With John Moore providing more than half of the field for Sunday's Hong Kong Gold Cup and an inordinate amount of runners in recent feature races, maybe it's time to cut to the chase and hold a race in his honour. And we don't just mean a race named after Moore, we're talking about a restricted race exclusively for his horses – it's only a matter of time anyway.
The John Moore Class One Cup would be one of the most fascinating fixtures on the calendar. Let's make it a set-weights event over the distance of Moore's choosing, giving him the option of stretching his sprinters that bit further or providing an opportunity for his distance stars. It is his race, after all.
There'd still be no pace in the race, whatever the trip, but even Moore couldn't possibly complain about the way these races are run . . . or could he? He is a horse trainer.
There would be plenty of horses to choose from if you included Moore's Class Two candidates – 36 of the trainer's 53 horses with ratings are handicapped above 80. More than half of his string is rated above 90 – so no wonder we get races where Moore needs a computer to keep track of who is riding his horses. He doesn't have any choice but to run them against one another.
Of course, if there was a John Moore Class One Cup on the calendar – with a custom-made golden safari suit awarded to the winning trainer – the support card would have to include the Andy Leung Ting-wah Class Five Handicap.
Leung has enough runners for a good race too – and we use the word "good" liberally. Eleven of the 29 horses on his books are rated 40 or below and languishing in the cellar grade. And it would only take a couple of starts being outpaced up the straight for 41-rated stayer Danesouth to be dropped in class, making for a full field of 12.
This group of miscreants would create a betting contest not for the faint-hearted and could cause a meltdown on the famed Singapore betting exchanges. Suspicious punters would be jumping out of trees to "lay" some of the skunks strutting their stuff on the all-weather track (this race is just perfect for the circuit colleague Alan Aitken has taken to calling the AW(ful)T).
Hong Kong racing is a contest between the haves and have-nots. At the top level, the big four stables of Moore, John Size, Tony Cruz and Caspar Fownes hold sway and provide the numbers in the big money events. But the influence Moore has on the Group One races is incredible.
Of the locally trained runners – that is, taking away international visitors – 31 of the 87 horses in the nine Group One events this season have been Moore's – more than one in three. Extend the net to all runners in Group races – overseas visitors included – and Moore has supplied 76 of the 242 runners; again more than 30 per cent. But a glut of top-end talent doesn't always add up to success; this season those 76 runners have garnered just three victories at Group level and he is yet to win a Group One. The weight of numbers will invariably turn that poor record around though, and while Moore may not challenge for the Championship every season, he tops the prize-money tally year-in, year-out.
The Jockeys' Championship is far more skewed towards the pointy end than the trainers' title. Once Douglas Whyte, Zac Purton, Brett Prebble and Matthew Chadwick have their fill, there are only leftovers.
But in terms of overall wins, there is reasonable parity among trainers. Everyone has their niche, even Andy, but in recent big races there's been a stunning lack of diversity.
Moore and Tony Cruz provide nine of the 11 runners in Sunday's Group One. If all 11 declared runners start, then in the four open-age Group Ones since international day a trainer named either Moore, Cruz or Size has saddled up 40 of the 48 runners (OK, we used Tony Cruz's brother, Derek, to bump up the figures, but it's still not leaving much for the others).
While on hypotheticals and John Moore Class One Cups, with Andy Leung Ting-wah Class Five Handicaps as support races, what if Hong Kong racing was more like the National Basketball Association than the English Premier League, and had a draft system for new competitors?
The NBA and EPL are both wildly successful leagues, but in the NBA new players are distributed through an external draft – the least successful teams from the previous season get the best chance at the higher picks, while only a handful of cashed-up clubs can realistically compete for the league championship in the EPL.
Imagine a world where Almond Lee or Gary Ng Tik-kuen would have first dibs on the most sought-after equine talent from Europe. And just like the NBA they could trade their picks, although trading under-performing apprentices or stable jockeys as part of a package deal might be pushing the limits of human decency. A draft day deal could see Lee swap his number one selections for the next two seasons, plus Happy Yeah Yeah, to John Moore for Irian – a horse that must be driving him crazy.
Any rational human being would say no to the whole idea of a draft here because it would just be a new avenue for rorts. Imagine the "tanking" as trainers start fighting it out for that bottom spot and subsequent number one pick late in the season. There would be a few stables stuck on 13 wins, the amount required to guarantee your licence for another term.
And, of course, the mere suggestion of a draft would be a blow to some bloodstock agents and it would also end the careers of a few trainers, whose core business isn't training winners, but based around bumping up the price tag of imports and earning a secret commission.
If Hong Kong racing is the EPL, Moore is its Manchester City – a big spender with an eye for quality and he usually gets the results to match. And even in the apparently "fair" NBA, money matters, and so does good management and a "winning culture". Despite the draft and other financial limits aimed at providing parity, the same NBA teams remain perennial contenders and others stay perpetual basket cases, despite getting first crack at the new players.
Even considering the lop-sided numbers of recent Group One events, Hong Kong racing is fair enough. With the vast amount of racing being handicaps with a proper weight spread, everyone finds their level and it could even be argued that mediocrity is sometimes rewarded - as many horses end up competing at a level far below their best. But for the most part, talent and dedication shine through and top trainers will always find a way to make any system work for them.
And draft or no draft, we can always dream of a day when the best of the best fight it out in the inaugural John Moore Class One Cup.