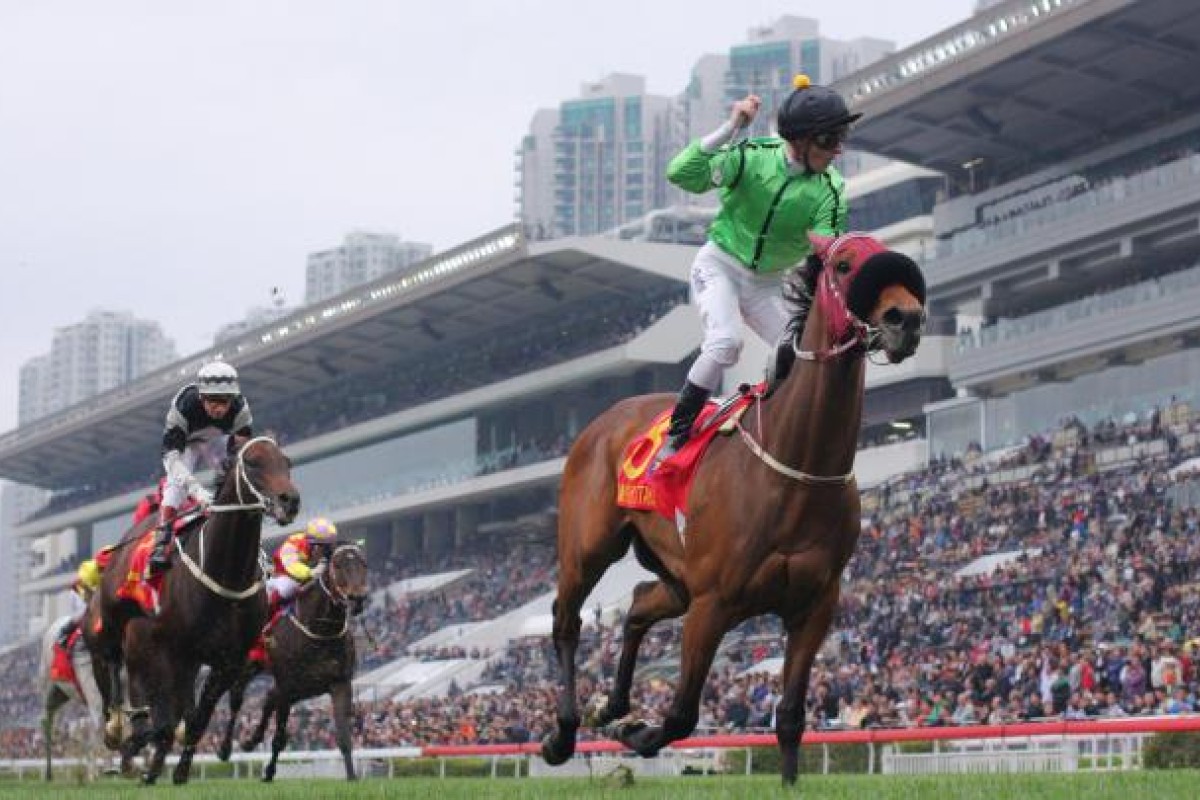 Zac Purton grabbed a rare opportunity for the John Moore yard to claim his first Citibank Hong Kong Gold Cup yesterday and break the trainer's Group One drought for the season with Military Attack.
Purton took the initiative to put Military Attack close in the slowly run affair when the gelding began brilliantly, which proved the difference as he sprinted clear to win by a space and perhaps put himself on the plane to the Dubai World Cup meeting.
"He's entered for the Dubai World Cup and for the Duty Free so we've got two chances to get an invitation," said Moore. "I think the owner is keen to run in Dubai, so we'll wait and see what happens. I'd probably prefer the Duty Free with him but, as I say, we'll see if he gets an invitation. Zac can go and ride him. And we've seen today that the horse can be ridden differently."
Purton would normally have been on Ambitious Dragon, but with the Horse of the Year missing through injury, the jockey got his first ride aboard Military Attack and put him up closer than where he customarily races before landing just his second winner for Moore in the last four years.
"My instructions were to be three back the fence but I was very surprised when he was one of the first to jump and I just let him travel and he put himself there.
"To be honest, I was thinking three back on the rail would already be close enough so I was holding on to him on the turn out of the straight and trying to make sure he didn't overdo it in the slow pace," Purton said. "But he switched off and travelled, I got a great run through and his turn of foot was explosive. It was always in the back of my mind that California Memory would probably be steaming home so I wasn't taking anything for granted and kept my bloke going right to the winning post."
But California Memory was running one of the worst races of his career, the odds-on favourite beating just one horse home before the vets reported him to be displaying an irregular heartbeat.
"I wasn't worried about where he was in running but when they picked up the pace, he had nothing," said jockey Matthew Chadwick.
"I know a few people thought he was being blocked for room but if I had the horse, he had enough room. His action seemed fine on pulling up, so I was thinking it must be something internal."
Trainer Tony Cruz wasn't so sure about the cause of the defeat but said the grey clearly wasn't right.
"Something's amiss, that's for sure. It could be the heart irregularity, which I don't really, believe or maybe his joints are hurting again," Cruz said.
"I was delighted with the run of Pure Champion for second, though. We made the priority that he got cover and Gerald Mosse had to go back to get it - I think if he'd been on military Attack's back, he'd have won. The winner has just stolen it from the front.
"But I am very happy with the run and we will look at some overseas options for this horse now."
Moore saddled up six of the 11 runners in the Gold Cup, a numerical dominance he has had in a number of Group Ones this season without winning one.
"Well, we've got that out of the way now. And we're a month off returning to our old stables after the renovations.
"Dennis Yip has been winning everything since he got back to his refurbished stables so hopefully we'll do the same," Moore said.