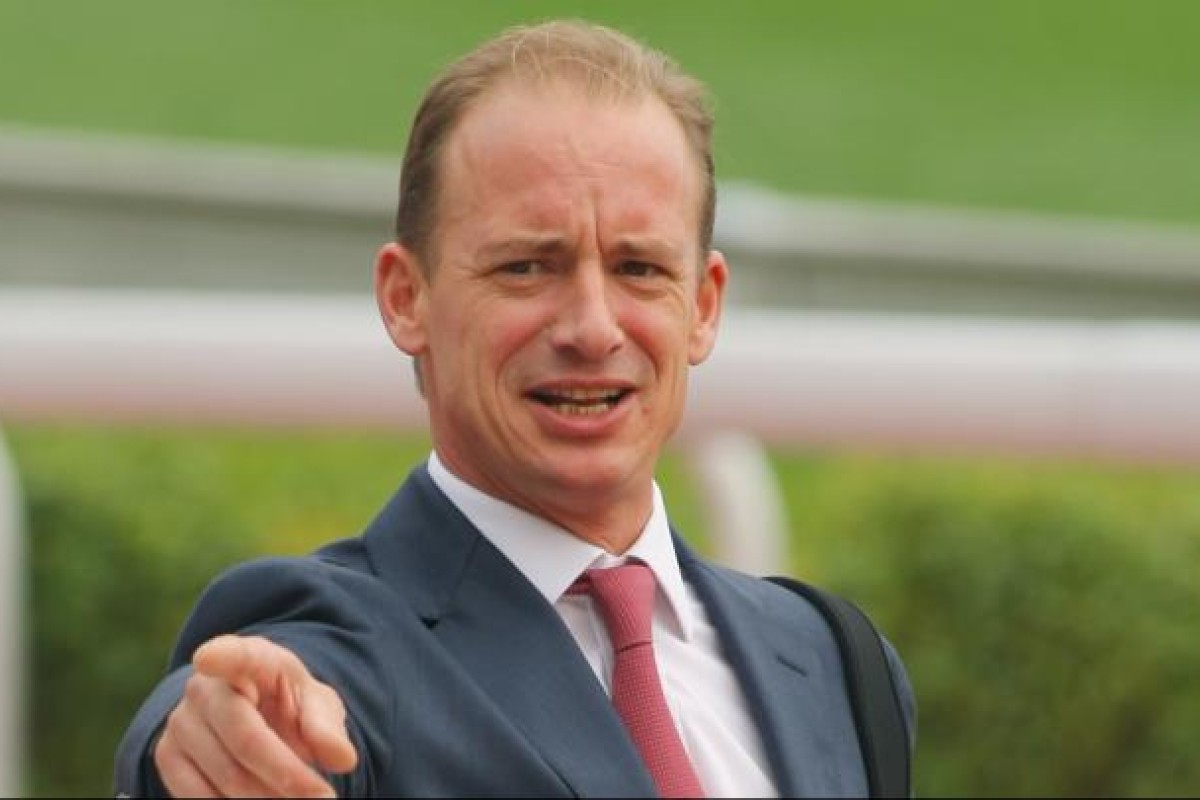 By his own admission, trainer Richard Gibson and the Derby - almost any Derby - are barely on nodding terms but the Englishman, via France, hopes to embrace his own slice of BMW Hong Kong Derby history today.
It's a longshot, but if Akeed Mofeed, Mizani and Gold-Fun ran one-two-three, who would be shocked? And if any of the three lands this city's favourite race, it will underscore an impressive start to Gibson's local career and justify his "huge decision" to leave Chantilly in 2011.
"I said then and still do, there's not a leading trainer in Europe who doesn't think about training in Hong Kong. It's an honour to be here," Gibson says. "Luckily, the chance came at the right time. I had the energy and willingness to do it. It has been a humbling experience, to be open-minded and prepared to learn. I've learned a lot and hope to keep on learning."
And part of that process has been horse selection. Some say that problem is treated by throwing money at it, and Akeed Mofeed carries a hefty price tag.
"After last season, I quickly adapted my buying policies and had a much stronger opinion on what's required," Gibson says. "It's not all about chequebooks, though, it's about finding the best horse for the unique conditions and I'm getting great satisfaction out of the new recruits."
Gibson was best known, prior to his arrival, as the trainer of Doctor Dino, back-to-back Hong Kong Vase winner of 2007 and 2008, and his only runner in a French Derby.
"Doctor Dino ran seventh, not far behind the best in Europe but I trained more fillies than colts in France," Gibson remembers. "My greatest Derby claim to fame was winning the Swiss Derby."
First prize for Meshugah's 2007 Swiss win at Frauenfeld, elevation 417 metres, was a modest £8,000 (HK$93,600) but it is a loftier prize today in the world's second-richest Derby, the HK$16 million prize headed only by Japan's Tokyo Yushun.
"Everyone aspires to train good horses. I'm privileged to have three in one year and I'm going to enjoy that - it won't happen every season," he said.
All freshman trainers begin the same way: a stable of the old, the jaded or the ability-challenged. A bunch of owners, paying bills for them in an ongoing victory of hope over reality, all expecting to see something different from the new kid on the block.
Gibson parlayed his 2011 hand-me-downs into a frontal assault on the Derby with owner Pan Sutong, whose colours adorn both Akeed Mofeed and Gold-Fun.
"I found him, or he found me, through a stable transfer. Mr Pan had a horse called Tailwind, talented but with problems, and I think he liked the success we were having with stable transfers last season," Gibson recalls. "He gave me Tailwind, but unfortunately I couldn't get him back to the races."
The relationship lived on, however, with Pan giving Gibson a sizeable budget to find something special. Akeed Mofeed was top of Gibson's shopping list and, remarkably, he was able to buy the colt from Dubai businessman Jaber Abdullah.
Bruce Raymond, who manages hundreds of horses for Abdullah and other high-profile owners, said it was "simply too good an offer".
"He was always a 'going to be' horse. Always good in the morning, but we never had a free run with him.
"He had a few niggling problems, missed his chance at the big ones and then the offer came - he couldn't win that here," Raymond said. "Jaber Abdullah had 101 horses last year. He's always looking to cut down those numbers and an offer like that - and I'm not going to elaborate on a figure - pays for a lot of the others. Selling to Hong Kong is out of sight, out of mind - we wouldn't have an offer like that from Europe but, if we did, he wouldn't have been sold."
Initially Akeed Mofeed's fitness was Gibson's big issue - weight was tough to get off the robust stallion.
"I'd challenge if any horse works as much as him, but he's ready now," Gibson says.
"My main worry would be a lack of pace but you put faith in your jockeys being able to cope with whatever happens."