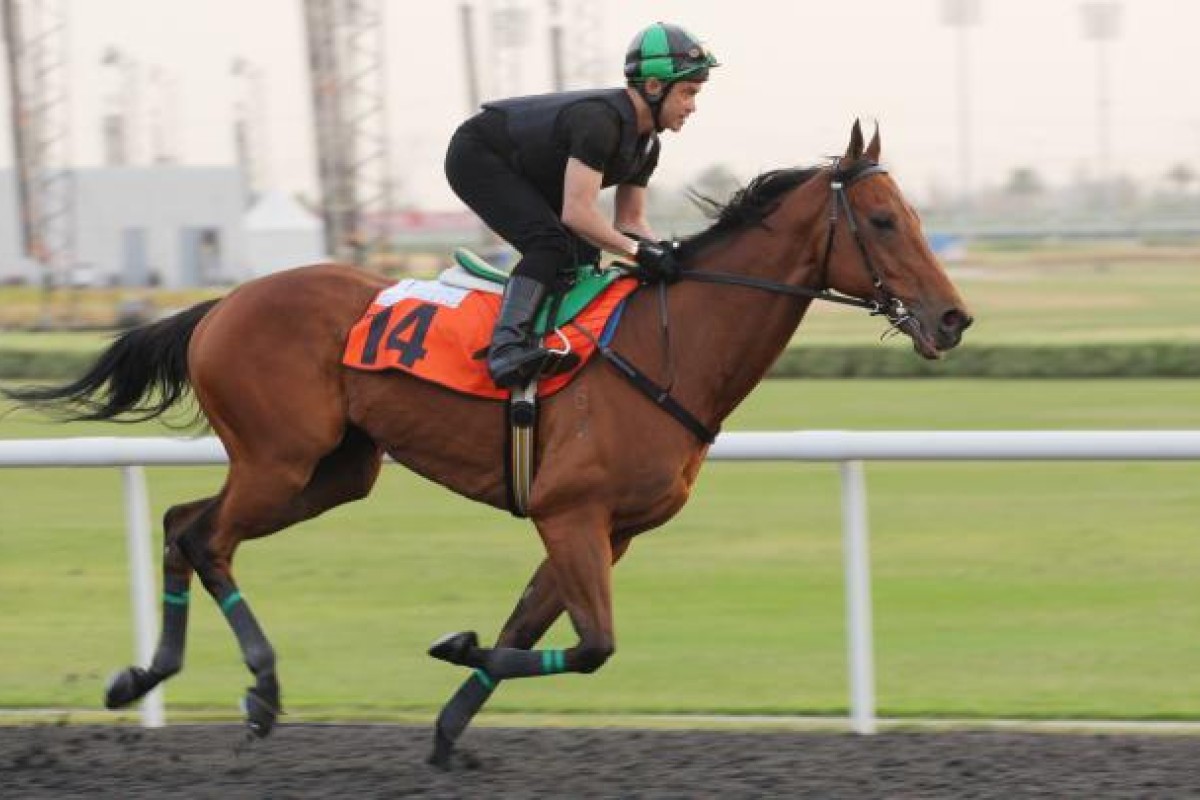 In a light-hearted but ultimately prophetic moment during trackwork in Dubai last week a reporter questioned trainer Derek Cruz: "Now, you are saying this will be Joy And Fun's last run. Are you not painting yourself into a corner? What if he wins or runs a blinder? Don't you think you will have second thoughts?"
There was laughter because no one actually thought he might run a race. His last two outings had been atrocious and bore the telltale signs of a horse who had "had enough".
But come race night Joy And Fun, the warrior that he is, bursts out of the gates like a machine and looks the winner at the furlong pole. "Retirement?" "…Um, yeah, maybe not."
It didn't take long for Cruz to produce a policy backflip that would do any politician proud, announcing post race: "Let's see once we get him home," … and without the help of a spin doctor or script writer then added: "We said we were going to retire him, but maybe not as quick as you lot in the media have been saying."
We said we were going to retire him, but maybe not as quick as you lot in the media have been saying
There are plenty of trainers the world over willing to put a horse's well-being aside and squeeze all they can from their stock – Derek Cruz is most definitely not one of them.
Cruz loves his animals and seems somewhat immune to the effects of age himself. At 57, he is still riding trackwork and renowned for being the first on the track every morning – at 4.45am at the gates to the all-weather track, raring to go.
Trackwork highlights are broadcast each day. Highlights might not be the right word, as watching a horse complete a light and uneventful canter on the dirt is hardly going to make SportsCenter's top 10 plays. But sprucing things up every now and then is the enthusiastic Cruz, with an unexpected whip twirl and celebratory salute after a particularly good gallop as he passes the Sha Tin trainers' stand.
Last week in Dubai, Cruz admitted to missing the daily grind of riding trackwork, despite spending most of the time at Sheikh Mohammed's arrival party trying to massage a severely bruised lower leg – injured during trackwork the week before.
So asking Joy And Fun to push beyond 58 starts isn't asking the sprinter to do anything Cruz wouldn't do himself, if he could.
Many horses seem to take on the characteristics of their trainers: Caspar Fownes' stable is full of quirky characters, John Moore's bluebloods share their handler's air of aristocracy and John Size's plain-looking runners don't scream "back me" from the parade ring – just as the master trainer doesn't say much – they just run consistently and keep winning in a quiet and authoritative manner.
And so it goes that winners of the mid-table, blue-collar trainer Cruz are often battlers. There's not a lot of flashiness about Joy And Fun. He is just a big, plain, bay gelding.
Funnily enough, it may have been travel that brought about what was arguably a career-best effort in the Al Quoz Sprint last Saturday. Only a horse that looks right out of the box – Shea Shea – got the better of him in track-record time.
Nine years old is probably the equivalent of 39 for a human athlete in a high-impact sport and Joy And Fun suffers from the same affliction of most blokes approaching 40 – he finds it harder and harder to get rid of the spare tyre wrapped around the mid-section.
After returning from England last year, Cruz just couldn't get the weight off his steed. Lap after lap of the all-weather track, a training regime more appropriate to the Hong Kong Cup than the Hong Kong Sprint did nothing to budge the bulge.
Joy And Fun came back with a bang, fresh, when fourth in the Hong Kong Sprint, but weighed in at more than 1,200 pounds for the first time in his career at his next start, with a belly like an upside down Volkswagon beetle, and ran appropriately. He was again disappointing in the Chairman's Sprint Prize and many were surprised he went to Dubai, much less that he received an invite.
But it was the weight loss associated with long flights that seemed to strip the necessary poundage off the veteran and he ran the race of his life. Feeling light and fleet of foot, he motored up the Meydan straight. Nine-year-olds who do not enjoy competing can't do that, and there's no reason why Joy And Fun can't keep producing if his tummy stays trim and taut.
The Hong Kong Jockey Club's compulsory retirement at age 10 not only protects horses from greedy owners – well, we thought it did until John Yuen Se-kit sent Good Ba Ba to Australia at 11. But the rule also takes the emotion out of what can be a tough decision for those who actually do have their horse's best interests at heart.
Sooner or later the New Zealand-born Joy And Fun will be back home in a lush paddock at Cambridge where he can get fat to his heart's content, but until then don't rule him out of sneaking another win.