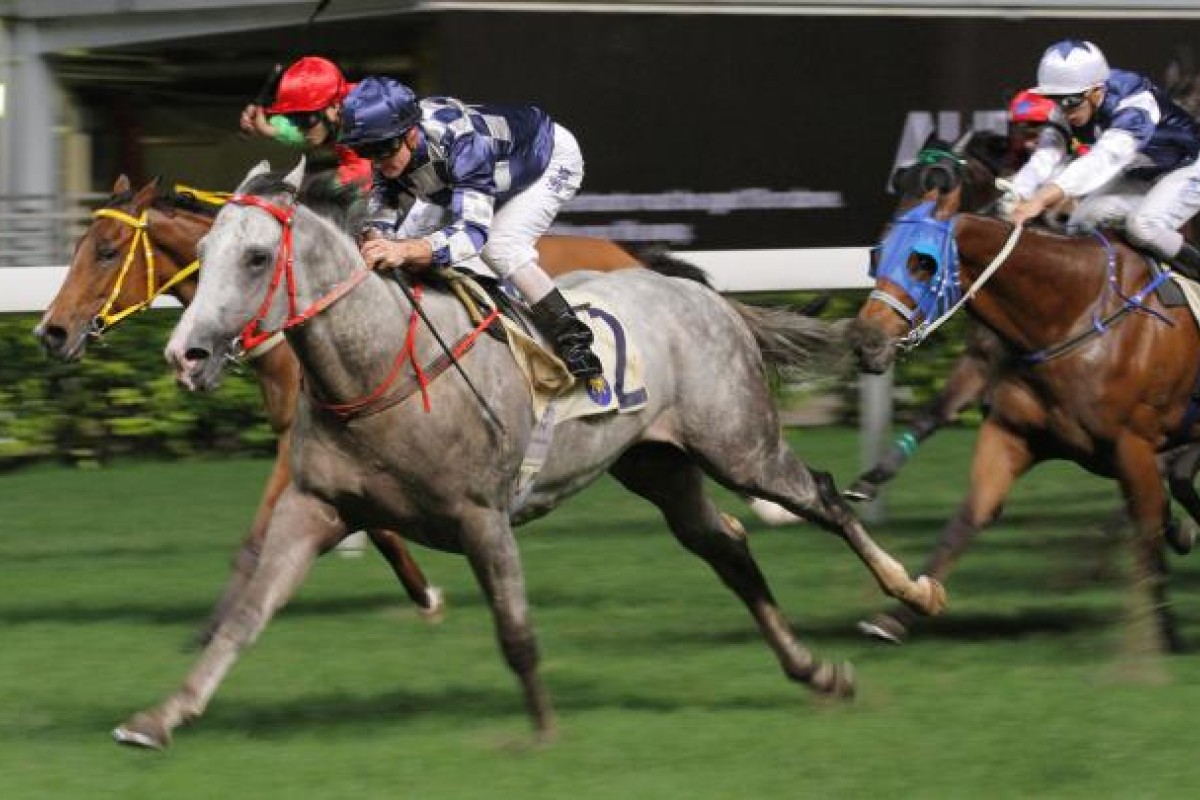 Dennis Yip Chor-hong was sharing the love at Happy Valley last night, the trainer dominating the middle part of the card with three consecutive wins - each with a different jockey aboard - as he continued to build on his solid season.
First Yip legged his apprentice aboard winner Meridian Treasure, before Australia jockeys Tye Angland and Zac Purton shared the spoils with wins on Real General and Choice Treasure.
Yip leapt two places into second spot in the trainers' championship with 48 wins.
He is now trailing seven-time champion John Size by just three with 61 meetings gone.
Ng's seven-pound claim was well used on Meridian Treasure in a special-conditions Class Four contest, for horses not to have won this season. "Tonight on the 'C' track I told Alvin to ride positive in the early stages to get a prominent position from gate five. The horse has some early speed, and I thought it was important we find the rail," Yip said.
Meridian Treasure found the rail, but was then gifted the box seat when Ricky Yiu Poon-fai's You Are The One fired up in blinkers and darted to the front.
"My horse can't carry big weights, so that's why we used Alvin's claim in this race. He is an honest horse, but limited. He is only a Class Four horse, not much better," Yip said.
The win came at a cost for Ng as he was handed a three-day suspension for careless riding.
Angland put Real General in his usual prominent position, and also ended up box seating as Super Goal Elite took up the running. Real General pushed through the gap along the rail in the straight, Angland grabbing his second win in five rides on the five-year-old.
"They have a good partnership, and they both did a great job then," Yip said.
"He is a consistent horse that just keeps trying. That's three wins for the season for this horse, I'm very happy with him. He can win again in Class Four, too."
Choice Treasure arrived on a lofty mark of 85 courtesy of a two-year-old feature win in New Zealand, and moved to Yip from David Hall after the grey had dropped into Class Three.
The colt struck off a mark of 76, and although the three-year-old seems to have some upside, Yip said he would be taking his time with the youngster. "He still does a bit wrong, and you can't rush three-year-olds here," Yip said.
"We will let him learn with his racing. He is still learning how to change legs on a bend, and when he gets balanced he can show a nice turn of foot, like he did tonight."
Tony Cruz had a double, Matthew Chadwick riding both, to draw level on 48 wins with Yip. Po Ching King led all the way and broke his maiden in the opening event - although Chadwick was given a two-day suspension and fined HK$80,000 for careless riding.
Cruz's Hong Kong International Sale graduate, Bullish Friend, took his record to five from 10.
"It's always nice to get a win with a horse like Po Ching King, he has had a really troublesome knee injury. He could easily be lame in the morning.
"The owners are a really great group and it's a relief to get a win for them. I have a lot of time for Bullish Friend, you only have to think back to when he battled it out for the length of the straight with Sea Dragon earlier this season to see how good this horse is - Sea Dragon is unbeaten and has now won five in a row, so the form is looking pretty good."
Andy Leung Ting-wah is solidifying his spot as the "King of Class Five" in his final season as a trainer; he collected to cellar-grade victories with two in a row - King On Earth and Creative Union, both come-from-behind winners ridden by South African lightweight Richard Fourie.
"The handicapper has got it wrong again," Leung said. "Richard and I are starting to become a pretty good team."
Fourie has quietly built an impressive rookie season; he now has 26 wins and is firmly established in the top 10 of the jockeys' championship.
"I'm loving it," said Fourie. "It's a pity Andy is retiring - he is actually good to ride for, there's no pressure riding for him, and never any stress and he is always confident."
Michael Chang Chun-wai had a bittersweet night after his stable favourite Amigo was put down after race seven, and he won the final race with Winning Apex.
"I'm very sad about Amigo, he smashed a sesamoid," Chang said. "They say 'that's racing', but I am very upset."
On Winning Apex, he added: "I have always been running him at Sha Tin over 1,400m, but the class is too tough for him there. This track is always easier.
"Last time, he ran this distance, from an outside draw, he got back and ran on well. This time from a better draw he got a better run through the race."