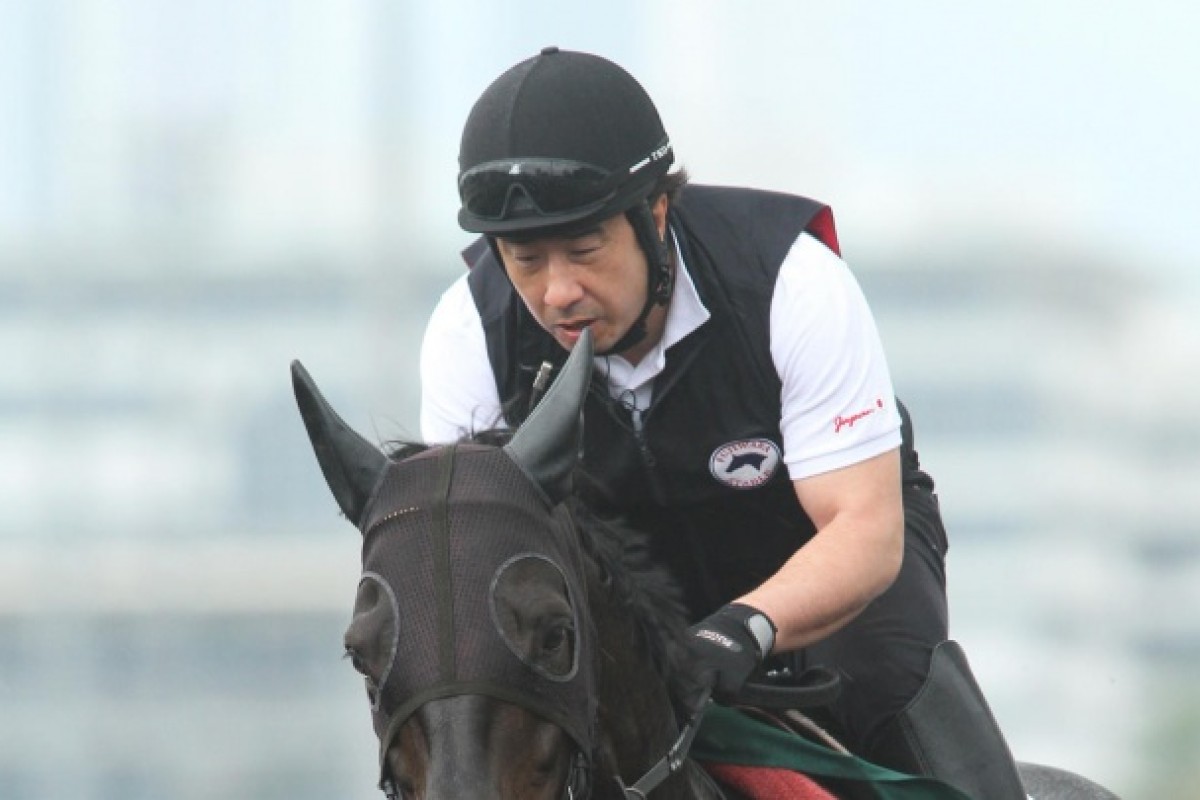 Two key events led to Japanese trainer Hideaki Fujiwara being here for tomorrow's QE II Cup with one of the strongest chances, Eishin Flash.
For the first, turn the clock back 12 months to a hollow QE II Cup victory by a Japanese horse and an Italian jockey. The second came six months ago at the Autumn Tenno-Sho in Tokyo, when Eishin Flash won the Group One at the expense of that horse, Rulership, and parallels have not stopped.
"Rulership and Eishin Flash have raced each other several times in Japan and they are the same standard," said Fujiwara yesterday. "That gave me confidence to look at this race and it has been our target since the Tenno-Sho. Also, Eishin Flash is a 2,000m specialist."
This made the QE II Cup obvious in terms of distance and level and Fujiwara had indications that travel offered no hurdle to the son of King's Best, whose progeny are often noted for a fizzier temperament.
"I took Eishin Flash to the Dubai World Cup last year and he finished sixth," Fujiwara said. "But he arrived there in good condition and showed me that he is a horse who can go overseas again. On this trip, he has also travelled well."
Fujiwara's preparation of the six-year-old has mirrored Rulership's - one start for third in a Group Two at the end of March his only race this year - and like Rulership, Eishin Flash was the best worker this week, though the bar has not been set very high.
"I saw him today for the first time here, everything looks good. Before he flew out, we gave him a strong workout and he had been almost set up for the race at home," Fujiwara said. "What he has done this week was only to keep him holding condition - it was nothing special."
One day short of the 10-year anniversary of Eishin Preston's second QE II Cup win for owner Katsuhiko Hirai, his Eishin Flash has yet another similarity to Umberto Rispoli-ridden Rulership as he seeks the Group One prize.
He, too, will have an Italian jockey, Mirco Demuro, a competitor in the 2002 International Jockeys' Championship at Happy Valley but a first-timer at Sha Tin with a wide draw an extra test of his mettle.
"An inside gate would have been preferred, but we will make a strategy with Mirco about how to give the horse his best opportunity," said Fujiwara yesterday, who made sure Eishin Flash did not get any other little surprises at the gates.
Twice, Fujiwara played barrier attendant and loaded Eishin Flash into a bank of stalls at the top of the straight, near the quarantine stables.
"I walked with him and got him in the gate because he might be surprised by the stall handler, without any practice, but he did not have any problem," he said.