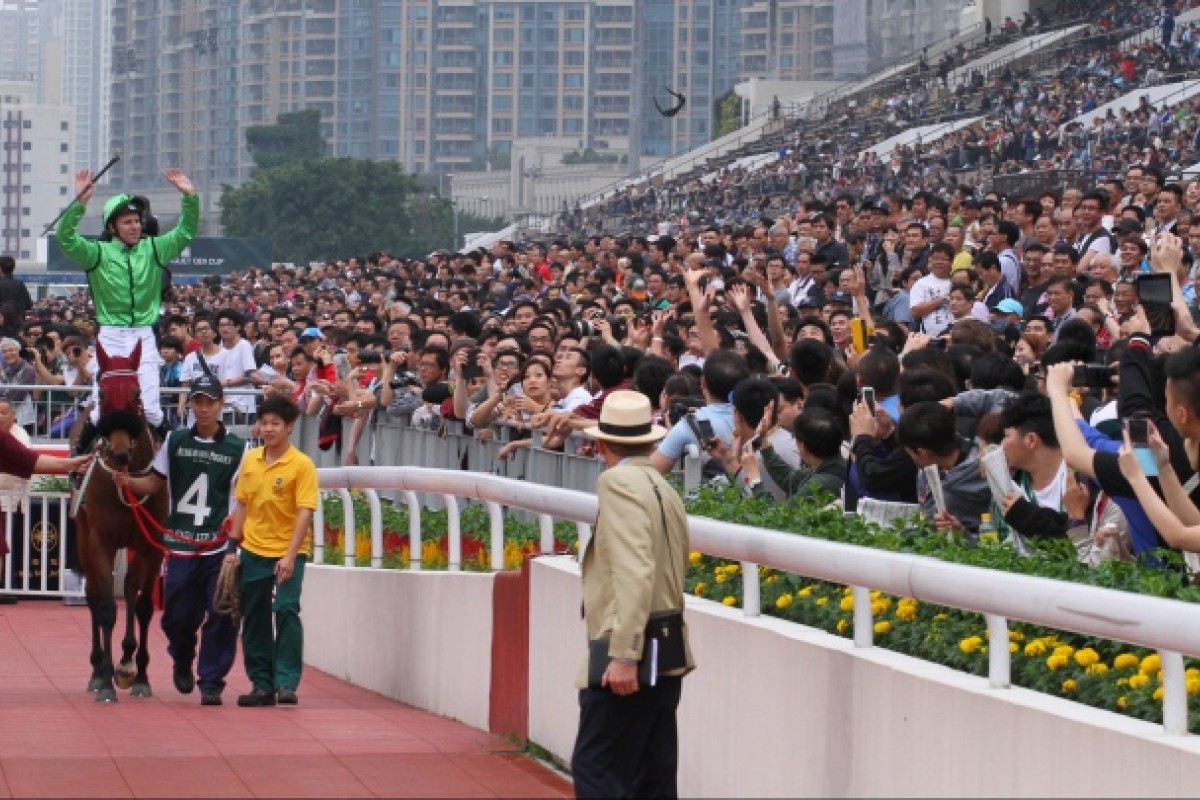 Military Attack's transformation from big-finishing backmarker to tactical top-liner was completed in a fairy-tale moment for jockey Tommy Berry in the Audemars Piguet QE II Cup yesterday and John Moore has set his sights now on Singapore.
Moore, nearing the end of a distinguished career with compulsory retirement looming in the next few years, has made no secret of the fact he would dearly love a Group One on foreign soil among his credits before he finishes and Military Attack is looking like the horse that can do it.
Berry's stunning arrival on the scene with a Group One at the first meeting of his contract here was believed to be a first but he may not retain the mount for the Singapore Airlines International Cup at Kranji next month.
"It's a great springboard for Tommy, who has the world at his feet now, but who rides the horse in Singapore will be up to the owner, Steven Lo [Kit-sing]. I think it was thanks to Zac Purton that we found out that we could vary the tactics on this horse and that's made a big difference," said Moore.
"Instead of riding him out the back and have him closing off in these big sectionals, tactically we've got a very smart horse on our hands.
"Hopefully he can draw a gate in Singapore and do the same thing."
But behind the fairy tale of the win, there were horror stories for other fancied runners including Purton's mount Ambitious Dragon, who was poleaxed when eventual runner-up California Memory (Matthew Chadwick) shifted sharply left entering the final stages of the race.
"It's very, very disappointing. Did it cost him the race? Well Zac said he was sitting on a Ferrari when it happened," said trainer Tony Millard. "It's not my place to comment on what happened, that's for the stewards but it is the end of Ambitious Dragon's season. He won't run next week in the Champions Mile - to back him up after a bad experience like that just wouldn't be doing the right thing. If he'd won it might have been different."
Chadwick copped a three-day ban and HK$80,000 fine over the incident, though he had been taken unaware by the grey's sidestep. "He's never done anything like it before - I slapped him down the shoulder and he just went diagonal," Chadwick said.
Purton said Ambitious Dragon was about to hit top flight when the incident happened.
"I was going to win by two lengths," he said. "In the end, Military Attack's margin has been flattered because the collision with California Memory stopped me in my tracks and stopped the momentum of the grey too."
The other well fancied favourite, Derby winner Akeed Mofeed, failed to live up to expectations but jockey Douglas Whyte said he ran "with credit" and trainer Richard Gibson said the four-year-old showed his immaturity.
"His racing manners weren't perfect, he was a bit out of rhythm in the run and wasn't quite settled," Gibson said.
The foreign invaders were a mixed bag, Mike de Kock's Igugu and Treasure Beach not a factor but Japan's Eishin Flash was another to look unlucky in a strong-finishing third and Godolphin's Sajjhaa didn't have the best of trips before finishing fourth.
Tony Cruz was delighted with California Memory's run "90 per cent fit" after some setbacks in training and the gelding will head to the Champions & Chater Cup over 2,400m.