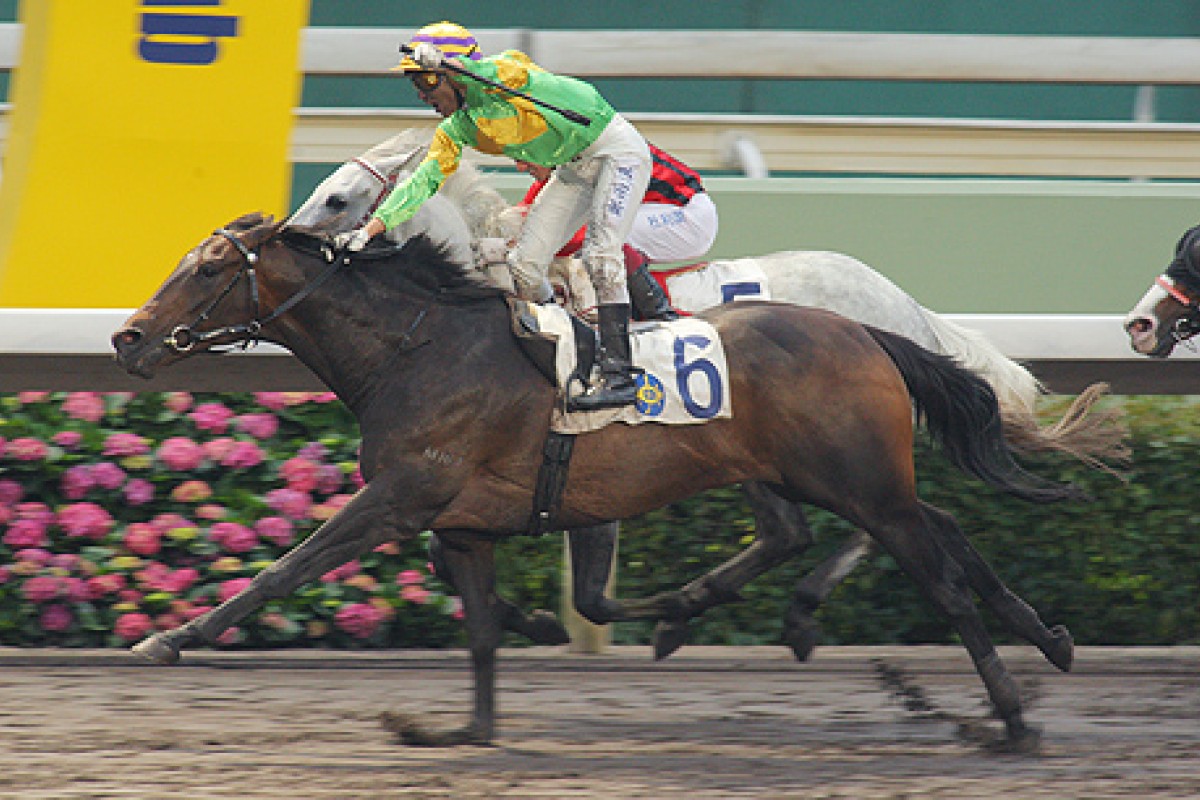 With Happy Wednesdays about to turn decidedly dark and unhappy for some in just over 12 months, as Happy Valley gets some plumbing worked on, next season's glut of all-weather track racing could be a ray of light for some of Sha Tin's dirt-track specialists.
A couple of all-weather track standouts are eyeing Dubai as a destination to find suitable races, but it could just be that if their trainers can show some patience an answer may be about to appear on their doorstep. The mixed midweek meetings at Sha Tin at the end of next season, and running into 2014-15, could give an opportunity for the best dirt-trackers in town to shine and provide Hong Kong Jockey Club officials with a test case for whether high-class dirt racing deserves a more prominent place on the calendar.
Last week Olivier Doleuze flagged a trip to the Middle East for Sprint Cup winner Rich Tapestry and on Wednesday Howard Cheng Yue-tin was suggesting Free Judgement should be joining him. The jockeys say both horses, like Dynamic Blitz before them, are much better on dirt but because their rating has now climbed into triple figures their opportunities to win have become scarce.
For race programmers to justify putting a Class One race on the dirt track, it not only needs to be a full field but they need to take into account it is taking the place of a turf race and that turnover is likely to not be as strong.
Regular racing on the AWT for horses rated 100 or above just doesn't seem viable because there isn't the numbers or demand. An 80-105 Class Two last month, won by Free Judgement, only attracted nine runners and the race he won on Wednesday, of the same ratings band, was one short of capacity.
But with many already moaning about how they will cope with up to 10 midweek meetings at Sha Tin from June next year and extending into the start of the following season while Happy Valley undergoes maintenance work, some spicing up of the dirt track fixtures might provide some extra interest.
Call it a "dirt-track carnival" if you like, but whatever the case it will be peppered with more Class One and Two racing anyway. End it with a pair of 80+ or 90+ handicaps over 1,200m and 1,650m to give the better horses on the surface a crack at a Group-level prize.
Doleuze believes there should be open class races on both surfaces anyway. The Frenchman rode Dynamic Blitz in 13 of his 30 starts and found it frustrating that the horse never got more regular opportunities to compete on his best surface. Dynamic Blitz won five races on the AWT and managed to grab a Group Three race in Dubai. His rating then went way up to 120 as a result, but once he was handicapped above 100 he never managed to run a place on the turf.
Heading to Dubai isn't as simple a solution as it seems anyway. The all-weather track at Sha Tin is plain old dirt with some pine bark in it, while the Tapeta surface in Dubai is a mystery mix including what seems like some shredded old tyres and jelly coating from electrical wiring.
A liking for the dirt here doesn't necessarily translate to other "all-weather" surfaces as Woods found out in 2008 with Watch What Happens; his rating climbed to 98 and was sent for two runs on the sand at the old Nad Al Sheba, where he was beaten out of sight. Then Me Tsui Yu-sak sent Lucky Quality to Dubai the following year and got the same result.
The irony surrounding Rich Tapestry and Free Judgement is that whatever wins they collect on all-weather surfaces are bonuses anyway because they were both purchased with one turf race in mind – the Hong Kong Derby. They were meant to be middle-distance horses that turned out to be something else entirely.
Next year presents a unique set of circumstances with races at Happy Valley basically replaced by events on the all-weather track – the period will no doubt put a dent in the tremendous support the Beer Garden and Happy Wednesday promotions have garnered. That's a problem for the club's marketing department and we're not looking forward to the atmosphere, or lack of it, at the midweek fixtures. But from a racetrack perspective, celebrating the best all-weather warriors each Wednesday could be making the best of a bad situation.