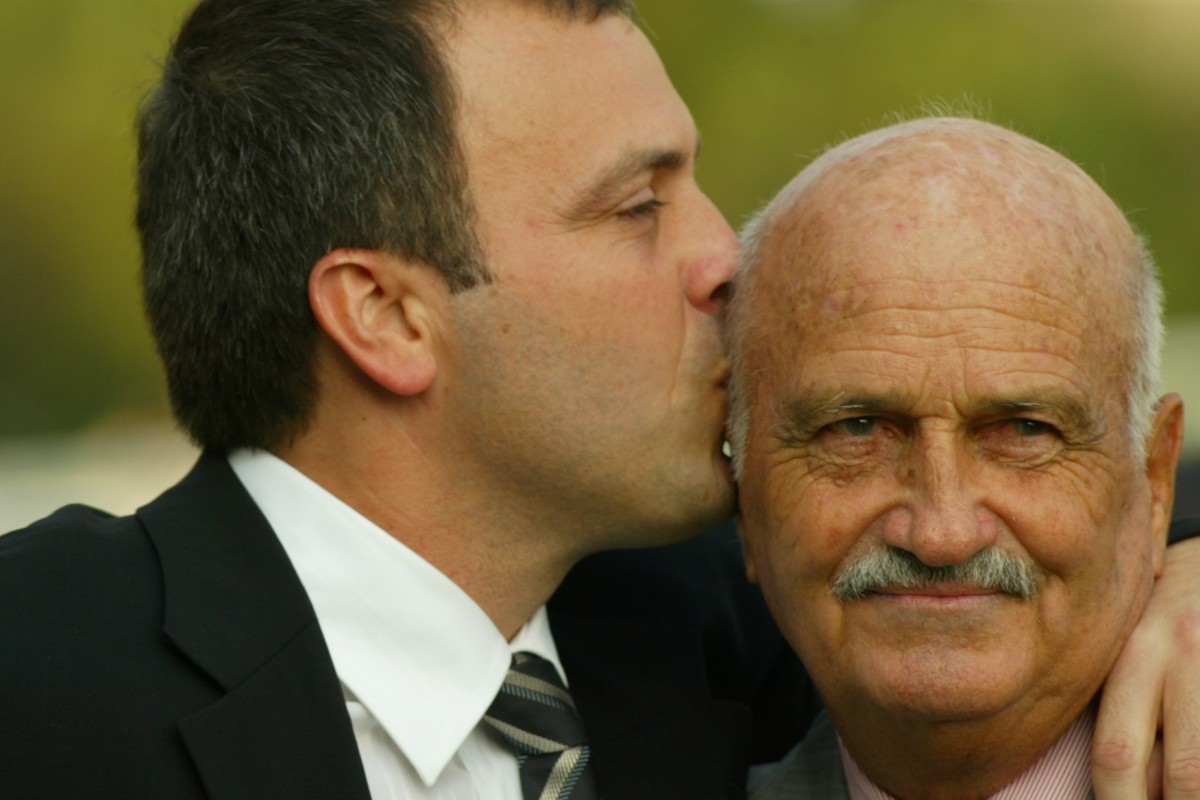 John Size wins more races most seasons and John Moore collects more prize money, but neither appear to have half as much fun at the races as Caspar Fownes, whose trademark exuberant celebrations were a ray of light on a rainy night at the Valley on Wednesday.
The Beer Garden was deserted (can we get a retractable roof or at least a tarpaulin over that thing) and it put a dampener on the usually electric atmosphere, but in the closing stages of race seven came some wild cheering from the weigh-in room. "Go Gerry! Go Gerry! Go Gerry! …" The cheering begged the question – "Who the hell is Gerry?"
While it is hard to get a word out of Size at the best of times and Moore basically admitted earlier this season Class One Cup wins had become somewhat passé, Fownes wildly celebrates even lowly Class Five victories with rounds of high fives for anyone within arms length and even some disco dancing when the mood is right.
As Best Show emerged out of the muddy ruck and charged to a maiden win it became clear Gerry was Gerald Mosse and that was the first time, and perhaps last, I have had heard anyone call the mercurial Frenchman Gerry.
Then Fownes followed with a robust high five with sister Fenella and inexplicably burst into an enthusiastic rendition of the groundbreaking 90s pop classic Who Let The Dogs Out.
It's great theatre and fun and we're not suggesting we want Size busting out Travolta-like moves after his next Class Four winner waltzes away for a debut win, that would be downright scary. Size does his own thing – wins with monotonous regularity – and seven championships in 11 seasons negates the need for a trademark dance move.
Dennis Yip Chor-hong is a darling of the local media and has his own custom-made street-clothing line. Moore wears tailor-made safari suits (although not enough anymore, maybe now the weather is warming up?). Former jockey Tony Cruz is a different character altogether, prone to that classic elite sportsman's trait of referring to himself in the third person.
Given the spark and reliable service Fownes provides, it's hard to imagine the Jockey Club first denied him a place in the training ranks.
Caspar's father Lawrie, still a welcome presence every race day and a second-generation trainer himself, moved from India and spent more than 20 years at Sha Tin. But when he reached compulsory retirement age of 65 at the end of the 2002-03 season, his son was overlooked for a licence. David Ferraris and Danny Shum Chap-shing were chosen instead, but the late season announcement of Peter Chapple-Hyam's departure opened a precious door of opportunity.
Despite the head start Shum and Ferraris were granted, Fownes didn't just walk through that door, he basically kicked it down and proved Lawrie's words prophetic. "I know he's going to be a better trainer than his old man," Lawrie said. "Caspar is young and moves with the times. In the end, racing in Hong Kong is going to be the winner for this."
Lawrie Fownes was no slouch at the training caper, but his words were proven true on every count. Caspar exceeded his dad's season-best win total in his rookie season with 44 victories.
Since then there's been International Group One wins at home (Lucky Nine in the 2011 Hong Kong Sprint and The Duke in the 2006 Hong Kong Mile) and abroad (Green Birdie in the 2010 KrisFlyer International Sprint), a Hong Kong Derby in 2010 with Super Satin and six winners in a day at Happy Valley that same year.
Despite all the top-end success, Fownes celebrates Class Fives as excitedly as he does cups or Group Ones. A win is a win and as someone who grew up in Hong Kong and in racing, he understands the culture: a photo in the winner's circle and a chance to show off to friends can be nearly as important as prize money or the prestige of glamour races.
Last season Fownes had a career-worst season with 39 wins and those close to the camp put forward the theory it was perhaps due to persisting with some underperforming stock out of loyalty to owners. Whatever the case, an off-season replenishment has helped him bounce back this term and is now locked in a fascinating four-way go at the top of the trainers' championship.
Yip is a surprise leader with 18 meetings remaining. He has 53 wins, one ahead of Size and two ahead of Fownes and Cruz. Moore is on 44. Fownes' nine Class Five wins is more than those four rivals combined (six). In fact, nine is one more than the total number of runners Size and Moore have sent around in the bottom grade combined.
Importantly, Fownes' Class Five wins aren't usually unexpected – it's not just crucial to grant a Hong Kong owner the chance to pose in a photo post race, but also to tell them when to bet with confidence and invite their friends and clients along, without fear of losing face.
Fownes has a Class Five strike rate of just under 20 per cent, with Yip at 6 per cent (three from 53).
The second part of Lawrie Fownes' claim that "... racing in Hong Kong would be the winner" is true, but does the sport do enough to make the most of one of its most charismatic trainer's star quality?
During the week the question was posed on Twitter by Australian radio presenter Shane Anderson (@Globalgallop): "Does racing understand how to best market its product and participants?" and the prompt response from Zac Purton was the sport's efforts overall were "pathetic". It's a harsh but fair assessment unfortunately.
Pushing horses as heroes is necessary, they are the true stars and keep people coming back, but they can be gone in a heartbeat through retirement or injury and their career is limited anyway. The careers of jockeys and trainers are more enduring and they can build a following. Characters such as Fownes and Purton should be in the public eye as often as possible, allow the audience the chance to know what makes them tick.
Racing isn't like other sports, it revolves around betting and might look something like showjumping or dressage if not for the punt. But racing still needs to build the same familiarity with its stars – horse and human – as mainstream sports.
So we have a request, on the next big race day can we have a mic on Caspar and a camera trained on him as he cheers home his runners? We can get him to cheer in Cantonese so the majority of the audience can understand (he regularly charms the press with his extensive Canto vocab).
The Jockey Club has a promotional gem on its hands in Fownes, who at 45 still has 20 years remaining before compulsory retirement age. And why do trainers have to retire at 65 anyway?