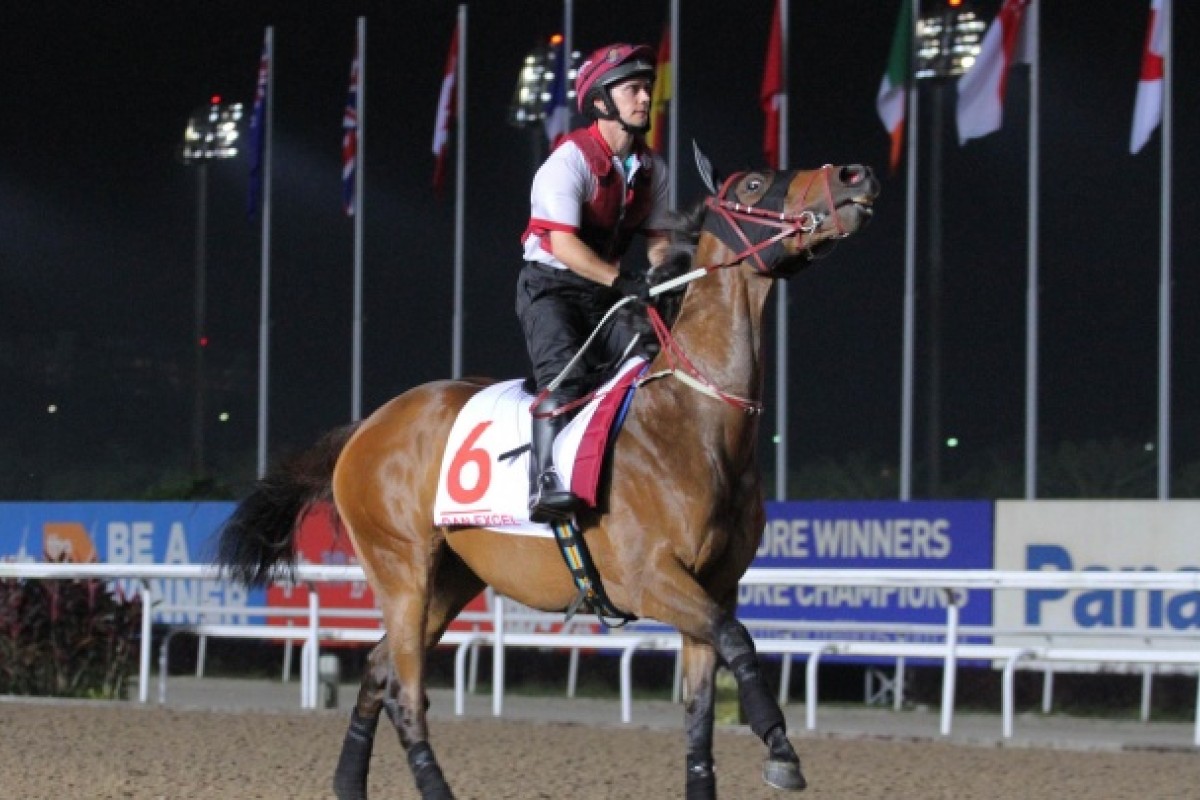 International Group One races are never a pushover, but the confidence of trainers Caspar Fownes and John Moore and a process of deconstruction and elimination with their rivals points to the possibility of a first-ever "away" double for Hong Kong in Singapore today.
Fownes said yesterday a fresh, trouble-free Lucky Nine has to be the horse to beat in the S$1 million (HK$6.18 million) KrisFlyer Sprint, especially when some of his major rivals haven't fared well at the draw.
"It's a track where the draw is important and he's got that and we know he's right up to winning it," Fownes said. "People might look at his last couple of defeats and see he had the foot problem two runs ago and the blood in trachea last time, but even from his early days those things have been there with Lucky Nine.
"It's not like they're new problems that might indicate he's in decline. His internal problems, his feet, they're things I've had to manage right from the early days. He goes in fresh but fit and his coat looks great. I'm looking forward to the race."
Likewise, Moore has been very bullish about Military Attack and Dan Excel carrying the bauhinia flag with honour in the S$3 million Singapore Airlines International Cup, describing them as "the best two horses I've ever brought to another jurisdiction".
And in both races, the luck of the race, and the draw, appears likely to go their way.
The history of the KrisFlyer is revealing regarding the way races are run and won at Kranji racecourse. The seven winners of the sprint race have drawn barriers 8, 2, 2, 1, 1, 9 and 3.
Rocket Man won from barrier nine when he was at the top of his game two years ago and crossed over to sit outside the lead, while Iron Mask drew eight, got to third early behind a tearaway leader and ran that horse down near the line. In other words: on pace, on the rail, is gold.
The most likely leader on the rail is local galloper Mr Big, trailed by either Kavanagh or Lucky Nine - provided he jumps fast - which puts them into the right place to win the race. Both Fownes and jockey Brett Prebble have won the KrisFlyer, and each with a horse from the box seat behind the leader, so they are well aware of what's required.
Moore's pair also looks to have found Lady Luck in terms of positioning on a track where making up a lot of ground - especially for horses coming wide around the field - is not a regular feature.
The horse made favourite in overseas markets, German entry Pastorius, has a nightmare draw in 11 and raced with a pacemaker when he won in France last time. How he'll handle the absence of his "amah" today must be a serious question.
Globetrotter Red Cadeaux is another who looks to be drawn in hell - gate seven in what promises to be a muddling race, which once again seems to be the pattern of the Singapore feature, will see him wide or back out of the race on his normal patterns.
And Meandre, in great form according to his Dubai-based trainer Doug Watson, has an even bigger list of issues - from gate 12 he will be piloted by 25-year-old Chechen Khamzat Ulubaev, Russia's top jockey. Godolphin's Hunter's Light seems to be regarded as a better horse on the Tapeta surface or very wet ground, though he has won five of his last seven starts, while Mawingo does not seem to have handled the new environment as well as some.
And then you have the local horses, which have been unable to keep the race at home.
Which pretty much leaves Dan Excel and Military Attack to tick all the boxes - in form, up to the task and drawn to have all the favours on what could be quite a red letter day for Hong Kong.