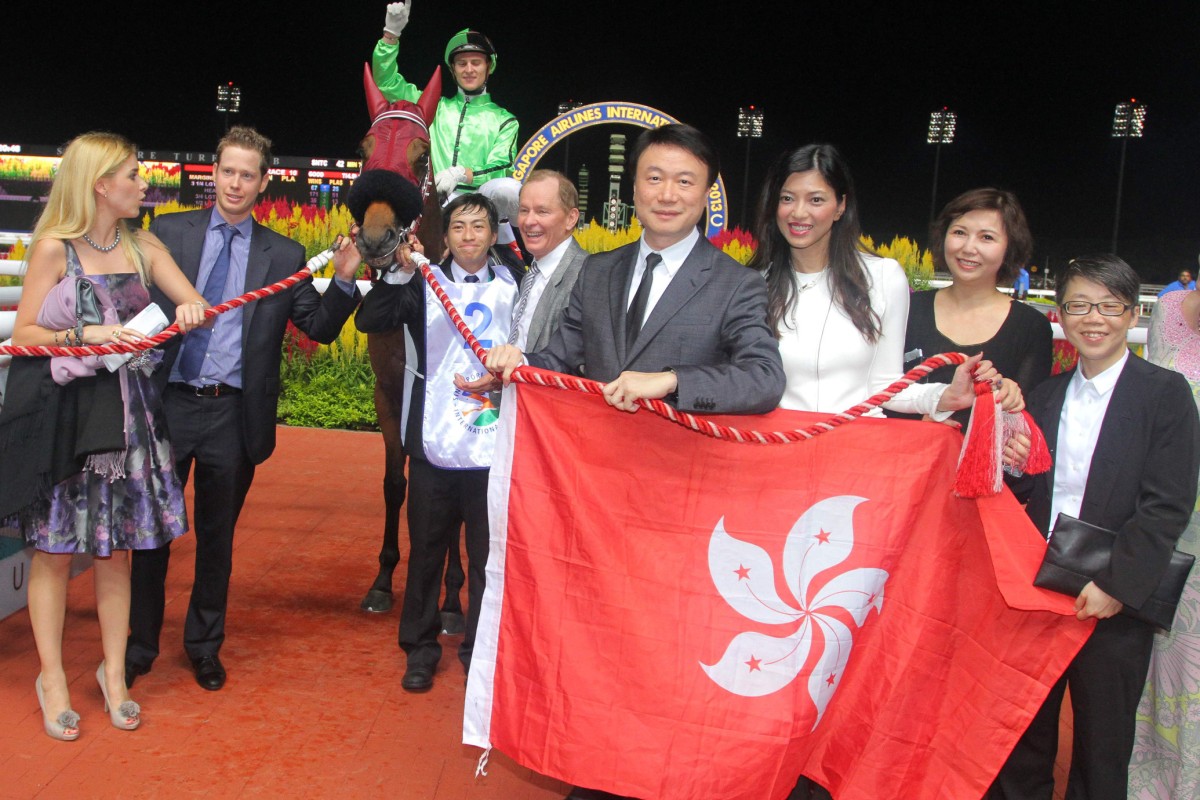 It wasn't so much that a glorious Sunday night in Singapore taught us anything new – other than that Military Attack, and Lucky Nine and Dan Excel to a degree, might be a bit better than we thought. It was more that the two commanding wins confirmed a few things we strongly suspected anyway. Order was restored as the rising force of Hong Kong racing flexed its muscles once again.
Hong Kong's horses, trainers and jockeys are world class. Lucky Nine (KrisFlyer Sprint) and Military Attack (Singapore Airlines International Cup) won by a combined margin of 6.3 lengths that could have been more had Zac Purton opened the throttle on Military Attack.
For the past two years, international day at Sha Tin in December has become a showcase of local talent and if you leave out the Vase, where the deck is stacked against the home side, they have won five of the last six editions of the Hong Kong Sprint, Mile and Cup.
It's one thing to do it on your doorstep, another on foreign shores. And, like it or not, the term "backyard bullies" had been bandied about at international carnivals when talk of Hong Kong's overseas chances came up.
So what is the perception of Hong Kong racing among the elitist racing fraternity? Booming, astronomical turnover? You bet. Rich owners? Check. (Or should that be, "cheque please?"). Highly competitive, properly handicapped racing with the world's best riders, week-in, week-out? Sure.
But, in the end, most pundits felt like Hong Kong's horses did their best work within the friendly confines of Sha Tin and they didn't really measure up on the world scale, especially beyond one mile. And the jurisdiction is even looked at as a cash cow to be milked for high-priced offloads of unwanted stock.
It's been a lean trot for the past couple of years for those flying the Bauhinia flag. Just over 12 months ago it hit a low when a six-horse team left for Dubai with high hopes, but came back with a couple of placings, a few notable failures, and an overwhelming feeling of underachievement.
Little Bridge's win at Royal Ascot last June was memorable and an historic moment for trainer Danny Shum Chap-shing and Purton, one that should never be downplayed. But once the logistical difficulties of producing a healthy horse on race day are conquered and the field is on the track, is the King's Stand Stakes that much harder to win than any class one or higher sprint race up the Sha Tin straight?
The difficult part is the lead-up and getting the horse ready to run their best race. Before Little Bridge, it was Green Birdie's upset win in the 2010 KrisFlyer providing the last overseas Group One for Hong Kong.
The racing elite sometimes still reserves a dismissive sniff for sprinters, so even though Lucky Nine's comprehensive shellacking of his rivals was great, he is "just a sprinter" and Hong Kong has now won three of the last five editions of the KrisFlyer.
Military Attack's middle-distance domination completed the picture nicely. Running 2,000 metres in less than two minutes anywhere is impressive, especially when you consider he finished in a full nelson by Purton.
October's Cox Plate could await a horse that looks ready made for the so-called weight-for-age championship of Australasia. Tactical speed is the key and that rare ability to make more than one run in a race. To be able to sprint into a handy position early, switch off and relax, and then kick again with a sub 22-second sprint from the front of the field is a deadly skill-set anywhere, but particularly in the southern hemisphere and Asia.
It should also be noted Military Attack has won two from three at Happy Valley, a track similar in size and racing surface to Moonee Valley. The Cox Plate does interfere with big targets at home, but only from a preparation standpoint. Military Attack could conceivably get back and run in the Jockey Club Cup, usually three weeks after the Cox Plate and three weeks before the big ones in December.
On the back of "where to next?" for Military Attack, the same question is starting to be asked of Moore before his compulsory retirement. The 63-year-old hasn't got long left – two seasons after this one – and what he does after that will be interesting.
John loves his golf, but he doesn't seem the retiring type to us. He is unparalleled for his ability to attract rich clients and convince them to spend on high-end purchases from Europe. And it isn't just his ability to buy, but purchase quality and then produce results.
We're not suggesting Moore will emulate the sheer size and scope of Godolphin, or the finely tuned operation of South African Mike de Kock, but if he could convince even a small fraction of his owners to keep supporting him he could form a small but select team to aim at the world's biggest races – a boutique stable of thoroughbreds based in Australia but targeting the world's best races.
We wouldn't put it past Moore to go from being the trainer that couldn't win one away from home, to one that specialises in it. Moore might just be on a roll, and now that the 17-year dam has burst, he could start winning races overseas like he collects cups at Sha Tin and Happy Valley. He will be at Royal Ascot next month with Time After Time.
The efforts of winning jockeys Zac Purton and Brett Prebble can't go without mention. The pressure on Prebble to get Lucky Nine – known for missing the start on occasions – to jump on terms was immense. He simply had to get the box-seat run. Purton maintained his poise throughout as well on Military Attack, displaying the same confidence and race vision he has shown all season.
But it's what they do twice a week, in every race. The same tactical decisions will need to be made in the class five opener at Happy Valley on Wednesday.