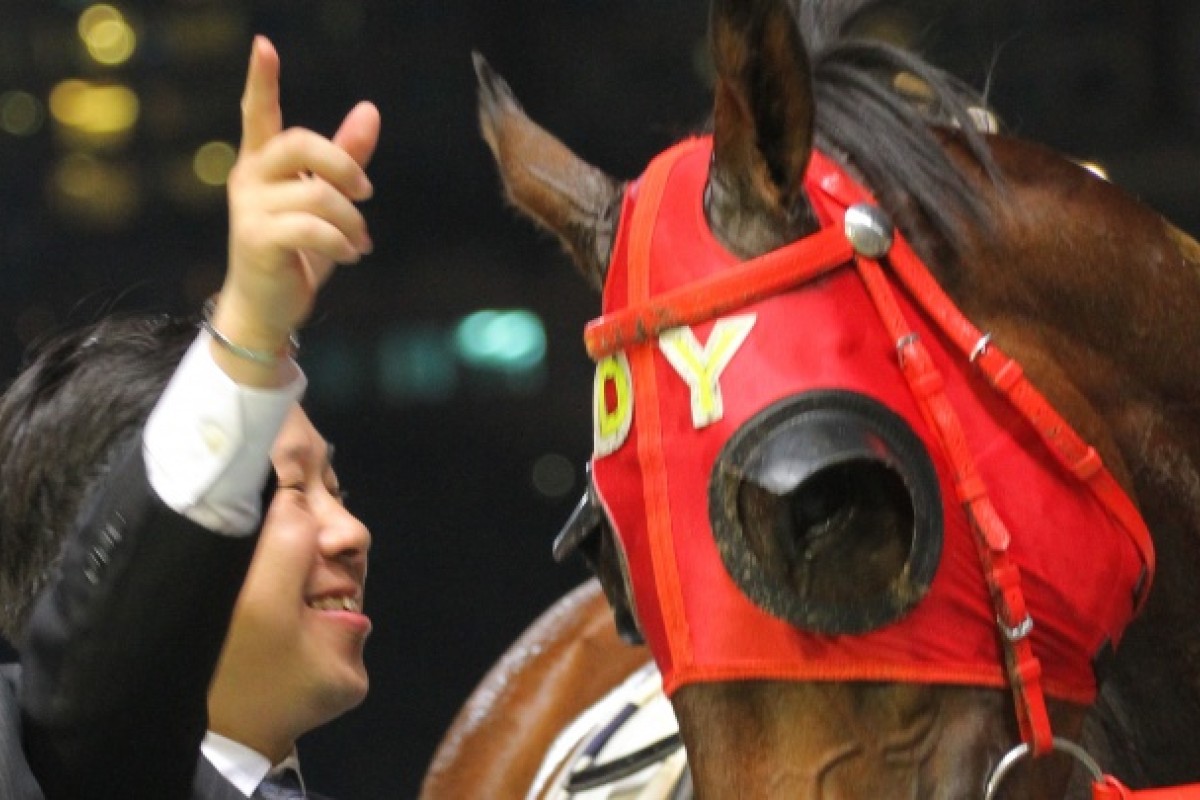 Could an online racing game be the key to trainer Dennis Yip Chor-hong's breakout season? Yip has been credited with a new-found patience as he has shot to the top of the standings, but could his level-headed approach been learnt the hard way by getting his butt kicked by his teenage son on a computer game?
In the Sha Tin press room last weekend, the familiar bell that sounds to indicate post-time rang out. I was shocked, seeing as though the horses hadn't even headed onto the track. Was it some sort of amnesia? – the same kind I must have had when I found myself embarrassingly holding a ticket on Dicky Lui Cheuk-yin in the Jockey Challenge.
But the starter's bell was emanating from a fellow reporter's iPad and he was playing iHorse Racing. A quick show of hands indicated most of my colleagues were, too.
Among the racing fraternity, Candy Crush and Angry Birds take a back seat to iHorse Racing, a first cousin of the Hong Kong Jockey Club's educational app "Race Simulator".
iHorse Racing uses the same racing engine as Race Simulator and aside from the game-play aspect, a player has to prepare a horse for race day using a simple combination of training methods – gallops, barrier trials, feeding and gear changes. Unfortunately, there are now demanding owners or unexpected stable transfers to add another level of realism.
Of course, in terms of numbers, iHorse Racing is a long way behind Candy Crush, the mind-numbingly addictive online game that could be about to cripple society. OK, that's an overreaction.
App tracking websites claim more than 45 million people play Candy Crush each month. Maybe there is someway of tapping into those people's now finely tuned talents of linking two or more coloured candies in a row – if only that energy and focus were directed to something useful. Like studying form and gambling. Or horse training.
iHorse Racing might fall short of Candy Crush in the quest for world domination, but as far as racing participants and media go there is a high percentage of players.
Yip leads the way, saying he bonds with his 14-year-old son, Jason Yip Chun-san, over the game. Of course, like all teenagers, Jason teaches his old man a lesson in anything requiring modern technical proficiency.
But after a test run of the game this week, maybe some of the simple principles taught in the game – don't over train, feed them right and only send horses to the races when ready – have sunken into Yip's consciousness.
While preparing our first horse for the races – an ambitiously named Ambitious Dragon – it was suggested we give the horse a barrier trial after which it was noted the horse was "ready".
Well, the Australian in me couldn't resist and I gave it another hard gallop anyway, just to be sure. When told the horse was underweight, thought that meant fit, and gave it another blow-out. The virtual Ambitious Dragon fell in a heap, burnt out, and required eight carrots and time off to be brought back to full health.
Two weeks ago at Sha Tin, Yip vowed he wouldn't put his horses' health and welfare ahead of personal glory but as the end of the season edges closer and he clings to a two-win lead, the integrity of his claim is being put to the test.
Yip should be proud of what he has already achieved, a personal-best season of 58 winners. But referring to the simple principles of a silly little game, even if it costs him what must seem like such a tantalising shot at a championship, would earn him a lot more respect than finishing first at the cost of the animals in his care.