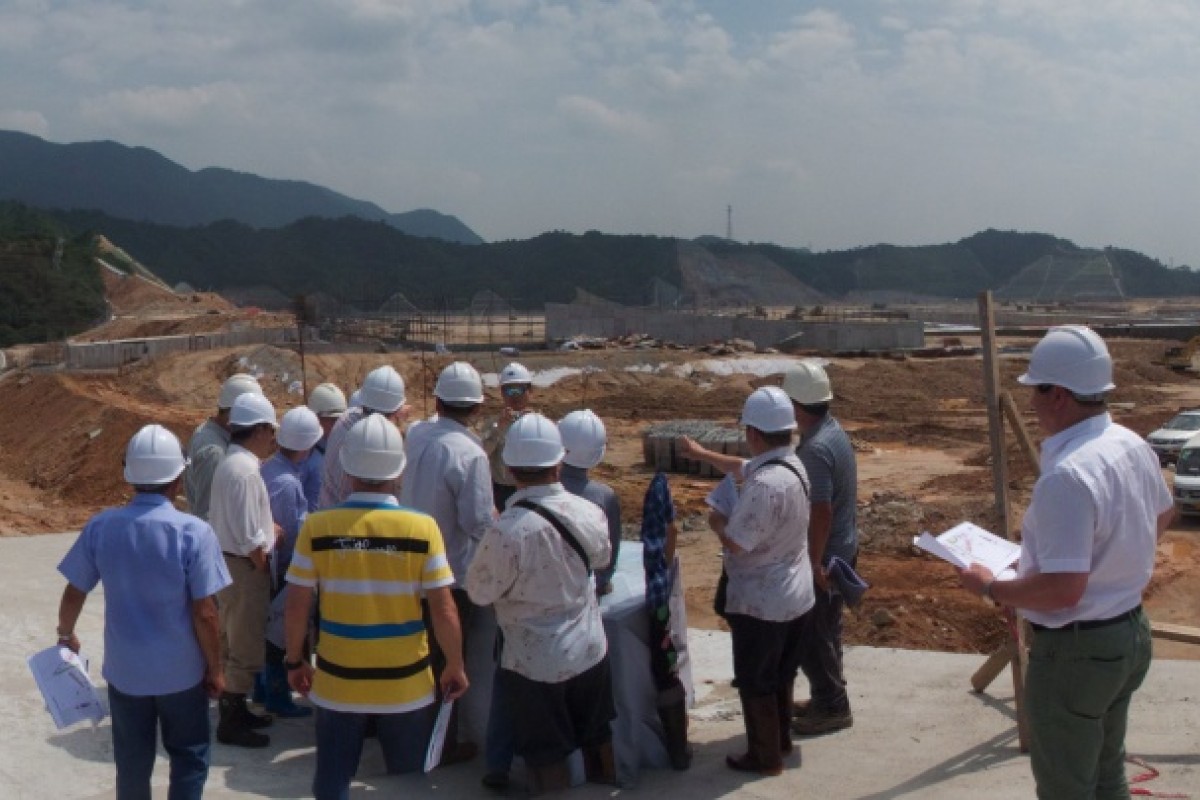 You can't move mountains overnight, but moving a mountain is exactly what the Hong Kong Jockey Club has tried to do by building a training centre in Conghua, near Guangzhou. And even though the slated opening date of the 160-hectare facility has again been shifted, this time back to mid-2015, a group of trainers and staff who visited the work site last week came away convinced they would soon be preparing horses in the "best facilities in the world".
For the first time, trainers were able to see the lay out of the 2,000m track, boasting much wider turns than Sha Tin, and the 1,200m uphill gallop. The earth base has been raised eight metres to ensure uninterrupted views of trackwork. All of it a three-and-a-half hour drive from Sha Tin.
The top of a mountain has essentially been flattened and 10 million cubic metres of soil excavated. It's hard to imagine what 10 million cubic metres of soil looks like, but trainer Paul O'Sullivan probably described it best – "It would have taken a lot of wheelbarrows and broken pick handles," he joked. "But seriously, this facility will be the best in the world. And they've left room for expansion. They've planned it for 40 or 50 years in advance."
The Hong Kong Jockey Club is taking the long view to establishing racing in mainland China. Others claim they will have professionally run and viable racing up and running this year – groups in Tianjin and Chengdu are both announcing "world class" racing in the next six months (although no-one dares utter the "G" word, gambling).
What makes the Conghua project an each-way bet is it is primarily designed as a state of the art training centre – regardless of whatever else happens – with the scope to be quickly converted into a racecourse.
There is space for a grandstand and broadcast-quality lighting – and if racing, with gambling – was ever given the green light, the 150-hectare site would soon become a fully functioning racetrack.
"We have to make progress and expand. The Jockey Club is the same as any other company on the planet. It has to implement growth and look at the bigger picture," said leading trainer John Size, another member of the trainers' committee who visited the site last week.
Three years ago the HKJC went to Size, and other trainers, and gathered ideas of what trainers wanted. What resulted was not only the large turf course proper and 1,200m uphill gallop, but turn-out yards and better spelling facilities. Plus carefully designed service roads that ensure cars and horses don't need to be in the same place.
"We've been overseas to other facilities, and tried to incorporate the best ideas," said Size, who sounds like he is describing his meticulous approach to educating horses when asked about the frustrating construction delays.
"It might take some time to bring it to fruition," he said. "But like most things, if you take your time, and make the right adjustments, you will probably get it right."
Trainers aren't the only ones being consulted, with HKJC head vet Chris Riggs also consulted regarding what he says will be a "cutting edge" equine hospital.
"You cannot help but be impressed," Riggs said of the site. "There are some huge challenges there, but there is a fantastic group of people who will no doubt find solutions. It's very easy to be ground down by problems and lose sight of what it is all about – the big picture. It is a fantastic opportunity."