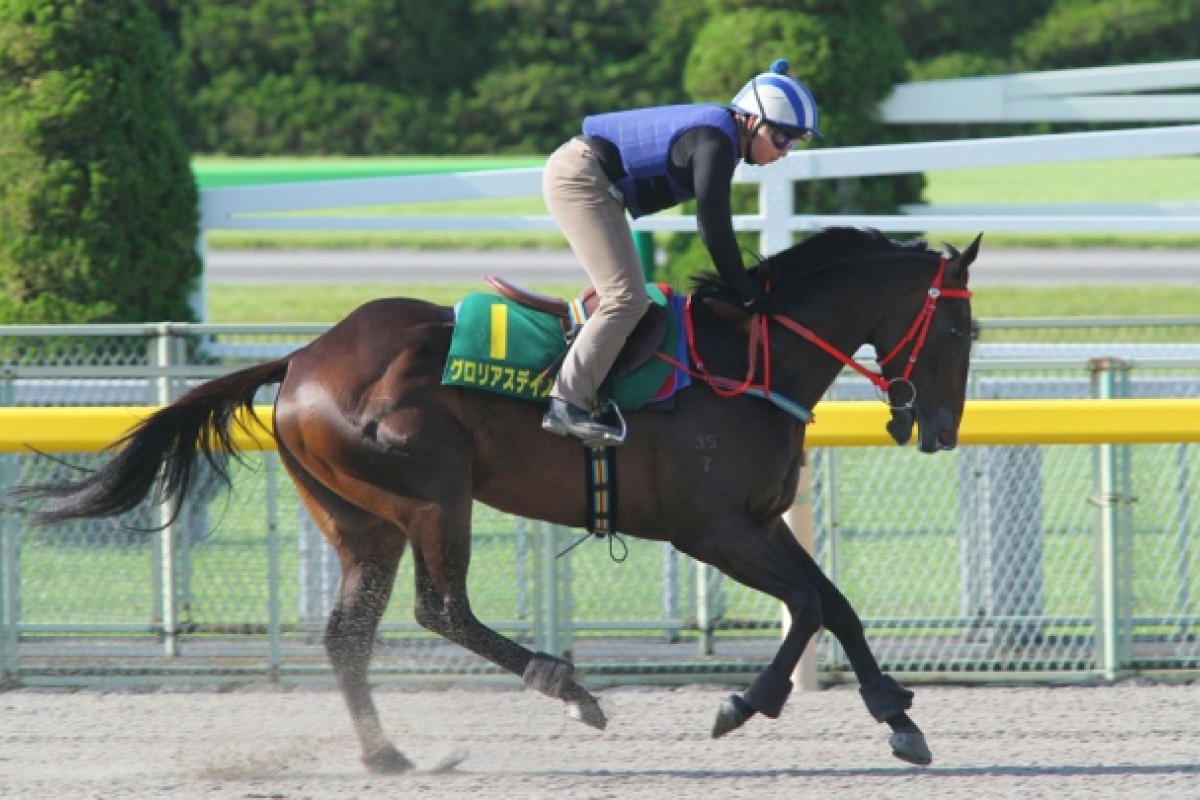 As disastrous as Glorious Days' 14th place in last year's Yasuda Kinen seemed at the time, trainer John Size and jockey Douglas Whyte believe it may have been the making of the horse who returns to Fuchu today a more complete coompetitor.
Last year's race came at the end of a long first domestic season for Glorious Days, where he rose from the bottom half of Class Three to Group One contender, but it also came too soon.
Of course, Size and Whyte had hoped their horse would perform better, but both claim the seemingly negative experience has had a "toughening-up" effect on the gelding.
"I was very keen to bring him last season because he was going well enough and had shown enough promise to be competitive in this race, but one of the main reasons I wanted to come was to give him the experience," Size said this week. "It proved to be that he was a little bit lost. He didn't know where he was going or what he was doing, but I think he will run with a lot more purpose this time."
In last year's Yasuda Kinen, Glorious Days flopped out of the gates and was off the bit chasing early, then knocked around on the turn.
He wandered up the straight, gazing at the massive Tokyo Racecourse grandstand. But Whyte explained how being "bullied" in the frantically run mile race had brought about a change in attitude.
"Going around the left-hand bend, being bullied a bit in the race and being knocked about, then getting back in the field and copping some kick back and having the whole experience at a time when he was in a weak frame of mind, I think that has brought him back stronger," he said.
"Although he wasn't in the frame of mind we would have liked him to have been in last year, it certainly hasn't done him any harm from a mental point of view."
The addition of blinkers earlier this season had an immediate effect on Glorious Days, just has Size and Whyte had suspected.
From that day - when he beat Ambitious Dragon on his merits in the Jockey Club Mile - Whyte had full command over a horse that had previously switched on and off in the run, and had to be urged into taking and holding positions early in races.
"He wasn't beginning out of the gates in his races with authority and initiative - and he wasn't showing much purpose in the run either, he just wasn't helping me out at all," Whyte said.
"He didn't travel well and he seemed very timid. But a year later and he has matured both physically and mentally, and he is making my job a lot easier.
"He is beginning well and putting himself into a position, wherever I want him to be and he is travelling in his races a lot more comfortably.
"When you ask the question to extend and find the line, he is also doing that with more purpose now. He is a fully furnished and mature horse this year. He is coming here this year in a better frame of mind and I have a better horse underneath me."
Glorious Days is coming off an unconvincing fourth placing in the Champions Mile, which is his only unplaced effort outside of last year's Yasuda Kinen.
At first Whyte was disappointed, but was buoyed by Size's assessment that the run looked worse because of track bias favouring on-pace runners. Even if his last start was under Glorious Days' best, he had the appearance of a horse at the top of his game last week at trackwork, bright in the coat and showing an unflappable demeanour.
"The horse seems fine and he's in good shape," said Size after Glorious Days cantered two laps of Tokyo's dirt track yesterday. "The weather has been very kind to us and he's as normal as he would be at home. There's nothing to worry about now, except the opposition."
The Caspar Fownes-trained Helene Spirit also completed preparations with a light dirt-track exercise, ridden by assistant trainer Chris So Wai-yin. "It was good and he felt sharp," So said. "He has really thrived in the time he has been here and he looks and feels great."