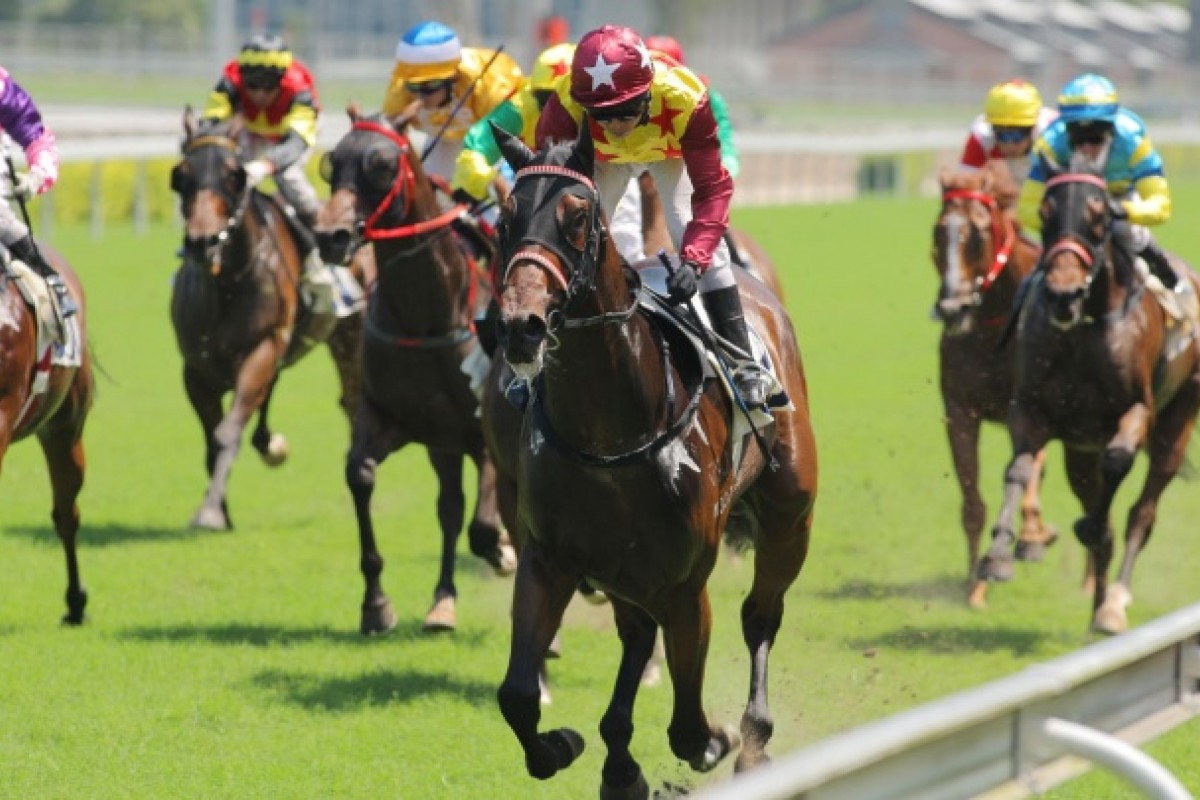 When you pay HK$8 million for a horse, wanting to see it run must be fairly high up the wish list but trainer Ricky Yiu Poon-fai paid credit to Yat Ding Win's owner, Liang Guoxing, for having the patience to wait and get the right result as the three-year-old continued a good run for the International Sale Griffins.
Yat Ding Win, part of a double for both Yiu and jockey Alex Lai Hoi-wing, was not the sale topper at last year's March sale, but the son of Fastnet Rock was the second most expensive purchase and Yiu admits he could do little with him early.
"He took a long time to get right. For eight or nine months, I couldn't do anything at all with him," the trainer said after a hollow second-up victory that announced this will not be Yat Ding Win's last.
"The problem was that he came into the stables with one tendon bigger than the other. It isn't a rare thing, it's just about the horse being a big baby with a lot of growing to do, and now they've grown out and they have evened up. But while he was like that, you just couldn't work him or you'd get worse problems. So the owner has waited a long time for this and been very patient."
On his racecourse debut last month, Yat Ding Win was never out of trouble down the straight course and, with clear running, might have pressed the winner Joy Together, who finished a well-beaten third yesterday.
"Even then, he was only 70 per cent," said Yiu. "Since then, he had two trials and was a better, fitter horse today. He is still quite inexperienced and timid horse, and I'm keen to race him over further later on."
Yiu's second winner was also an ISG, but from an earlier time, Legend Express (Richard Fourie), now a rising seven-year-old and on the wrong side of 40 starts, but royally bred out of Golden Slipper winner Burst and he has been a good money-spinner with earnings nearing HK$5 million.
A recent drop to Class Four was part of the puzzle, however, Legend Express has also suffered with foot issues.
"He has four flat feet, and they'd been giving him trouble, but right now he seems all right, so he might win again in Class Three," said Yiu. "When I put Richard on him in trackwork, I told him 'he'll feel that good, you'll be surprised he's in Class Four.'"
Fourie agreed, saying he had ridden even a touch over-confidently on the gelding in the straight.
"His last gallop was brilliant. On that I thought he'd win, so I was quite bullish when I made my run," he said. "He did flatten out in the last 50m, but I had all the momentum up."