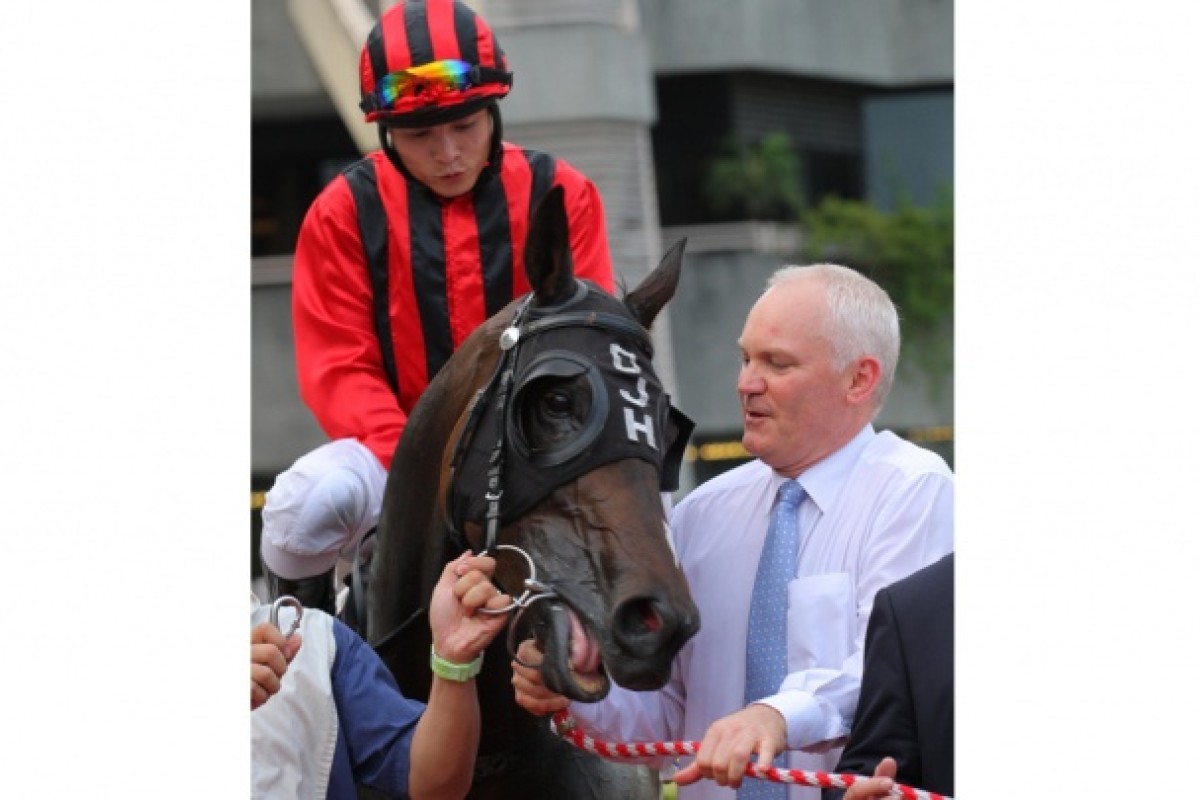 Trainer David Hall knows just how much a "worthy" defeat can take out of an honest horse and Familists finally made his way back around to the top end of the business after a year in the wilderness.
On the final day of last season, in the final race, Familists put in the race of his career, giving away 12 pounds in weight and running Dan Excel to a nose in the Sha Tin Mile Trophy. Dan Excel has since become established among the Group One performers, but pushing him to the limit saw Familists heading in the opposite direction.
"He tried so hard that day, it just gutted him," Hall said after watching Keith Yeung Ming-lun guide Familists back to the winner's stall, 13 starts and almost 11 months later.
"He was flat for a long time after that, even when he came back from the break. And it took him up to 112 in the ratings and between those two factors, it was tough for him."
But dropping back down to Class Two recently, Familists had been showing some signs he was recovering some zest and nearing a win.
"He has not had a lot go right the last few runs and Richard Fourie got off him last time after he ran fifth and said he thought he could have won on him, if he'd had a previous ride on him and knew the horse better," Hall said.
"Richard couldn't ride him today, but Keith did a great job. Familists had become well-handicapped and I knew it was about to happen, but the concern today was the very firm track and the fact he's had those 13 runs this season. I had been hoping to get a track with some give in it and I could have been more confident, but we'll take a win however it comes."
If Fourie missed out on the Familists ride, he made no mistake with Hall's earlier winner, the Class Five cellar-dweller, Bamboo Dance.
"I think the key was Richard riding him very cold - we had no options from the wide gate, but to go back and he's a typical weak Class Five horse. The more you can save his energy early the better he is," Hall said.
"It wasn't a complete surprise to see him win, ever since I've had him I think he showed he has the ability to win a race or two. He still hasn't had a lot of racing so he might get stronger next season."
Fourie said he had not ridden the gelding in a race, but was mindful of a habit he had seen in his replays.
"He can get his head up a bit, so I just wanted to grab him as soon as we jumped and switch him off at the back straight away," he said.
"After that we had some luck following the right horse through and he finished it well."
The win was the first leg of a double for Fourie, as well, who later won for Ricky Yiu Poon-fai on Legend Express.