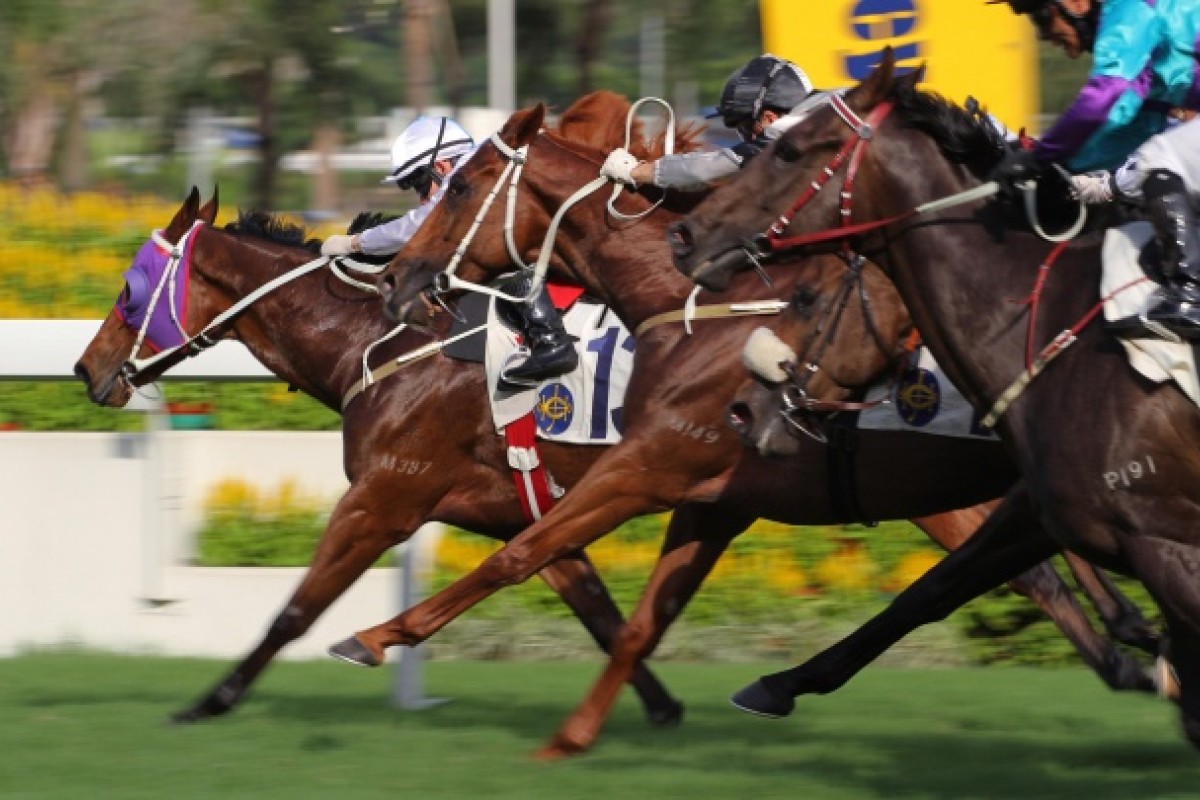 In keeping with the long-observed traditions of the trainers' championship race, the top four stables could produce only two winners between them at Sha Tin yesterday but Tony Cruz managed a spark of optimism about his chances of landing a third title after Supreme Genki caused a 33-1 surprise.
Supreme Genki (Matthew Chadwick) looked the likely leader in the featured Hong Kong Riding For The Disabled Association Cup (1,400m) and that was a role that brought its own rewards on a track favouring those up and against the rail.
"I think the track was fairly biased today - even from the early races, it was hard for horses to finish on and win and I'm sure that helped Supreme Genki when he was able to get the lead and without a lot of pressure," said Chadwick. "He's a limited horse, a bit of a battler, but he is honest and those kinds of horses can surprise you like this."
The win for Cruz took to him to 60 and joint leadership in a four-cornered race for the championship, with just three wins across himself, Dennis Yip Chor-hong, Caspar Fownes and John Size, at a point of the season where, every year, finding wins can be like finding hens' teeth for the top yards. With their horses sitting high in the handicaps after successful seasons, the leading trainers battle to keep winning but Cruz is defying that pattern.
"I think I'll need 70 to be winning the premiership," Cruz said. "But I believe my horses are still going well. They are fit and healthy and holding their condition even this late in the season."
Cruz's statistics bear that out, as he has led in 12 winners since the end of April, comfortably topping the nine for Yip and eight for Fownes, but the sharp slowing of co-leader Yip's momentum is evident from him having produced only two winners in the last seven meetings.
Size has fared the worst of the four trainers lately, but Access Years (Tye Angland) provided him with his fifth winner since the end of April and in the manner of a horse who will be winning again before the season halts.
Access Years had been in training all season without a race but had been well prepped for his debut with five barrier trials and did enough in most of them to expect a forward showing.
"He's always looked like a nice-actioned horse with something to offer when he got to the races, but it hasn't been a fast process getting him there," Size said. "There hasn't been a problem, I've just had to wait for him to strengthen up physically. So while he was doing that I was able to take my time giving him a thorough education at the trials. I wasn't too concerned, it just took time, but the result is that he has come here today and done everything right."
The race could not have mapped much better for Access Years, with Angland parking him in third as favourite K- Moochi and outsider Star Of Wai Bo swept across from wide gates to contest the lead in front of him.
"Like all John's horses, he knew what he had to do," Angland said. "He had good natural gate speed to put him there without pushing him and it couldn't have worked out better. He won comfortably enough but he might have won by further but for his inexperience - I felt he was waiting for them when he got to the front."