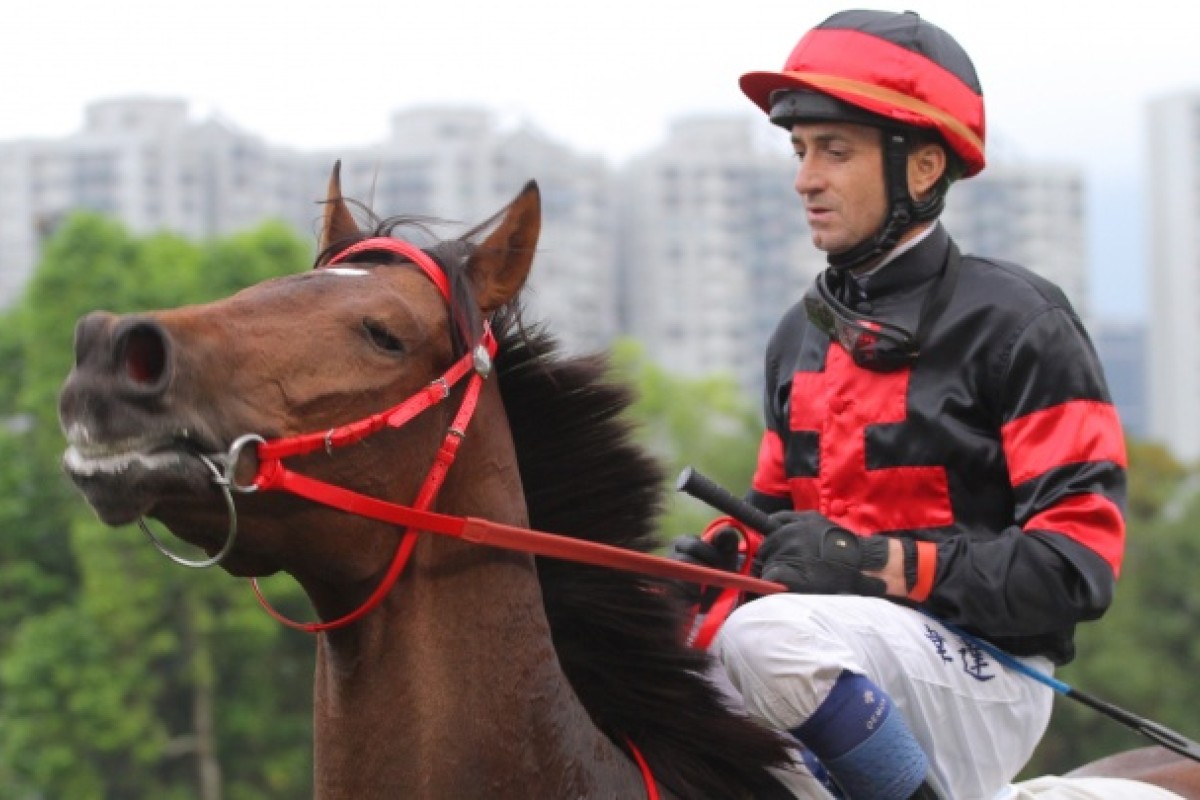 The Hong Kong Jockey Club unveiled its yearly release of merchandise on Saturday – the usual assortment of T-shirts, backpacks, stuffed toys and key rings. But the diversity of the HKJC set pales in comparison with the bonanza on offer at the Japanese Racing Association's "Turfy gift shop", as we outlined last week.
So let's run the rule over the HKJC's range and offer some suggestions, given what we've learnt from the JRA's marketing masterminds.
Firstly, we have to look at horse selections. This year's HKJC range includes eight "heroes": Akeed Mofeed, Ambitious Dragon, California Memory, Dan Excel, Glorious Days, Lucky Nine, Military Attack and, the odd one out, Sea Dragon.
He is the only horse of the octet to have never won a Group One. The merchandising department has taken a punt on an up-and-comer. He is a nice young horse, but let's hope the Sea Dragon backpack doesn't find itself in the second-hand thrift shop along with the Jacobee T-shirts, Smart Giant coffee mugs and Sweet Orange bandanas.
Eagle Regiment is a two-time Group One winner but doesn't make the cut, as his stuffed-toy likeness would have better legs than him, and he might be lame again by the time his merchandise hits the shelves.
Which brings us to realism, and this is where the JRA is streets ahead of the HKJC. The hair colour, markings and gear worn on the JRA toy horses are spot on – they even including a little red ribbon for the "kickers" where applicable. Hoods, cross-over nosebands or blinkers, white socks or a blaze – they might only be toys, but they are painstaking recreations of the real thing.
What the HKJC toys need are some accessories to add that same element of realism. The California Memory plush toy should come with a mini-syringe set for injecting his aching joints, while Ambitious Dragon could come with little firecrackers so you can recreate his famous Dubai World Cup meeting meltdown of 2012. They should all come with a "My little farrier set" to repair their worn-out feet and have tails that gradually fall out over time.
And why not stop at horses? Go one up on the JRA and bring out trainer and jockey figurines. Imagine a John Moore action figure with interchangeable safari suits. Or a "quote-a-matic", pull-string Tony Cruz doll which rattles off awesome one-liners on command (the John Size "quote-a-matic" wouldn't be such a hit, but if it did make a noise, every few months or so, at least it would make sense).
The Zac Purton action figure could come with spring-loaded arm, finger-pointing action and cheeky one-liners taunting arch-rival Douglas Whyte.
Of course, what the HKJC lacks is a frontman for its operation. The JRA has Turfy.
Now, Turfy is a seemingly innocent cartoon character that appears with iconic kiddie brand leader Hello Kitty on JRA placemats, beach towels and all sorts of mostly cheesy merchandise.
But he is also an instrument of education, finding time to take you through a step-by-step "how to bet" guide and instructing punters on the finer points of gambling etiquette, like, and this is a loose translation – "Have some dignity: don't rifle through trash cans for discarded tickets, it's not cool".
It's fair to say political correctness hasn't really taken hold in Japan and the racing there is no different. For example, there is a Group One-winning mare named Whale Capture that we'd love to see head abroad to compete. And what will her foals be named? Whale Slaughter? Whale Sushi? The slightly tamer Whale Cull? Or just plain old Scientific Research?
In recent months in Australia, bookmaker Tom Waterhouse has been embroiled in controversy, not just because of his role in the hugely entertaining More Joyous stewards' inquiry, but because of his intrusive appearances on live television broadcasts, spruiking odds. The concern was that the kiddies at home would come to accept that gambling is part of sport and be influenced, heaven forbid, to take up the punt. But on the score of getting kids to gamble, Turfy makes Waterhouse look a lightweight.
We propose a HKJC frontman – and he can't be a horse as the punters just don't relate to animals. As one jockey lamented after he was fined for not riding a horse to the line, "These punters don't see an animal, they see a number. My horse had nothing left". (This must be the only jurisdiction where riders are fined more for not using the whip enough, than excessive whip use).
So what about a graphic representation of an everyday $10 quinella place punter – someone the rank and file can relate to? Like the disgruntled favourite backer.
He is impeccably dressed in his Sunday best: old jeans, T-shirt and (free) baseball cap. He could take the same educational role as Turfy, explaining to everyone that odds-on doesn't mean unbeatable and when a favourite is beaten it doesn't mean he was the victim of subterfuge.
In the parade ring, he could explain that yelling, hissing or whistling at a passing horse does not help its cause. His familiar face, cigarette dangling carelessly from his mouth, could appear on the big screen, calling for calm and preventing civil unrest when a few favourites go under, or the start of a race is delayed by two minutes.
Now, we're not so sure Hello Kitty would want to hang out with him, but who wouldn't want a T-shirt?