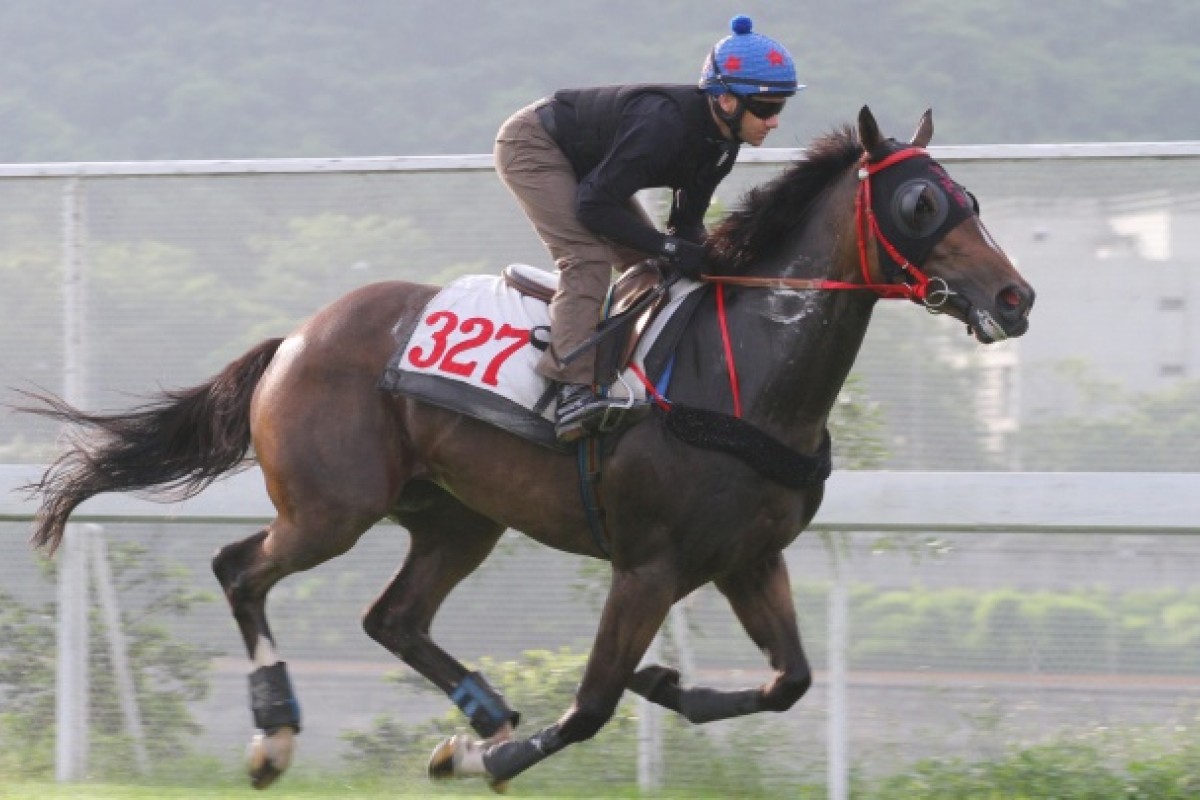 Playing the low barriers could pay off for Triple Trio players at tomorrow's midweek meeting at Sha Tin - with two legs on the dirt and the final leg on the turf with the rail set wide.
Horses able to push up handy from inside draws on the all-weather track should be favoured, while a recent heavy workload and the rail posted in the "C" position could make the fence the place to be on the grass.
The middle leg (race six) is a Class Four over 1,650m and take the horses drawn gates one and two - Plain Red Banner (Brett Prebble) and Follow The Wind (Douglas Whyte), despite both making their dirt debuts.
Ricky Yiu Poon-fai put the blinkers back on Plain Red Banner two starts back and he broke through, albeit in a restricted race at Happy Valley. He showed that wasn't a fluke when second as favourite over the same trip next start, helped by Dicky Lui Cheuk-yin's claim. The question mark is whether he handles the surface. His only trial on the inner track - as a newcomer - was terrible and his trackwork times are noticeably better on the grass than on the dirt. He has got the early speed to be handy though.
Dennis Yip Chor-hong's Follow The Wind can run a strong mile on the grass, so 1,650m won't be a problem and this seem like an ordinary lot.
A couple that grow a leg on the dirt and should be thrown in are Prince Of Sunshine (Andreas Suborics) and Ole Ole (Keith Yeung Ming-lun). Don't be surprised if an outsider lands in the top three though. Consider playing wide outside of the double bankers, with Tarrega (Ben So Tik-hung) and Bosambo (Howard Cheng Yue-tin) capable of running races on the track.
The middle pin is a 1,200m Class Four on the dirt. Go with gate three and the John Size-trained O'Halo (Whyte) as he looks to have dropped to a dangerous mark. The handicappers don't usually cut "Mr Size" much slack, but O'Halo has dropped from 60 to 52 in four runs - the last three over unsuitable distances.
Both of O'Halo's wins have been over the course and distance and off comparable marks - 57 earlier this season and 52 in April last year. In the first of that four-run sequence he carried 133 pounds and started 3.4 favourite in a similar-looking race. He started from gate one and was beaten 4-3/4 lengths by a rival, El Grande (Lui).
O'Halo has dropped eight pounds since and El Grande risen 10. El Grande's hike is offset by Lui's claim. He has drawn well in gate two and should also be included.
Three others that must go in are Maroon Prince (Weichong Marwing), despite his wide draw, Darpana (Tommy Berry) and Supreme Hong Kong (Richard Fourie).
The final leg is on the grass and the big improver looks to be the Size-trained three-year-old Khaya. He was slow away last start over the course and distance but made good late headway. He is the likely favourite, having drawn not too badly in seven, and has to go in.
Take a punt on banking John Moore's Affection (Berry) from gate one. He is nothing special, but has enough pace and ability to stick around for a place, with a soft run from the inside draw. Throw in Winning Boy (Olivier Doleuze), Beauty King (Marwing) and No Ties (Tye Angland).
Read Michael Cox's blog - HKJC needs cartoon character to rival Japan's 'Turfy'. Go to: http://www.scmp.com/michael-cox
---
Track Stars
RACE 1:
(1) You Read My Mind, (4)Golden Deer, (9) Teofilo Calva, (11) Sparkling Sword.
RACE 2:
(2) Pure Victory, (4) Forza, (5)Fiery Raider, (12) Petit Prince.
RACE 3:
(3) Buddy Watson, (5) Gold Tartini, (11) Plot Ratio, (14)Follow The Money.
RACE 4:
(2) Red Courage, (3) Ambitious Glory, (10) Hurry Hurry Up, (12)Dream Partner.
RACE 5:
(3) O'Halo, (7) Confucius Elite, (10) Viva Dolphin, (11) Real Champion.
RACE 6:
(1) Care Free Pegasus, (5)Natural Champion, (11) Shifachi Tradition, (14) Handsome Batchelor.
RACE 7:
(3) Grand Champion, (4) Khaya, (5) Affection, (8) Power Blitz.
RACE 8:
(3) Glamorous Homour, (5) Jaeger Bomb, (10) Psychologist, (12) Mr Gourmet.
RACE 9:
(3) Winnie's Horse, (4)Impeccable, (9) Fighter Class, (11) My Favorite.
RACE 10:
(2) Chancellor, (8) Good Treasure, (12) Griffindor, (14) Dr Good Habit.
RACE 11:
(1) Silver Grecian, (2) Flagship Shine, (12) Champagne Days, (14) Racing Hero.