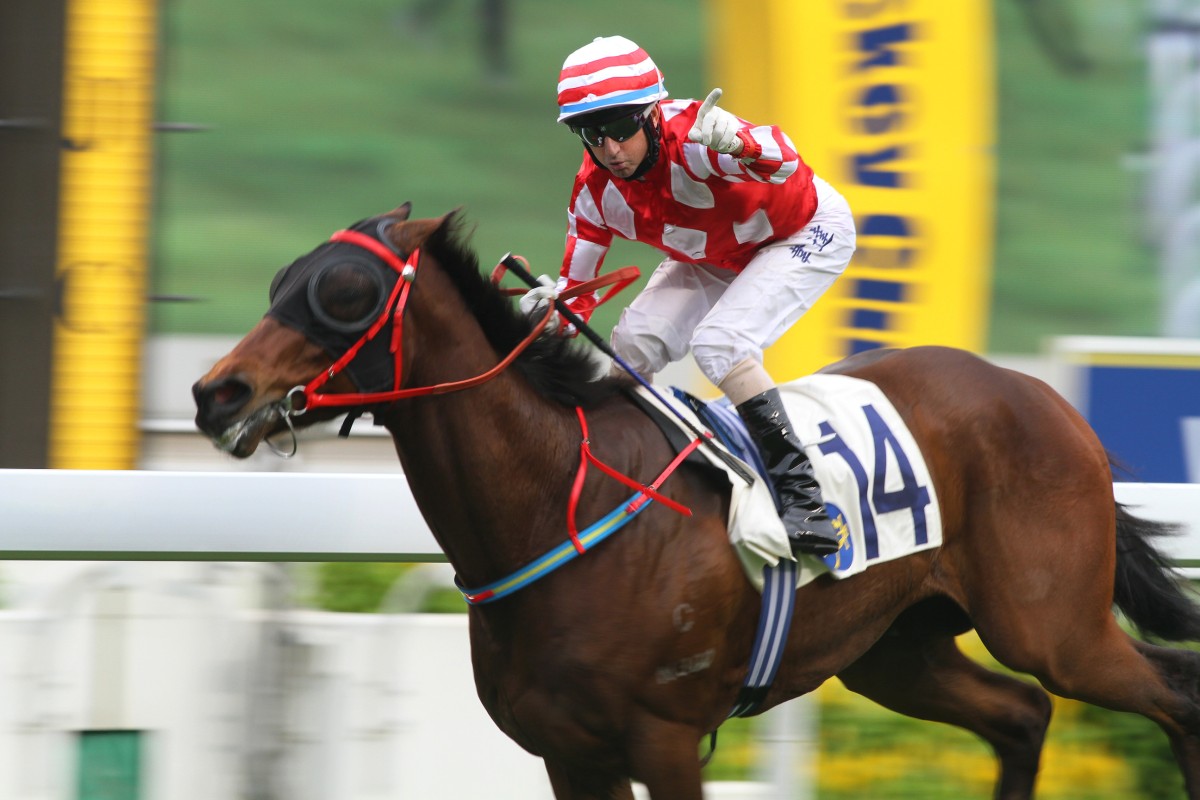 The thrilling four-way tussle for the trainers' championship is a case of last man – or more to the point, horse – standing. And intriguingly, and perhaps fittingly, this is a title to be decided by the equine rank and file; the middle-of-the-road Class Three and Four thoroughbreds.
As well as some battlers of modest talent and limited upside, this classification of horses also includes the fresh blood – lightly raced and relatively untapped horses who will play a key role in what has become an absorbing battle.
Dennis Yip Chor-hong (62) leads the title chase by two from Tony Cruz (60), followed by John Size (58) and Caspar Fownes (57). The biggest factor is the shape of the end-of-season fixture list. The glut of Group races is over and the meetings are stacked with Class Three and Four events. Of the 76 races remaining, 51 are Class Three and Four.
As fans were transfixed on the finger-pointing and verbal barb throwing in the fight for the jockeys' championship between 12-time champ Douglas Whyte and upstart challenger Zac Purton, the wrestle for the trainers' crown quietly became the one to watch and is far more likely to come down to the season finale at Happy Valley next month.
Whyte versus Purton began like a heavyweight slugfest, as the challenger threw wild haymakers looking for the knockout blow. But it has ended with the champ building a decisive points lead in the late rounds – his opponent covering up on the ropes, resources exhausted.
Whyte leads by five wins with eight meetings to go – not an impossible margin to overcome by any means, but weight of numbers has worn Purton down and the momentum has swung. The two most likely scenarios are a flurry of wins by Whyte, bringing a knockout in the next couple of meetings, or maintaining a comfortable buffer until the final bell.
By contrast, the trainers' championship has been more of a slow burn and seems destined to remain tight, setting up what should be a memorable night-time season finale on July 10 at the Valley.
But who has the real firepower? And it's not just who has numbers, it is more a case of who has kept their powder dry and has the right horses, the ones with wins left in them.
Even though Yip pushed two clear on Wednesday with a double, the smarties have narrowed it down to two likely winners, and the leader isn't one of them.
Cruz and Size "have the numbers", the wise men say. And when the experienced hands say numbers, they don't mean overall – all four trainers are at close to full capacity of 60 horses, but it's the right type of horses they are talking about. Horses ready to run but who have yet to reach their ratings peak.
Here's the breakdown of horses rated in Class Three and Four by stable: Fownes 41, Yip 40, Cruz 34 and Size 32. So on that score, Fownes and Yip have the advantage, right? Well, only on face value.
Yip's numbers are deceiving. They are bolstered by some new horses that will not figure and others who have won their way out of their grade. He has four horses who have yet to even trial, and another who has trialed just once, unimpressively.
Then there are horses like Dars Auto and Real General who have won their way out of class five with multiple wins and look "empty" or over-matched at their revised marks. Add One Of A Kind and See The Pearls to the list of those who may have reached their peak. There is a fair bit of "dead wood" there too, out-of-form horses that wouldn't justify a box at Size's set-up.
Fownes would probably be ranked the outsider of the quartet, but he is our smokey. Why? He has the volume and they seem a reasonable mix of healthy and new horses, too, but just as importantly, he is the most creative at placing them. He "plays the system" better than anyone, backing up horses wisely and using trump cards and priorities to his advantage.
Cruz's horses are starting to resemble Nascar stockcars more than racehorses. There seems an awful lot of his runners that are getting dizzy just going around week after week. The horsepower might just give out. Still, that is his training pattern and there is enough quality there to assure he will remain in contention until late.
But this race is an 83-meeting marathon, not a sprint, and no one does steady-as-she-goes better than Size. He is our bet to make it eight championships in 12 seasons. He may have the least amount of horses in the key grades, but he has the most with a handful of starts and upside.
Look at this list: Little Men, Ensemble, Master Sommelier, Glorious Sunday, Hypersonic, Dr Good Habit, Access Years and Brave Brother – all lightly raced and ready to rise in the ratings. Of them, only Little Men has more than five career starts – and he is hardly "cooked", with just eight runs this term.
In the end, quality not quantity will see Size home.