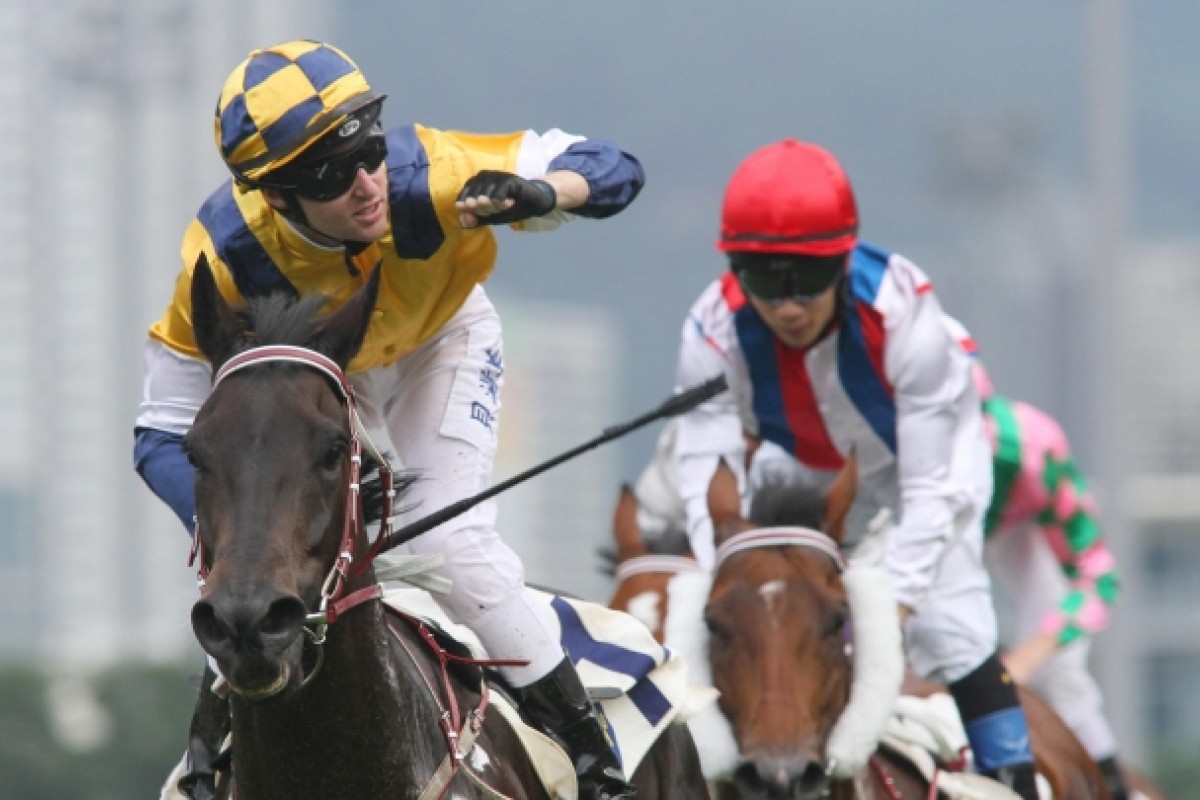 The season's leading money trainer again, John Moore closed in on the magical HK$100 million mark after a three-timer at Sha Tin that included a Group Three Premier Cup for Sterling City and a conundrum for the future.
Moore won successive races with Rewarding Hero, Sterling City and Invictus, before unveiling a potential star of next season, Designs On Rome, who finished runner-up in the final race.
But despite narrowing the gap between himself and trainers' championship leader Dennis Yip Chor-hong to nine, Moore scoffed at the idea he might make a late charge for the title.
"No chance, I'm no chance. My stable just isn't set up that way - I have no Class Threes and Fours, I'm top heavy with horses that can win the big ones and that's not an accident, that's the way I want it," said Moore, as he won his third Premier Cup and moved within HK$2.2 million of the HK$100 million stakemoney barrier he has passed twice before in recent years.
A solidly backed favourite, Sterling City did what was expected by most after a perfect Tommy Berry ride, proving too strong for a classy field under the handicap conditions as he graduated to Group company.
"He has always been going the right direction," said Moore. "His finishing quarters have been phenomenal and it was only a matter of time before he was going to reach this Group level and now I think we can look at the best races for him next season."
But that brings with it a question of whether Sterling City yesterday was a sprinter stretching out to win at 1,400m for the first time or a miler who has yet to be tried at his best distance.
"With respect to the international races, he needs to be one thing or the other, doesn't he? There's a 1,200m race and there's a 1,600m race so he needs to be a sprinter or a miler," Moore posed the question out loud.
"The way he settles, I'd be more inclined to think he could go to the mile, but I'll have a good talk about it with his owner and see where he wants to go. And if we want to look at the mile, there will be opportunities to run him over that distance under handicap conditions, maybe a race like the Sha Tin Trophy, before a decision has to be made, so we'll be able to get a better guide to how he copes with it. But that's him for this season now."
Berry said he anticipated Sterling City would run 1,600m next season as he was so relaxed in the 1,400m. "In a 1,200m, he might be outpaced because he's so relaxed. He just switches off and he's got great finishing speed and, in a 1,600m, if he could do that and be midfield and still produce that acceleration, it would be an ideal trip for him," he said.
Sterling City got the better of the Tony Cruz-trained Bullish Champion - one of championship aspirant Cruz's three seconds on the day - with Moore-trained Admiration a brave third and Time After Time (Gerald Mosse) again rushing home for fourth carrying the top weight of 133 pounds.
"I think he'll be one of the best next season," said Mosse. "He gave me everything and he was very good again. It is hard to win these races with a big weight. He is the same class as the winner but one has 133 pounds and one has 20 pounds less."