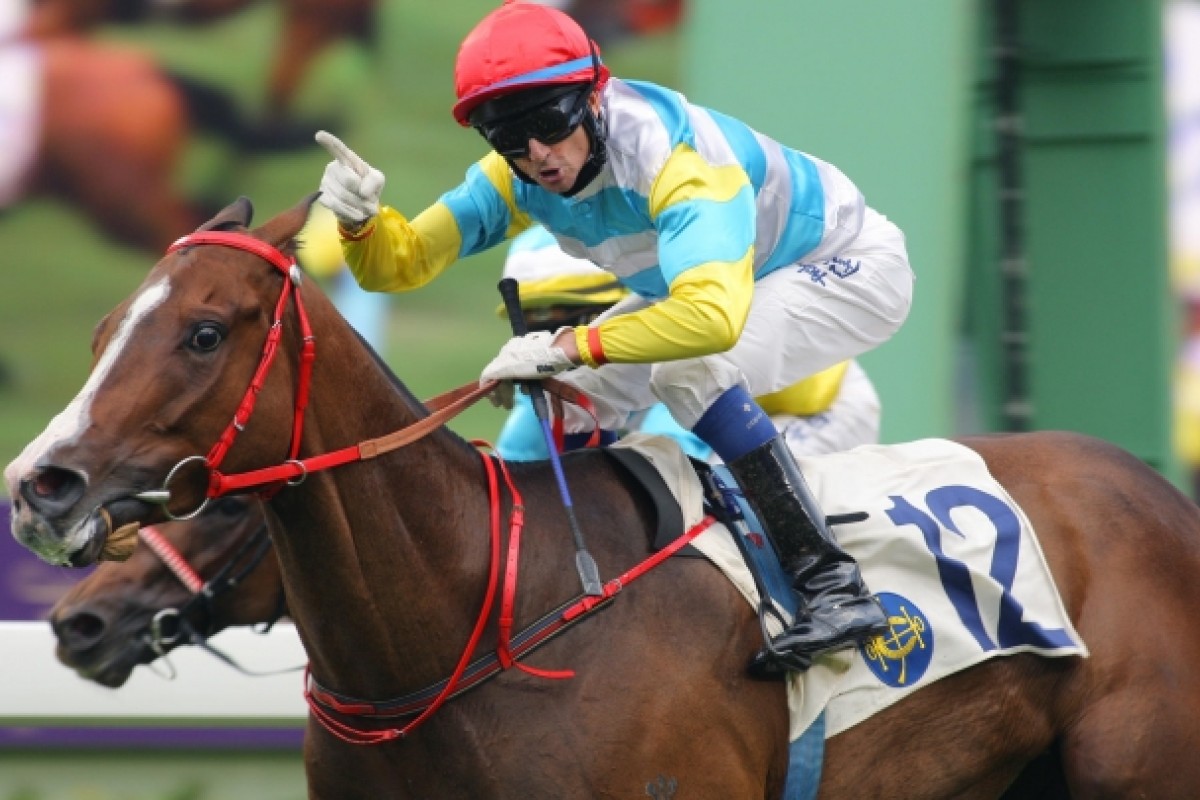 The fat lady hasn't sung but there was the scrape of a chair and a clearing of the throat at Sha Tin as she stood up in readiness after Douglas Whyte's treble set Zac Purton an unreasonable task to catch him in the final seven meetings of the jockeys' championship.
With 66 races remaining, Whyte stretched his lead to eight with victories on Hypersonic for John Size, Rewarding Hero for John Moore and All You Wish for Dennis Yip Chor-hong, then played a copybook straight line with the defensive bat when it was all over.
"Mathematically I can still be beaten, so I'm not counting my chickens," said Whyte, seeking a 13th successive championship win. "It's only over when I can't be caught."
Whyte's three winners may all yet have a bearing on how the trainers' title race turns out, with Hypersonic one more for Size but also thwarting the Tony Cruz-trained runner up, Bould Mover, while All You Wish extended Yip's lead at the top of the table to three at day's end.
"He's a lovely horse going on to bigger and better things," said Whyte, who allowed All You Wish to throttle right down to a half-length margin in the final stages. "The job was done and I hate being hard on young horses. He was always going to win so I didn't feel the need to pressure him."
Whyte continued his great strike rate when he makes the effort for progressive lightweights, making 115 pounds on All You Wish as he graduated from Class Three.
"I thought he was a bit hard done by last time being taken out of the class one rating point, but on the other hand he's probably better with the light weight up a grade. The only time he was beaten was when he had to carry 133 pounds," Whyte said. "Dennis hasn't got anywhere near the bottom of him. He's a really nice individual and has plenty of untapped potential to work with next season."
Whyte backers had a little more to worry about in the final stages of Rewarding Hero's win, with the lightly raced gelding appearing to stargaze once in front; he only scrambled in after looking an easy winner.
"John asked me to be closer but he couldn't go the pace so I had him parked towards the back and he must have just appreciated being switched off like that because he really went quick when I pushed the button," Whyte said. "I don't think he's ever been in front so quickly or for so long and I think he just didn't know what to do."
Moore said Rewarding Hero simply "lost the plot" out on his own for so long: "He's very much still learning. He might be able to win another one before season ends but he's got scope to improve next campaign, too."
Hypersonic won for the second time in impressive style on the all-weather track, but Whyte isn't putting him in a box too early.
"He's got a tremendous turn of foot and I think he'll show that acceleration on the turf, too, and 1,400m will be ideal," he said.