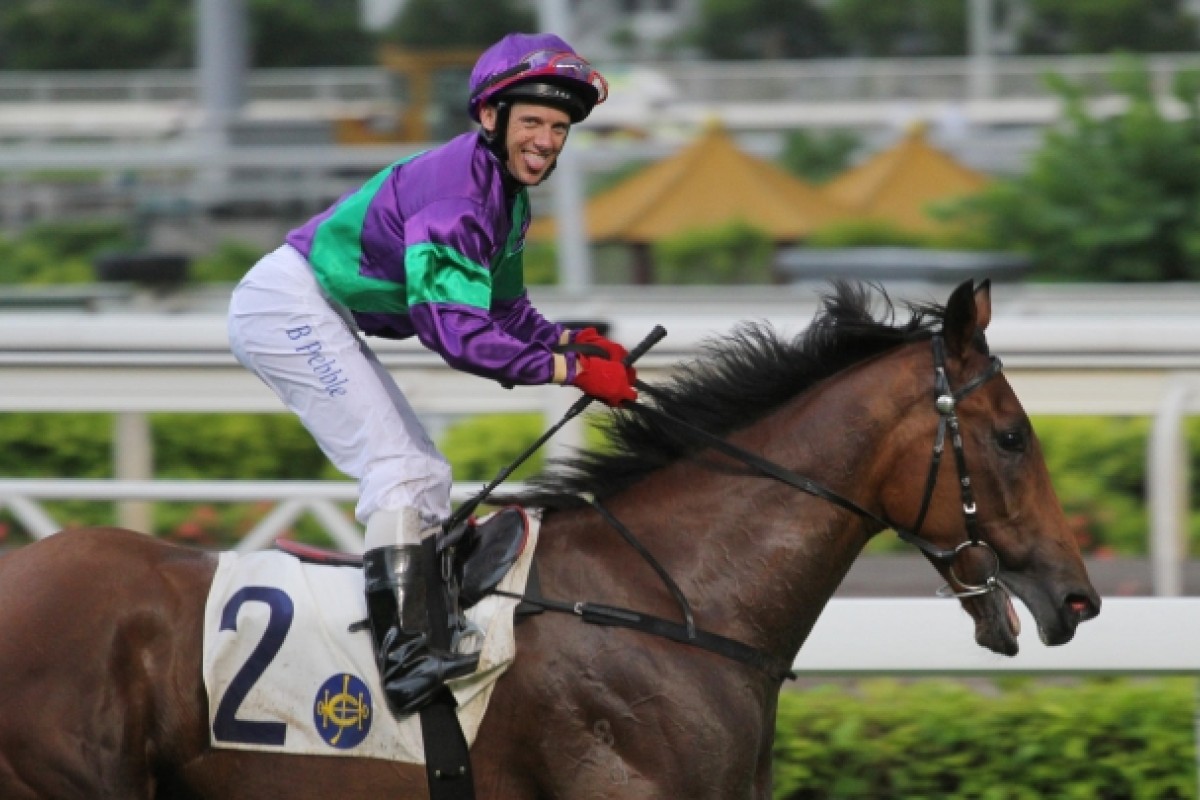 The statistics were rolling out most unkindly for top jockey Brett Prebble before he put things right with a double with Lord Sinclair and Medallist but the jockey himself was just getting on with the job.
Prebble had won just one race since early May and since that victory on Polymer Win in mid-June, he was collecting seconds like a Salvation Army "opp shop". When Golden Addiction and Mighty Equus were run down after looking the winner early in the Sha Tin card, it gave Prebble seven visits to the runner-up spot in his previous 20 rides.
"All I can say is that's Hong Kong - it can happen here. And the main thing for me is that I wasn't going home saying that this should have won or that should have won, that I should have done a better job - they've been there to win and just found one too good," Prebble said. "But it made a nice change all the same."
Prebble found a kindred spirit in that regard in the Sean Woods-trained Lord Sinclair, who broke the losing streak for them both when he spreadeagled the field in the all-weather Class Three sprint.
The former French horse was a local maiden, despite promising quite a bit from the trials but was a real handful even to get into the starting stalls at one point.
But a recent gelding operation before his last start looks to be doing the trick and sending him the right way.
"He's not been gelded long, so he'll benefit from more time, from a break now," Prebble said. "Sean has had him into a good routine to settle him down and kept him from getting upset, but now he's gelded and calming down, he'll be able to go back to basics with him.
"He excels on the dirt, but I'm sure he'll be better suited over further than 1,200m. And he might even go back to the turf now. He gives you a lovely feel and has become a very pleasant horse to ride now - there are lots of boxes ticked there."
Prebble completed his pair with Medallist - the easy-to-find half of David Hall's double - who was backing up from fourth at Happy Valley last Wednesday over 1,650m.
"He's proved himself backing up before and I think the 1,800m tempo and the good draw was the ideal situation for him," said Hall. "He's had the perfect run, but carried weight so it was a decent effort and he's had a good season for the horse he is. He might be able to get one at the bottom of Class Two but anyway, he's doing his job."
Prebble said he went to the races with some confidence in Medallist and "got off last Wednesday and told David he'd win".
"The thing on the back-up is that he normally gets very keen and does too much if he hasn't run for a while and that was him on Wednesday. But he finished it off well there and I knew he would turn up as a better horse today with that run in him," Prebble said. "With that weight, with that rating and draw, that's as good as he is today but he travelled beautifully through the race and he put his neck out and stretched out really well."