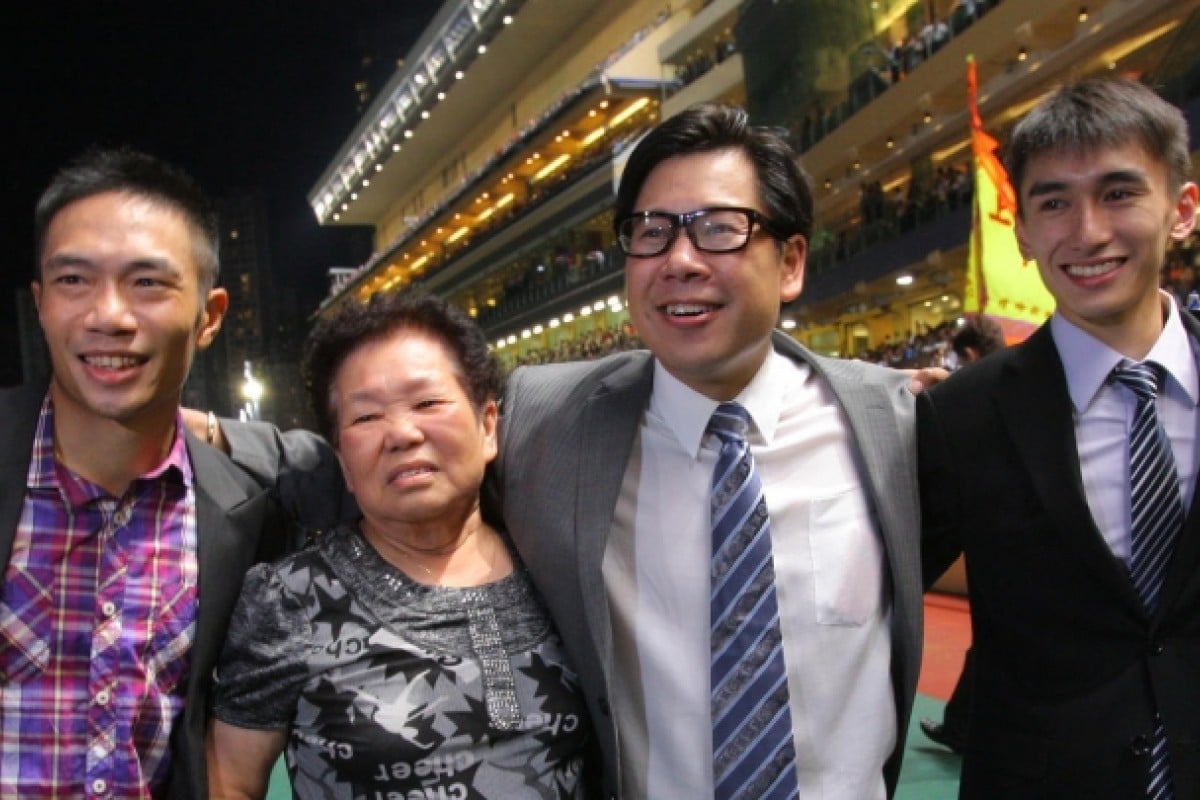 Winds of change began to rip across the trainers' landscape as Dennis Yip Chor-hong broke a 12-year drought for Chinese handlers and turned the "big four" into a "big five", while relaxing of compulsory retirement rules and tightening of bottom-end performance criteria will also shake things up in the future.
Yip's memorable maiden crown, clinched in the final race of the season after a tense four-way battle late in the term, was not only the first time a Chinese trainer had won the title since his mentor, Brian Kan Ping-chee, in 2000-01, the 45-year-old was the first trainer other than John Size, Tony Cruz, Caspar Fownes or John Moore to triumph since then.
That established quartet again had an impact; Cruz even led, at least on countback, during the thrilling final meeting before falling agonisingly short, just as he did two seasons ago.
Defending champion Size seemed favourite but fell to third and continued a win-loss-win-loss sequence that began after three straight titles to begin his career.
Yip will now face the same challenge of a cyclical drop-off in 2013-14 after posting a win total (69) of 13 more than his previous best, especially given his championship was built on multiple winners surging off low handicaps.
Horses like Why Not and Dars Auto (both four wins), plus K-Moochi, Garlic Boy, One Of A Kind and Travel Brand (all three wins) may struggle next term. At least All You Wish (five wins), voted the Most Improved Horse, is an exciting prospect for the four-year-old features and gives Yip the flagship horse big stables need.
Fownes' championship challenge waned late, but he got his mojo back and re-established himself with a fourth-placed finish after disappointing in 2011-12, achieving overseas success with stable star Lucky Nine in the Group One KrisFlyer Sprint in Singapore.
Moore finished fifth, maintaining his status as top prize-money earner and broke his Group One hoodoo on foreign shores with Horse of the Year Military Attack on the same glittering night at Kranji.
Moore, 63, should be the first to benefit from new rules granting high-achieving trainers extensions of up to five years after turning 65. Size (58) and Cruz (57) are the next cabs off the rank.
Richard Gibson's sophomore season saw him clinch the big races he craves with high-priced Akeed Mofeed winning the BMW Hong Kong Derby and Gold-Fun victorious in the Classic Mile, yet the Englishman failed to improve on his first-season win total, dropping from 35 wins to 32.
Along with Yip, the other big improver was Michael Chang Chun-wai - 40 wins easily a career high and placing him sixth, while his comrades at the Olympic stables struggled. Andreas Schutz had 14 wins, while Sean Woods (14) and David Ferarris (13) got more mentions in the media for waging war with stewards and vets respectively, than for winning races.
Gary Ng Ting-keung scraped by yet again with 13 winners, leaving Almond Lee (11 wins) as the only trainer to fail to reach the minimum benchmark of 13 winners - a level that rises next season to 15.
Andy Leung Ting-wah finally turned 65 (again), and after being granted an extra season due to him changing the date of birth on his Hong Kong ID card. He turned back the clock with 17 winners, while fellow retiree Peter Ng Bik-kuen had punters wondering where 34 wins came from after languishing in the low-table wilderness for years.
So while Leung and Ng sail into the sunset, the winds of change bring with them two fresh faces - Benno Yung Tin-pang and Chris So Wai-yin arriving with the goodwill, if not support, of former mentors Size and Fownes.