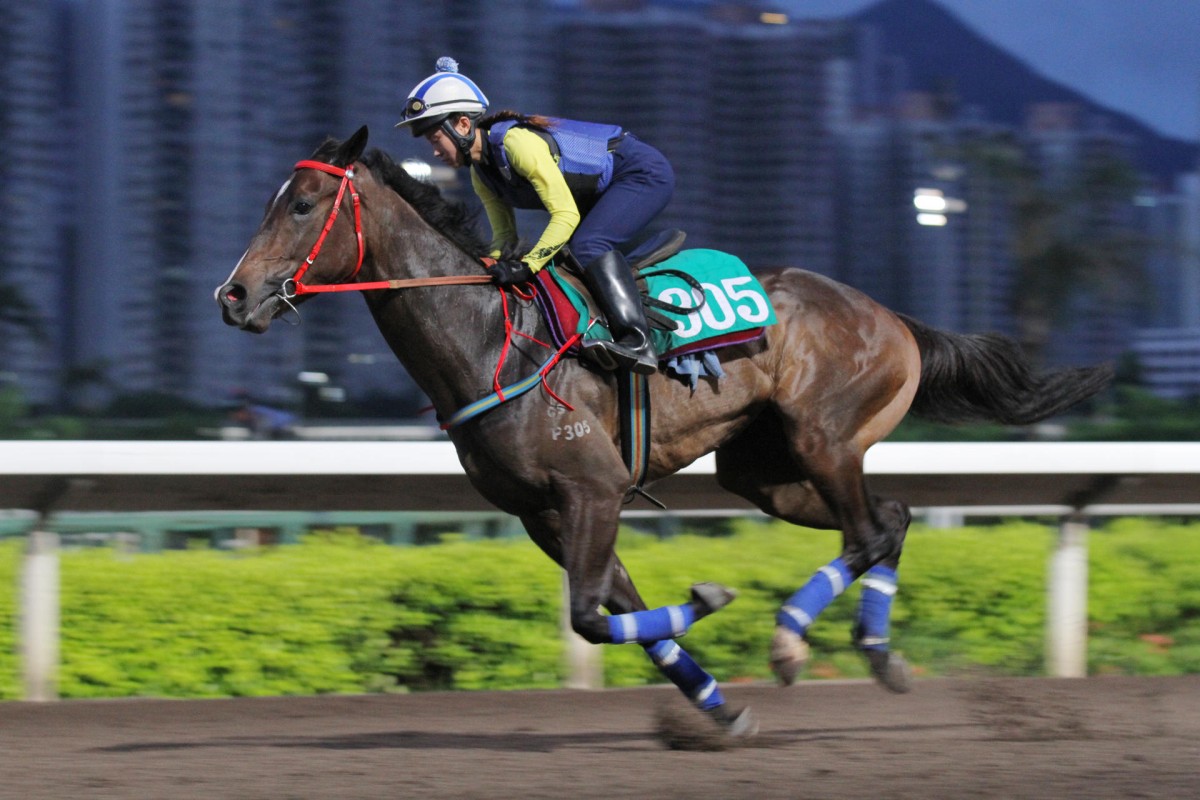 Triple Trio punters will be chasing a monster dividend with a pool seeded with a HK$17 million jackpot, but with three tough races, leaning on "old faithful" - the Dream Team of trainer John Size and jockey Douglas Whyte - in at least one leg seems the best way to get a piece of the HK$28 million estimated pay-out.
Dehere's The Love is one of many horses that will have taken benefit from an off-season rest and a good draw will help Whyte take advantage of what looks like being a genuinely run race.
As a three-year-old last term, Dehere's The Love raced five times for three placings - but with genuine excuses in each unplaced effort. At his first two starts he was drawn wide over sprint distances at Happy Valley, before two solid third-placed efforts over 1,200m at Sha Tin. Size then threw Dehere's The Love in at the final meeting of the season at Happy Valley, and this was again a forgivable run - trapped three-deep on the speed with no cover from a wide gate, giving in late.
The two top-three finishes are enough to suggest Dehere's The Love is up to at least winning his way out of Class Four and based purely on the fact Size has stuck with the now four-year-old - he doesn't usually persist when there's not at least one win in the tank - adds some confidence.
The gelding faces a decent day one field, over 1,200m at Sha Tin, where tempo and the gate will be key. The pace has drawn wide: Zac Purton has taken the ride on the erratic front-runner K-Moochi but has drawn 11 and seems to have little option than to push forward. Outside of him are two horses that both have led at times - Multiexpress (Matthew Chadwick) and Nightlign (Derek Leung Ka-chun).
Underneath Whyte, drawn in one, is another possible pace influence in bottom weight Dashing Fortune (Eddie Lai Wai-ming). Expect Whyte to take a sit, just in front of midfield and chime in when he needs to.
K-Moochi will have his supporters, in particular with Purton getting on for the first time, but perhaps he is one to oppose due to his draw and having climbed in the handicaps with his three late-season wins. Dehere's The Love faces K-Moochi eight pounds better off for a 1¾-length defeat from their last meeting.
Golden Gunners (Tye Angland) trialled well in the lead-up and goes in, along with T-Bolt (Olivier Doleuze). T-Bolt let his followers down a few times last season, but is another to have turned four in the off-season and open to natural improvement. Lucky Bonus (Keith Yeung Ming-lun) was squeezed hard to win a trial on Pre-season Carnival night, but he just might be the blow-out horse.
The opening leg is a 1,400m Class Five where some dramatic off-season re-handicaps and stable changes have really thrown things open. One of them is Clement Spirit (Whyte), who moves from Almond Lee to Danny Shum Chap-shing and drops a tantalising five pounds in the ratings.
Clement Spirit has won over the course and distance, and although it was 2½ years ago, maybe the change in environment and drop in weight will bring about another payday.
Others to include are Good Times Roll (Purton), Lotus Love (Ben So Tik-hung) and Danesouth (Andreas Suborics).
The middle pin contains the most genuine winning chances and what should be a fast tempo favours horses like the well-drawn Peri Peri Saffron (So), and Forever Ahead (Yeung) - who was disappointing last season but can't be left out. Apollo Cavalier (Karis Teetan) could take some running down and Majestic Anthem (Chadwick) is a chance.
---
Track Stars
RACE 1: (4) Wayfoong Tycoon, (7) Step High, (8) Epee De Hua, (11) Cosmo One.
RACE 2: (2) Yeung Sing, (3) Lovely Boy, (4) Crimson Heart, (7) Yat Ding Win.
RACE 3: (1) Rich Tapestry, (2) Go Baby Go, (6) Destined For Glory, (7) Leading City.
RACE 4: (2) Superking Dragon, (5) Medic Kingdom, (8) Good Times Roll, (12) Dark Secret.
RACE 5: (1) Apollo Cavalier, (2) You Know I Win, (9) Forever Ahead, (10) Tarrega.
RACE 6: (2) Golden Gunners, (3) T-Bolt, (10) Dehere's The Love, (14) Dashing Fortune.
RACE 7: (1) Little Cow, (2) London China Town, (3) Beauty Sparkle, (7) Talley Close.
RACE 8: (1) Pretty One, (3) Smart Volatility, (5) Glorious Sunday, (9) Dining Star.
RACE 9: (2) Beauty Journey, (4) Plentiful, (8) Supreme Flight, (9) Smiling Watch.
RACE 10: (1) Fair Trade, (2) Silver Grecian, (5) Deep Thinker, (12) Turbo Jewellery.