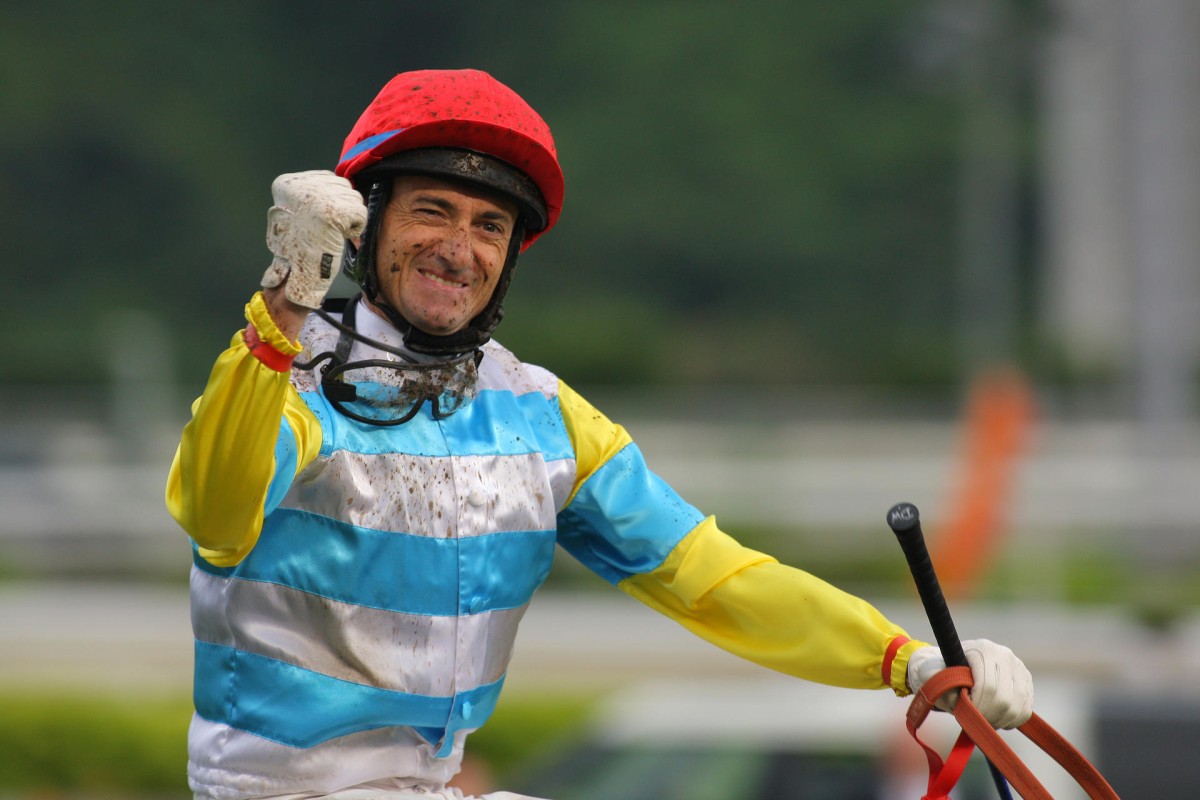 If you think it's hard dethroning the king of jockeys, try wearing the crown. Douglas Whyte says it is much harder to be champion than challenger.
"It's the same in any sport anywhere in the world," Whyte said on the eve of a season in which the 41-year-old defends his crown for the 13th straight year. "If you wear the yellow jersey in the Tour de France you are a marked man. And being champion 13 straight times doesn't make it any easier, that's for sure - it makes it far more difficult."
In the late 90s, Whyte was the upstart aiming to shake fellow South Africans Basil Marcus and Robbie Fradd from the top of the tree. More than a decade later the hunter is now the hunted. After first repelling the challenge of Brett Prebble three seasons ago, another Australian, Zac Purton, stepped up and gave him all he could handle last term.
It's easy to win the premiership. The most difficult thing is to stay there
Whyte knows just how last season's beaten challenger must feel: in 1997-98, his first full season in Hong Kong, Whyte rode 89 winners and still lost to Marcus, who had 98. Whyte had to wait another two full terms to win.
"I was always striving and wanting to eventually get there … but it's easy to win the premiership. The most difficult thing is to stay there," Whyte says. "To get there was a tough job in itself, and it was something I always wanted. But to remain there has taken much more effort. I have become wiser and learnt a hell of a lot."
How has he maintained such a high level of performance for so long? If you want Whyte's diet and fitness secrets, you'll have to wait, because they are going to remain just that: secrets. At least until he retires, which, by the way, is a topic that doesn't even elicit a verbal response - just a smirk and shake of the head.
"What I will say is it is much harder to return from an off-season break weight-wise. During the season my weight doesn't vary much - three or four pounds at the most. But when you come back, the extra four or five pounds above that, it's hard to get that weight back off. That goes for most jockeys - there's not much of us as it is.
"When you get on the scale you think 'here we go again', but once you ride that first winner it's all worth it. It's a grind, and requires a lot of discipline and a lot of determination. You choose what sacrifices you want to make. You can either sit in a sauna for a couple of hours or halve the size of your portion on your plate - I know what I would rather do."
With regards to the mental game, Whyte has become much better at "switching off".
"A lot of things used to annoy me and upset me and get to me a lot quicker and easier than they do now. I now analyse things and try to turn negatives into positives," he says. "When I leave the jockey's room and the racecourse, that's it, I leave it behind. It used to linger and weigh on me, but now it doesn't at all."
Seven-time champion trainer John Size is not only Whyte's biggest supplier of wins, but one of his closest friends and confidants. When told his good mate was "getting better at dealing with bad days", Size laughed and quipped: "Well, he doesn't have many bad days, he has won 13 straight titles."
Off-seasons are spent with family living the "village life" on a farm in Umbria, central Italy, tending to grape vines, olive trees and horses. He describes the setting as "quaint, rustic, peaceful and away from everything" - about as far from the HK pressure cooker that the city's highest profile sportsman can get.
"For a week I don't even look at results anywhere in the world, and I don't want to hear anything about racing. It's chill-out time, I recharge and rejuvenate."
As the season starts at Sha Tin today, all eyes will be on Whyte - not only the eyes of other jockeys, but those of the punters, too.
Of Whyte's 543 rides last term, more than a third started favourite and more than a half were in the top two in the market. Granted, it means he gets a lot more genuine winning opportunities than everyone else, but it also means he is the target of sometimes stinging criticism when things don't go to plan.
"If there was no criticism then I would be concerned," he says. "The more you are criticised and spoken about, then you know you are being thought about and on people's minds. But those are the sorts of pressures and things I've learnt to deal with along the way. If I didn't get to enjoy them, I wouldn't be where I am today."