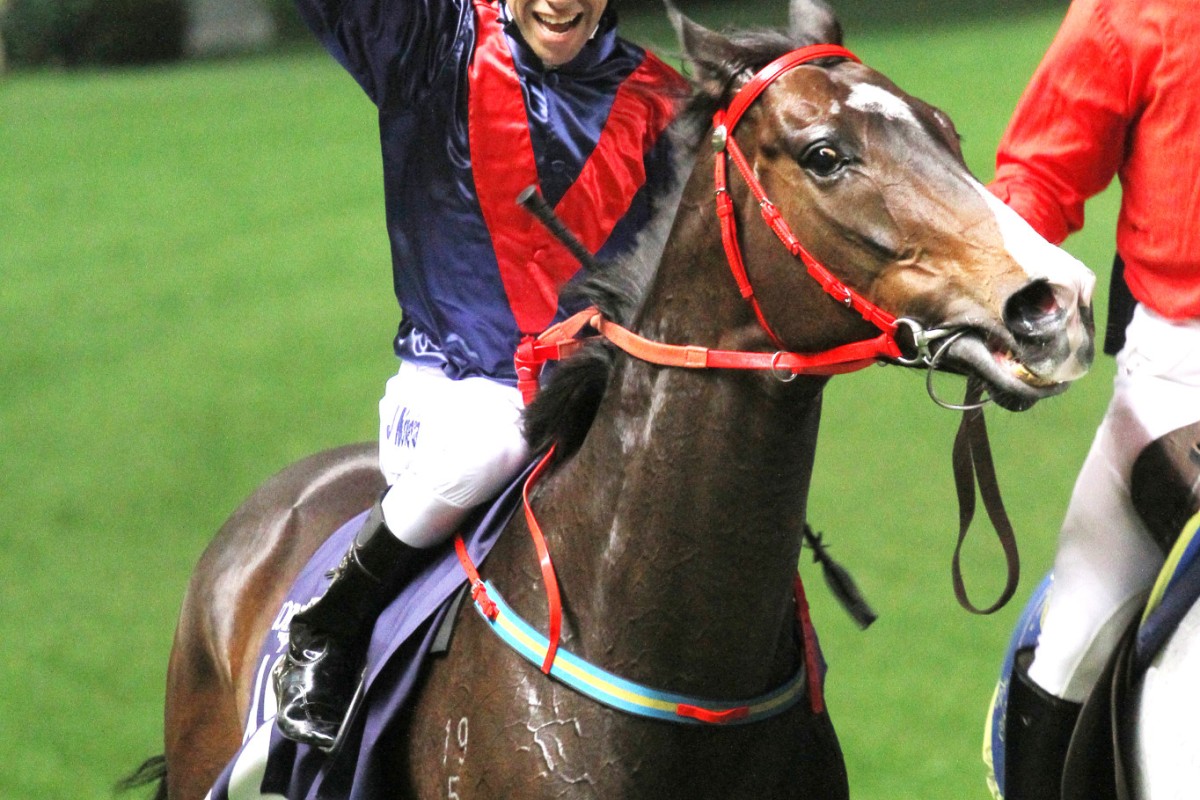 It seemed the Hong Kong Jockey Club's riding roster had lost its lustrous star power until the game-changing bombshell: Singapore's champion rider, Joao "Magic Man" Moreira, would be joining the ranks on a full-time basis from October 27, the Brazilian starting with a ride on two-time Horse of the Year Ambitious Dragon, no less.
All of a sudden the jockeys' championship takes on a very different look, and as colleague Alan Aitken tweeted after breaking the news of Moreira's imminent arrival, it's "cat among pigeons time".
The timing is perfect and couldn't have been scripted better: just when we thought we had the pecking order sorted for 2013-14. This season was meant to be all about Douglas Whyte versus Zac Purton and round two in the fight for the title.
Charismatic newcomer Karis Teetan was quickly thrust into the part of fresh-faced newcomer; Matthew Chadwick would continue his development; a refreshed Brett Prebble was to return, hungry after an early-season hiatus; and Umberto Rispoli and Tommy Berry would provide the late-season spark.
Still, there was a feeling the jockey roster had become a touch stale, and that the HKJC had lost its pulling power to attract the very best from around the world.
Rispoli and Berry may one day be considered globetrotting stars, but Johnny Murtagh and Christophe Soumillon they're not – at least not yet. Both Murtagh and Soumillon came for guest stints in their prime, so did Frankie Dettori.
Where are the top Europeans these days? Ryan Moore and William Buick haven't been sighted, and the most recent, mainly painful, experiences of French wunderkinds Maxime Guyon and Mickael Barzalona might keep that pair away for a while.
Is Moreira's signing a move back to where Hong Kong racing is seen as a pinnacle for the best in the world? It certainly puts everyone on notice and will lift the standard here, but does it make Hong Kong a more attractive proposition? Well, it may even act as more of a deterrent.
Some of the stagnation in the turnover of quality international jockeys has been blamed on Whyte's dominance over the past 13 seasons. The emergence of Purton, and now Moreira's presence, doesn't make it any easier for visiting pinch-hitters.
If you want to get better as a rider, fair enough, but if you want to actually ride winners then India might be a better option, riots aside.
Japan has also usurped its Asian neighbour as the destination of choice for guest stints – so much so that a stint in the Land of the Rising Sun was seen by many as favourite for Moreira's next move. Fuelling that speculation were rumours the Japan Racing Association may open things up to full-season licences for overseas stars.
The announcement of Moreira's arrival comes fresh after the astonishing feat of riding all eight winners at Kranji two weekends ago, followed by another one to start the next meeting to make it nine straight.
He has won three straight jockeys' premierships in Singapore, with number four already in the bag, and has the electrifying, energetic riding style and X factor presence that will endear him to local owners and media.
We'll break down Moreira's freakish statistics in Singapore racing at a later date, but to put it simply he is the king of the jungle in the Lion City – far more dominant there than Whyte is here – and he won't be coming to Sha Tin intending to feed off scraps.
Whyte and Purton rode more than one in four of the winners last season – most of them favoured in betting – and Moreira will be looking to eat into those first and second choice rides. The owners, trainers and fans have already seen his skills first hand from his thrilling victory in last year's International Jockeys' Challenge, where he beat Purton with a nose victory in the final leg, and a successful cameo at July's season finale at Happy Valley.
You have to feel for Purton in all of this, having fought his way from riding 25-1 longshots six seasons ago and building his way up to a wholehearted challenge to Whyte last term. Forced to decide between Hong Kong's two highest rated horses seven weeks before they are due to clash in the Sha Tin Trophy, Purton took the long term view of Military Attack over Ambitious Dragon – despite the Dragon seemingly being unbeatable over the mile when at his best.
It has to be noted how Purton announced his decision at a "mini press conference" last Friday. There's no need for media managers at Sha Tin. Purton simply stood on a kerb before the barrier trials, and corralled the dozen or so reporters with a simple "Oi, come over here, I've got something to tell you". The assembled press corps was described as looking like "a bunch of kids on Christmas Day" as Purton filled their column space with a detailed explanation of his choice.
We understand the Jockey Club's rules and regulations as far as licensing is concerned, and the desire to treat their little brothers from the Singapore Turf Club with respect, but why couldn't they have been as up front about Moreira coming as Purton was about his decision?
We reckon director of racing Bill Nader should have announced it with all the subtlety of World Wrestling Entertainment commissioner Vince McMahon would at Wrestlemania. Bring a bit of US-style, over-the-top flamboyance to it – fireworks, laser show, the lot – Moreira could even have his own entrance music.
Trumpet it from the rooftops: we have a new challenger. The Magic Man is coming and he is about to shake things up.