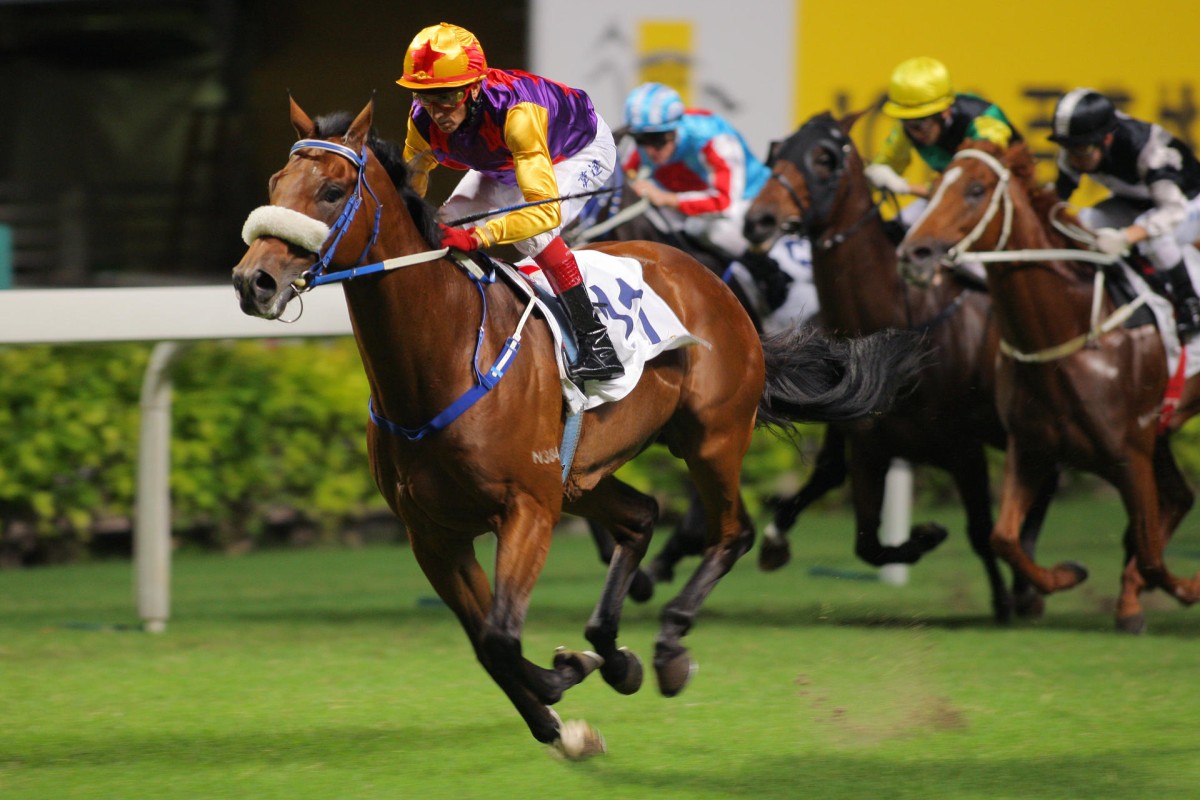 Lightweight sensation Karis Teetan continued to endear himself to owners, trainers and punters with a double at Happy Valley last night, but Douglas Whyte reminded everyone who is king and produced a weight-watching double of his own to retain the early season lead in the jockeys' championship.
Teetan stole two victories by a short head and a nose with diving finishes, but Whyte hit back after each on a pair of David Ferraris-trained runners - for which he had wasted to get down to 117 pounds to ride.
"I'll enjoy my meal tonight," Whyte said as he returned to scale after winning the last with a desperate ride as he took inside runs on Chater Dream, and earlier having scored an easy win on Amazingly. After a treble at Sha Tin last Sunday, Whyte has seven winners from four meetings.
For Ferraris, the early-season double was a welcome relief after a disastrous 2012-13 where he had just 13 winners.
"The horses are all running well this season, and it doesn't take long for things to turn around in this place," he said. "We've changed a few things in the stable and I think it has made a difference."
Both Chater Dream and Amazingly were European imports breaking through for their first local wins, and both had benefitted from a gelding operation since arriving. "Chater Dream is a very nice horse, he had decent form in France and he came here a rig and gelding him has helped. He has only just won, but not everything went his way tonight either," Ferraris said.
The South African trainer said Amazingly had benefited from both the mental and physical effects of castration - losing both 60 pounds of body mass and, just as importantly, his headstrong attitude. The five-year-old had also dropped five points over the off-season, and won by three lengths eased down.
"Amazingly was crying out to be gelded, he was a big horse and was really hard to handle when you would take him out in the trotting ring or anything," Ferraris said.
Teetan's two wins - giving him four for the season - were by the barest of margins, You Read My Mind and Highest Acclaim swooping late in photo finishes.
Trainer Derek Cruz was positive about You Read My Mind going forward, a griffin winner last season who he said was "only 90 per cent fit" last night.
"He didn't really handle the bend that well here either," Cruz said. "Still, I could bring him here again, but it will be over 1,200m, not 1,000m."
Highest Acclaim had won two from 13 in his first season to push into the bottom half of class three, but trainer Caspar Fownes was confident the northern hemisphere four-year-old had made the necessary physical development to progress further.
"He did very well over the summer," Fownes said. "I hope the handicapper doesn't hammer him for that though, he has only just fallen in and there was four of them in a very bunched finish."
Peter Ho Leung's Power Cool (Ben So Tik-hung) was one of three horses in a row to break their local maiden status, the trainer offering a simple explanation as to why his horse hadn't trialed before breaking through at his fifth start at odds of 18-1.
"He is too weak," Ho said. "I couldn't be sure he would stand up to a trial and a start. To be honest I didn't have any confidence in him tonight, Alex Lai [Hoi-wing] had ridden him in all of his trackwork and he didn't want to ride him in the race. The horse hadn't done much - cantering and a few gallops."
Earlier Star Of Wai Bo broke through at his sixth start, Me Tsui Yu-sak crediting Matthew Chadwick's nice ride and a change of gear for the turnaround.
"Of course he got the right sort of run, but the hood and nose-roll helped, he is much more settled, especially before the race. My staff has worked very hard on helping this horse relax more," Tsui said.
In the first, Gary Ng Tik-keung and Eddie Lai Wai-ming continued their rich vein of early season form together - Kingston Elite's class five win giving the pair three wins together this season.