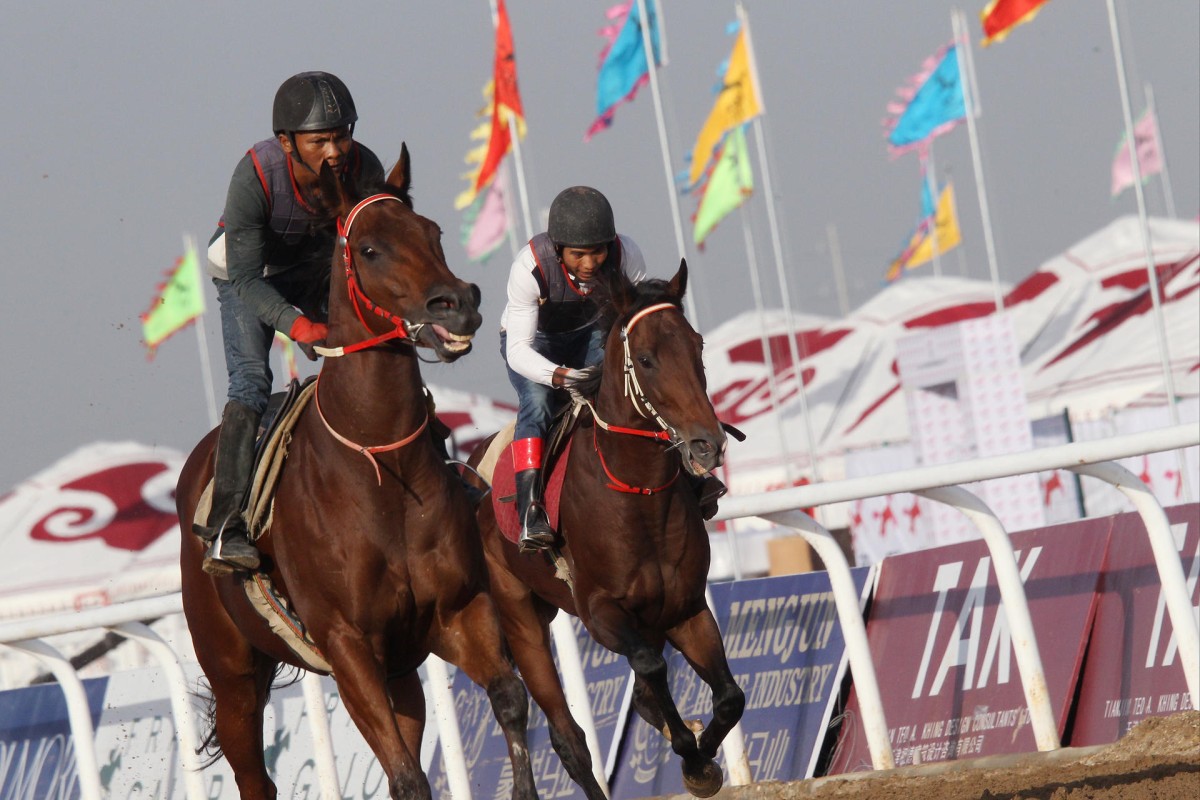 There will be no betting, but according to the China Horse Club's website, a "renaissance of racing in mainland China" begins here today, when a small dirt racetrack set in the rural outskirts of Hohhot plays host to the China Equine Cultural Festival's inaugural race meeting.
The China Horse Club has trumpeted the event as the "first internationally endorsed raceday", featuring what the club claims will be the mainland's richest-ever race. But the eight-race card won't include gambling - the backbone of financially viable horse racing around the world - and the lead-up to the festival has been marked by uncertainty.
As of yesterday, many visitors were still searching for final fields for the programme, four races of which will be made up of a mix of previously raced horses imported from both the northern and southern hemisphere and sold on to local buyers. The 39 international horses will be split into four feature races capped with the running of the National Breeders Cup over 1,600m.
Shanghai Race Club thrived during the 1920s and '30s, but legal gambling has been mostly outlawed on the mainland since Mao Zedong took over power in 1949. Since then there have been various efforts to establish flat racing, and some have featured lottery-style "games", with prizes aimed at circumventing the strict rules. Horse racing remains a hobby for many rich enthusiasts on the mainland, and locally trained gallopers will compete in four of the races today at a one-mile racetrack, a circuit that was yesterday still waterlogged from recent heavy rain.
Experts say a Hong Kong Jockey Club-style wagering system on the mainland is extremely unlikely in the near future, and China Horse Club general manager Eden Harrington said betting was something outside his club's control that would "sort itself out". "The authorities take care of that sort of thing," he said, before claiming that the venture could be sustainable without the revenue from betting, and instead profit from broadcasting and sponsorship.
The raceday was originally set for Tianjin next month, at the extravagantly planned Tianjin Equine Culture City (TECC), before that project's development was delayed. China Horse Club's major backer is powerful Malaysian designer and developer Teo Ah Khing, who is chairman of China Horse Club's parent company Desert Star Holdings.
Teo, through his TAK Group, designed and constructed the Meydan racetrack in Dubai, and his company is also the driving force behind TECC.
International breeding giants Coolmore have forged a partnership with China Horse Club - an association that began earlier this year when they purchased two expensive yearlings together, one worth HK$17.6 million and the other HK$11 million, that will be raced in Australia.
Coolmore supplied most of the northern hemisphere horses that were auctioned to locals just under two weeks ago - a sale that was rumoured to have suffered an extremely low clearance rate, as local buyers preferred to wait and haggle for a better than reserve price afterwards.
Harrington admitted the auction was "challenging", but claimed it was a success. "The aim was to bring new people in and we think we made a big step forward," he said. "An auction like this is a fairly new concept to Chinese, but we had a horse sell for one million renminbi and another sell for half a million."
A dozen jockeys from around the world have been flown into ride the four feature races, among them Singapore's dominant champion Joao Moreira, who is soon to be based in Hong Kong.