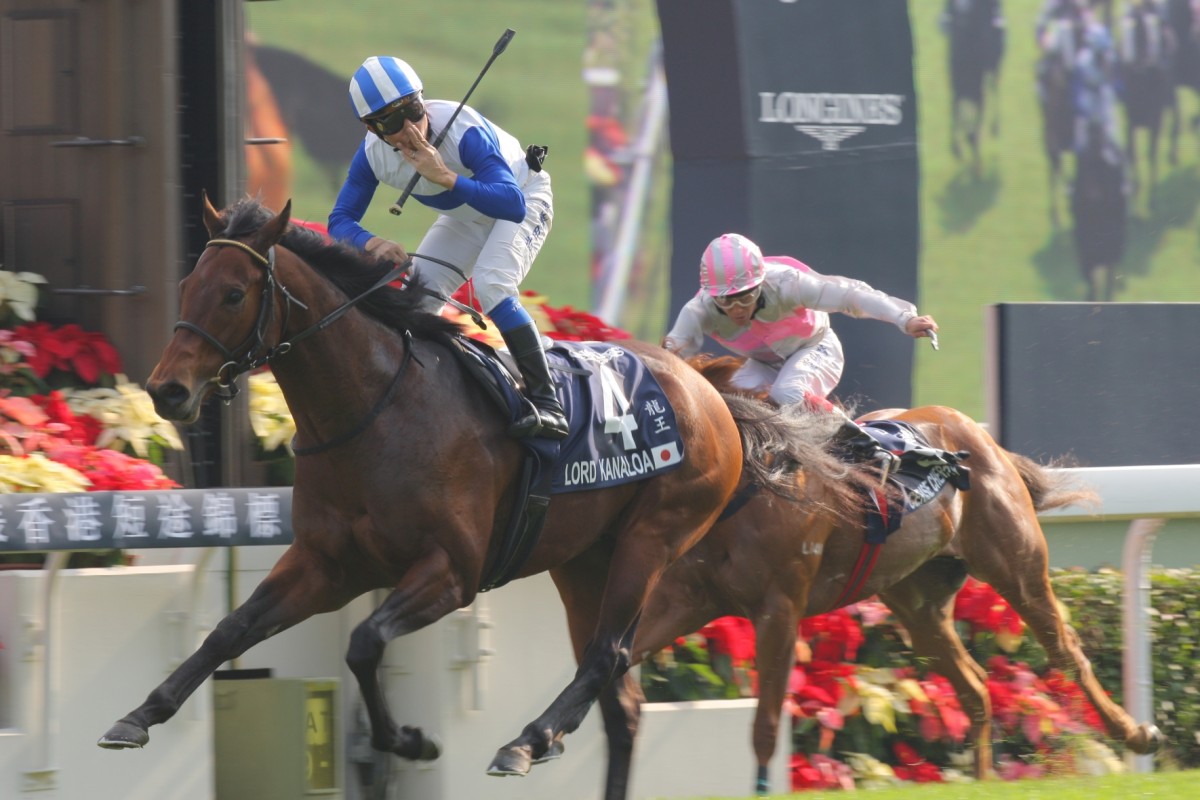 The two highest-rated sprinters in training in the world - or at least the two horses that should be rated highest, Lord Kanaloa and Moonlight Cloud - clashing on the neutral ground of Sha Tin at December's Hong Kong International raceday is a tantalising prospect, and a match-up that could spark a "who's better?" online debate that might break Twitter.
But racing is a sport where long-range predictions, or even short-term ones for that matter, can fall apart quicker than these two sprinters can carve out a 200m sectional - and in the 57 days between now and then, anything could happen.
Let's not let that stop us from talking up the "Showdown at Sha Tin" right now though - partly because history shows us it may not happen, and a race fan has gotta dream right? It's fun to talk about "what ifs?" in racing and that's all this race is at the moment.
These are two of the most exciting horses in world racing - both deadly from 1,200m to 1,600m and both looking for an end of season kill. It's a fascinating clash of east versus west - the best of Japan up against the undoubted best in Europe.
Moonlight Cloud seems certain to be aimed at the December main event, choosing Hong Kong over the Breeders Cup and Santa Anita's right-hand-then-left-hand snaking turf sprint course, or the Mile where she failed badly last year - and reports out of Japan yesterday suggest Lord Kanaloa is bound for a Sha Tin swansong, too.
Japanese newspaper Yomiuri Shimbun reported on Wednesday that the Longines Hong Kong Sprint was the desired last start for Lord Kanaloa, who will then head to stud carrying an impressive record of 11 from 17 starts - never unplaced - and, importantly, a family tree free of Japanese super sire Sunday Silence.
French trainer Freddie Head said Moonlight Cloud could race next season. She is rising six, riding a four-race unbeaten sequence - three of them Group Ones - and carrying a 12 from 19 record of her own. She came closest to beating Black Caviar in a dramatic 2012 Diamond Jubilee.
Another mare trained by Head's little sister Criquette - Treve - rightly stole the spotlight last Sunday with a devastating win in the Prix de l'Arc de Triomphe but Moonlight Cloud was electrifying on the same day over seven furlongs in the Prix de la Foret.
That's Moonlight Cloud sitting last, white and green silks, blowing past another likely December visitor Gordon Lord Byron.
Here's Lord Kanaloa's trademark performance - on his only overseas trip to date - a dominant win in last year's Hong Kong Sprint in race record time. Imagine how far he would have won by if jockey Yasunari Iwata could just sit still for 68.5 seconds?
So what obstacles stand in the way of the "Showdown at Sha Tin" (other than Iwata injuring Lord Kanaloa's back by bouncing on it too hard at trackwork)? Firstly, both horse's versatility. Hong Kong Jockey Club officials expect a Hong Kong Mile entry from Moonlight Cloud, and while the Mile was where Lord Kanaloa seemed headed after the Yasuda Kinen, the sprint seems to be firming. So even if they both end up here, will they be in the same race?
Then there's that glorious uncertainty of racing. It was only last month that the Group Two Oriental Watch Sha Tin Trophy on October 27 was going to be the race of the season - Military Attack v Ambitious Dragon v Glorious Days v California Memory. Now because of setbacks suffered in routine training, it's down to Military Attack versus California Memory and a decent support cast. It's a good race, but back to being just another Group Two.
And of course there's the fact that when it comes to big-race targets, especially those involving international trips, people tend to say stuff that doesn't end up happening.
All race fans can do is hope these two superb equine athletes stay sound and they find themselves in the same race, whichever one it is on December 8 at Sha Tin. Until then we'll just have to argue on Twitter about who will win.