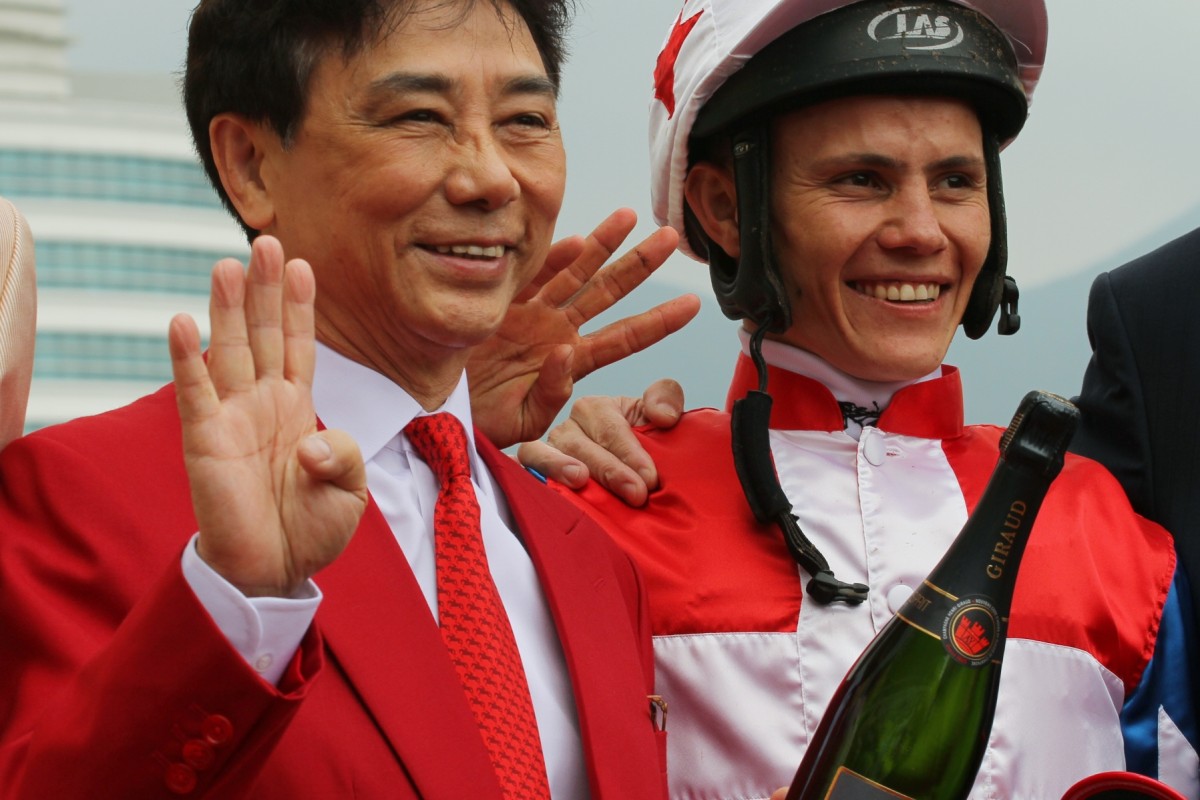 To be fair, the age-changing and Class Five specialist ex-trainer Andy Leung Ting-wah never gave any impression he would take to retirement quietly or gracefully – the bright yellow jackets he wore were a dead giveaway.
The trainer is now a just-as-colourful but hard-hitting newspaper columnist – still a thorn in the side of stewards and a constant racetrack presence at Sha Tin as he takes readers into what he calls "the fifth dimension".
On Wednesday night, Leung brightened proceedings at one of those awfully bleak all-dirt night meetings at Sha Tin, wearing one of his signature outfits. It featured a purple satin tracksuit jacket over a white turtleneck, set off with a trademark bear-claw necklace and freshly permed hair treated with enough chemicals to cause a positive swab. He said the get-up was inspired by his former Class Five pest Danesouth, now trained by Me Tsui Yu-sak, who carries purple silks.
The form turnaround of Danesouth epitomised a night that had left punters feeling like one of Leung's horses – lost, bewildered and bereft of any confidence whatsoever.
In the past, Leung, after a win like Danesouth's, would have gone off on a tangent about multi-dimensional form analysis and feng shui. Last term, Leung was that scarce he was reminded by stewards that he actually had to turn up to meet with owners of a runner in the pre-race parade ring. But this season he can't be stopped and was warned to get out of the trainers' stand – a place he had never been spotted previously.
Of course, Leung was just "helping out" with one of his former horses, now in the stables of Francis Lui Kin-wai, which also happens to be where Leung's son now works as a trackwork rider.
The enthusiasm with which Leung has taken to his current vocation of writing makes you wonder why he went to all the trouble of extending his training career by a year, successfully arguing to the Immigration Department that he really wasn't 65.
His first column for Hong Kong Daily News Racing Booklet was apparently a cracker, at least from what we could tell from the people straining to translate what was clearly avant-garde literature with a psychedelic leaning.
There have actually been some interesting discussion topics raised in his columns, including asking why punters aren't allowed access to more veterinary reports, making it known when a horse is known to have a bleeding issue, and a piece on where all of the ex-local jockeys are these days.
The best so far was the aforementioned "5D" form. The first dimension is simply the results, the second is watching replays and the third is obviously seeing horses in the flesh. The fourth dimension is time – of which Leung is already a master, having reversed his age and all. Now the fifth dimension is not a 1970s R&B group (even though they did share some of Leung's sartorial stylings), it is all about wind direction, and climate, or something.
Leung says South African jockey Richard Fourie is one of the few to understand the Leung "5D" concept. You can just imagine the agreeable young Fourie smiling and nodding as Leung talked him through the five dimensions; no wonder he returned to South Africa – it wasn't to win a premiership as he claimed, it was to get over that ordeal.
One of the great aspects of racing in Hong Kong is the voracious media coverage and colourful columns – whatever the quality, it should be something the club is grateful for – even if it appears to be a little outside the bounds of reality. And on Wednesday night, applying Leung's "5D" formula would have been the only possible way one could find Danesouth and some of the other unpredictable results.