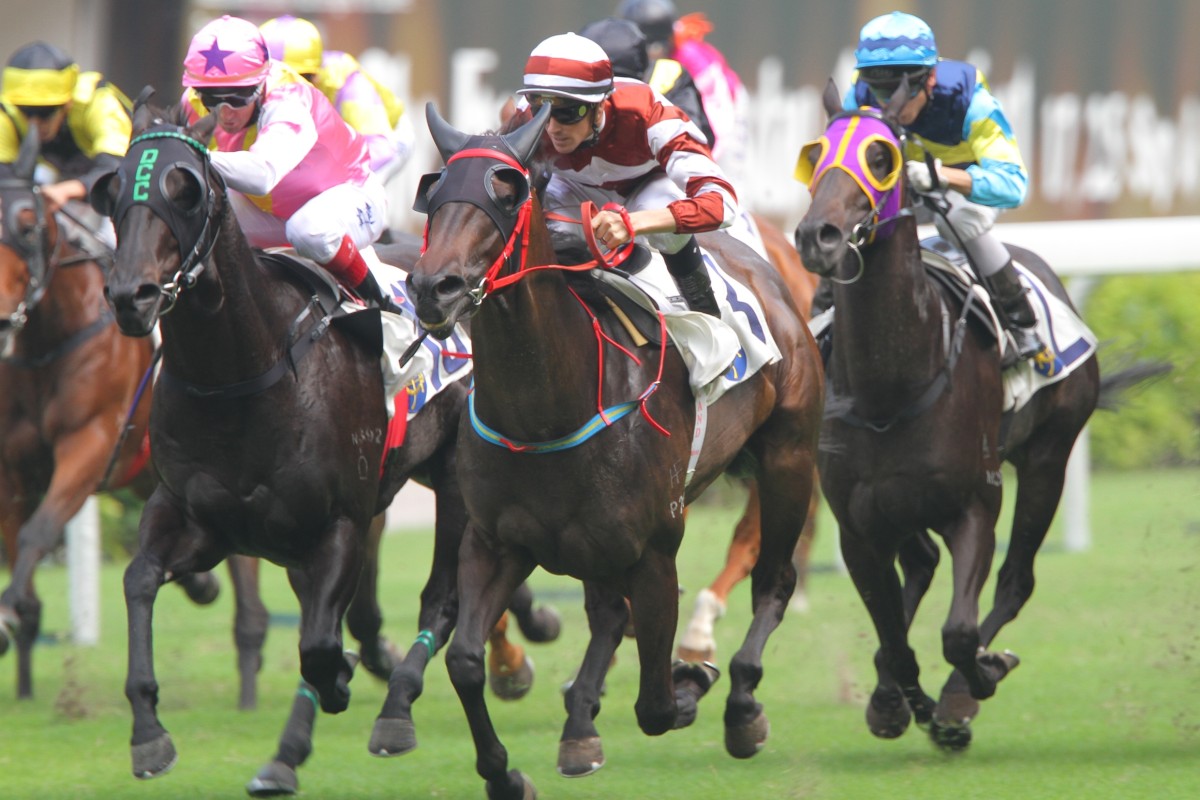 Between the self-interest views of jockeys and trainers on how many riders should be available, it seems the Hong Kong Jockey Club's licensing committee might have the size of the jockeys' roster just about right.
The established jockeys seem to think there are enough riders already – even before Neil Callan, Umberto Rispoli and Brett Prebble return to the fray, but the trainers say "the more the merrier", claiming there's an element of laziness that creeps in when numbers are too low.
The arrivals of Gerald Mosse and now Joao Moreira, minus the suspended Colm O'Donoghue, meant there were 21 jockeys available yesterday at Happy Valley, where maximum fields are set at 12. Italian Nicola Pinna had just one ride and Jacky Tong Chi-kit had two, even after Matthew Chadwick was indisposed by injury before race one.
The surplus does seem an unnecessary luxury and at the very least unfair to the likes of a hard-working, no-fuss rider like Tye Angland, who is here from day one and consistent to the last, plus a valuable contributor at morning trackwork and in trials.
Once Callan comes back this weekend and Rispoli and Prebble return early next month – after cashing in during rich overseas carnivals – there will be 25 on the roster. Make it 26 if Howard Cheng Yue-tin's recovery from a badly broken arm stays on track and he resumes in December.
There's a rumour doing the rounds that Frankie Dettori was all set to take up a part-time stint had he not broken his ankle this month, an injury that caused the 42-year-old to miss his first Prix de l'Arc de Triomphe in 26 years and, as it turned out, his fourth win in the race aboard eventual winner Treve.
If it is true that Dettori was due to come, maybe the mid-season recruitment is not done with yet. Then again, there's probably a vacant seat marked "L. Dettori" in the jockeys' room for whenever he wants to take it up, and so there should be.
Given the way suspensions are being handed out at the last few meetings, it might not matter if there are 25-plus riders on the books. After getting through the first nine meetings without a careless riding charge, chief steward and Sha Tin town sheriff Kim Kelly has been knocking them down like ducks in a sideshow alley lately. When the increases in severity of careless charges were announced a few weeks ago, Kelly said he "didn't like suspending people", which means he must be absolutely miserable at the moment.
Three suspensions came at the 10th meeting and another four riders got time yesterday, making it eight charges in the last three meetings. In a way, more jockey numbers means safer racing as the stipes have greater latitude to throw the book at wayward or over-aggressive riding without worrying who is left to pick up the slack. And more riders also means more competition.
One winning trainer yesterday complained there weren't enough jockeys and that the limited pool led to complacency.
"If the jockeys are suspended they go on holidays, they won't come and ride trackwork. In fact, a lot won't do the work anyway," he said.
It's no surprise to hear that gripe, as the only thing some trainers seem to do better than train their horses is complain – that, and know what everyone else is doing with their horses.
The trainer pointed to the fact that back in the good old days there were more than 40 jockeys to choose from, including at least 15 apprentices. You would have to question the quality with that many. The racing is far too tight and competitive to be allowing any overseas rider without a firm grasp on steering straight a licence these days. There's just not enough room for error.
As seen in the Happy Valley fall where Cheng was injured last season, when one horse comes down at Happy Valley there is nowhere to go for those behind and there can be a disastrous chain reaction.
Jockeys will complain about the fines, and trainers will complain about everything including a lack of choices when it comes to jockeys, but Sheriff Kelly knocking them down like ninepins in the stewards' room – and having enough riders left over – is better than horses getting knocked down on the track.