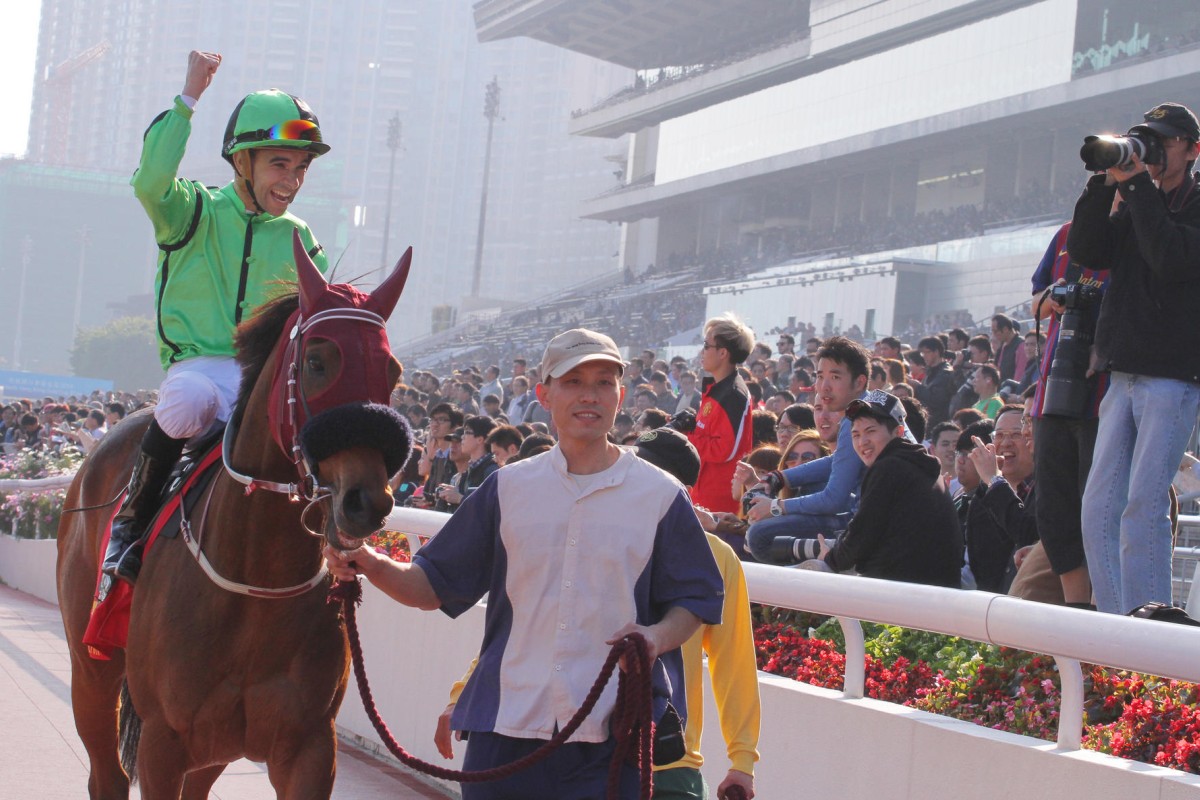 John Moore was chasing a Dubai World Cup start for Military Attack and Akeed Mofeed was left chasing shadows as the match race of the season fizzed into a non-event in the Citibank Hong Kong Gold Cup (2,000m) on Sunday.
The reigning Horse Of The Year, Military Attack had been winless for the season but this one he never looked like losing as he gave Moore a ninth win in the Group One and a reason to seek an upgrade from business class to first class for the gelding's proposed Dubai trip.
"We entered for both the World Cup and the Duty Free and we've been invited to the Duty Free, but I think that was because Military Attack had not won this season," Moore said after saddling up the tierce. "The race we always wanted to run in was the World Cup and now I'm hoping I get a call from Dubai to see if we want to switch. I'm sure this horse will go on the Tapeta, and the 2,000m is his pet distance."
Moore had sacked regular rider Zac Purton in favour of Joao Moreira to get Military Attack back into the winner's stall but he had never lost any confidence in Military Attack.
"I was confident that, as long as he didn't get stuck in behind horses, he would win the race," Moore said.
"Everything was right with him, his blood was good and all he has been wanting was a race with a good draw, the right kind of speed to let him get into his rhythm and today was the first time this season that it has happened."
Moreira said he had felt no pressure in replacing Purton, despite the expectations, and even recognised that he was getting onto the horse at the right moment.
"Honestly, I felt no pressure. It's unlucky for Zac but lucky for me - I got on the horse after he's had some racing and is fully fit and I knew he couldn't keep drawing the outside, he had to get a good one soon," Moreira said. "Good horses always make a jockey's life a lot easier. I got a beautiful run and was never worried about being able to get out from the inside. John told me that his horse, Dan Excel, would try to steal the race at the top of the straight and kick away so I knew that would make it easier for me to get out. When I did he just accelerated away. This is the kind of horse, with the big kind of plans ahead that has brought me to Hong Kong."
It was billed as the race where Hong Kong Cup winner Akeed Mofeed threw his cards on the table to replace Military Attack as Horse Of The Year, but that prospect was gone well before the Richard Gibson-trained stallion had to settle for fifth, more than five lengths away.
"But I think you can forgive him," said jockey Douglas Whyte. "Same World got left at the start then ran into the back of Akeed Mofeed and gave him a hefty bump and he got very annoyed by it and overraced. He wouldn't put his head down and the damage was done by the time he'd spent half the race fighting against the steel. In hindsight, that's a run you can put the pen through."
Trainer Richard Gibson was disappointed at the "below par performance" but echoed Whyte's sentiments and said a trip to Dubai was still on: "We'll make sure that he's physically okay but as long as he is, Dubai is still on."
Tony Cruz said settling was an issue for fourth placed Blazing Speed, too, and he would still take him to the Dubai Duty Free if invited: "Even in a small field, the outside barrier is hard and he had to work early then was exposed the whole way. He needs cover."
Also Dubai-bound, Moore-trained Dominant lost no admirers for the Sheema Classic, chasing down third on the line.