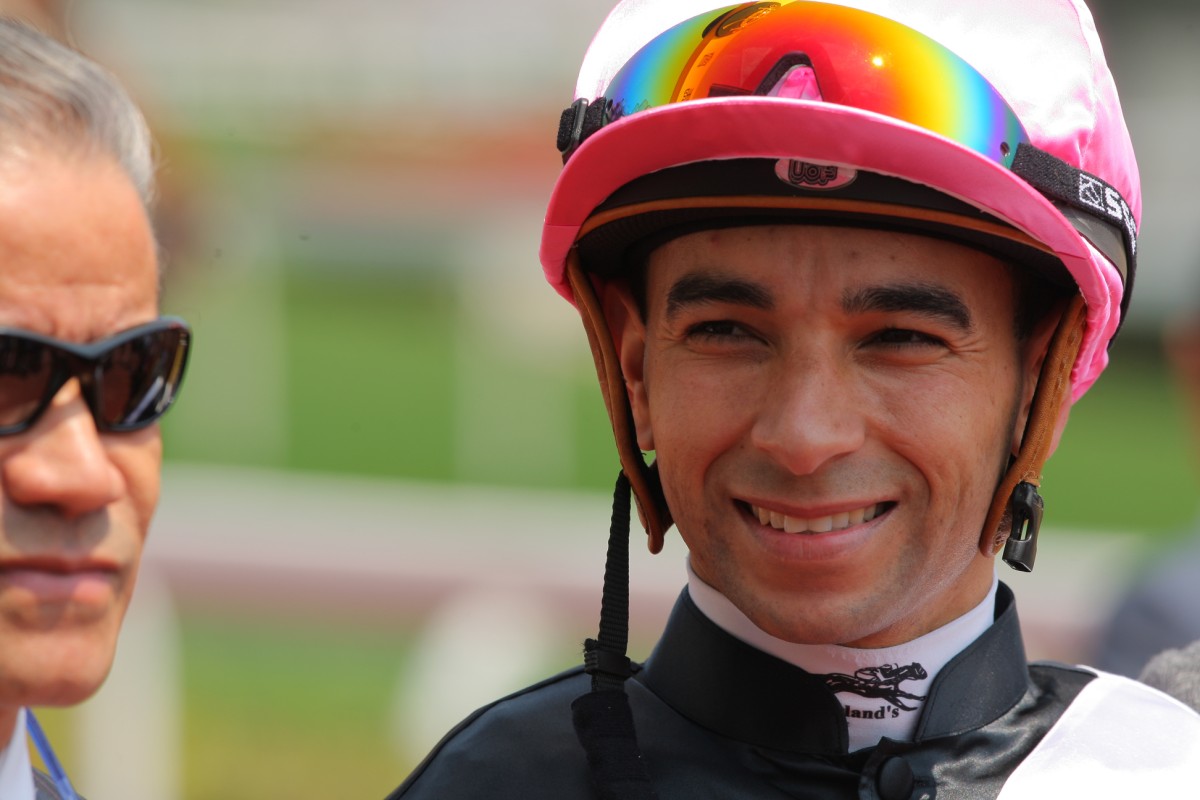 Look out world, here comes Joao.
The world's richest race night could easily turn into a coming out party for star Brazilian Joao Moreira, who remains Asia's best-kept secret, but whose five quality rides at Dubai's Meydan racecourse on Saturday have the potential to rocket him to a new level of superstardom.
Sure, people outside Hong Kong know who Moreira is – he's the guy who killed it in Singapore to the tune of three jockeys' premierships, and is now making waves in his new base.
But it took a long-time Sha Tin punter to put his impact into perspective on Sunday: "There's no point comparing what he has done here to anyone else, because no one has ever done it before."
Who has come before? It's a veritable who's who of Europe's best: Christophe Soumillon, Olivier Peslier and Kieren Fallon, and more recently, French wunderkinds Maxime Guyon and Mickael Barzalona. Moreira is still on the way up too, at 30 – his best years could be ahead of him.
Another treble on Sunday took Moreira to 65 wins – that's from 282 rides striking at 23 per cent. Zac Purton is having a season that puts him statistically among the all-time greats – he still leads by five, but Moreira is gaining ground like the Australian is standing still.
For the worldwide racegoer, Moreira probably remains a fascinating mystery – like Hong Kong racing itself to a certain extent – but Saturday night at Meydan could change that in a heartbeat and expose him to the rest of the world.
For Moreira, John Moore's trio of Military Attack (Dubai World Cup), Dominant (Sheema Classic) and Sterling City (Golden Shaheen) are joined by Ricky Yiu Poon-fai's speedster Amber Sky (Al Quoz Sprint) and Tony Cruz-trained Blazing Speed (Dubai Duty Free). You can't rule any of them out – at least pre-draw, it looks a solid book. And given the Magic Man's sense of timing and his midas touch, you wouldn't put it past him to jag multiple winners.
So what if Moreira rides a bagful on Saturday? Will the offers come from the European super stables? Or, having starred in front of Sheikh Mo' himself – from Godolphin? There was already a rumour floating around Sha Tin early in Moreira's current tenure that overtures had been made from the boys in blue. It was flatly denied by Moreira at the time (actually, he answered "really?", in the excitedly innocent way only he can).
A quick double check with Moreira after rumours reappeared on the weekend on that most reliable of sources, Twitter, got the same response.
On Sunday, Cruz provided an interesting perspective on what Moreira's future career plans could, or should, be. Cruz was a six-time Hong Kong Jockeys' Championship winner – an achievement overshadowed by Douglas Whyte's remarkable 13-season reign.
What Whyte never attempted to do is replicate Cruz's worldwide fame, gained riding in Europe's biggest races. Cruz's first and last jockeys' championships were spaced over 17 years – his first was in the 1970s and last was in the mid-1990s. In between came a catalogue of classics, featuring a stint riding for the Aga Khan and other high-profile stables.
"Joao is top class and he will be champion jockey in Hong Kong for sure, but this is just the beginning," Cruz said.
"I went to Europe because I got bored here, and I know it was different then – but I believed with my ability that I could be an international jockey. I didn't just want to just be champion here, for me it was about riding for the biggest owners in the biggest races in the world. I got that opportunity.
"To be a true champion – and to be truly great – he needs to win races all over the world. For now, I'm just glad we have him on Blazing Speed – we have more confidence now."
But would Moreira even leave if that European opportunity came knocking? Firstly it could come down to family, and you get the sense there is unfinished business here anyway – too many demons to slay in the way of overcoming troubles with stewards and winning a title.
Asked what his goals and dreams were in racing, it was clear Moreira wasn't looking too far ahead – he paused and gave this considered response: "What is my ultimate dream in racing? To win the Dubai World Cup on Military Attack."