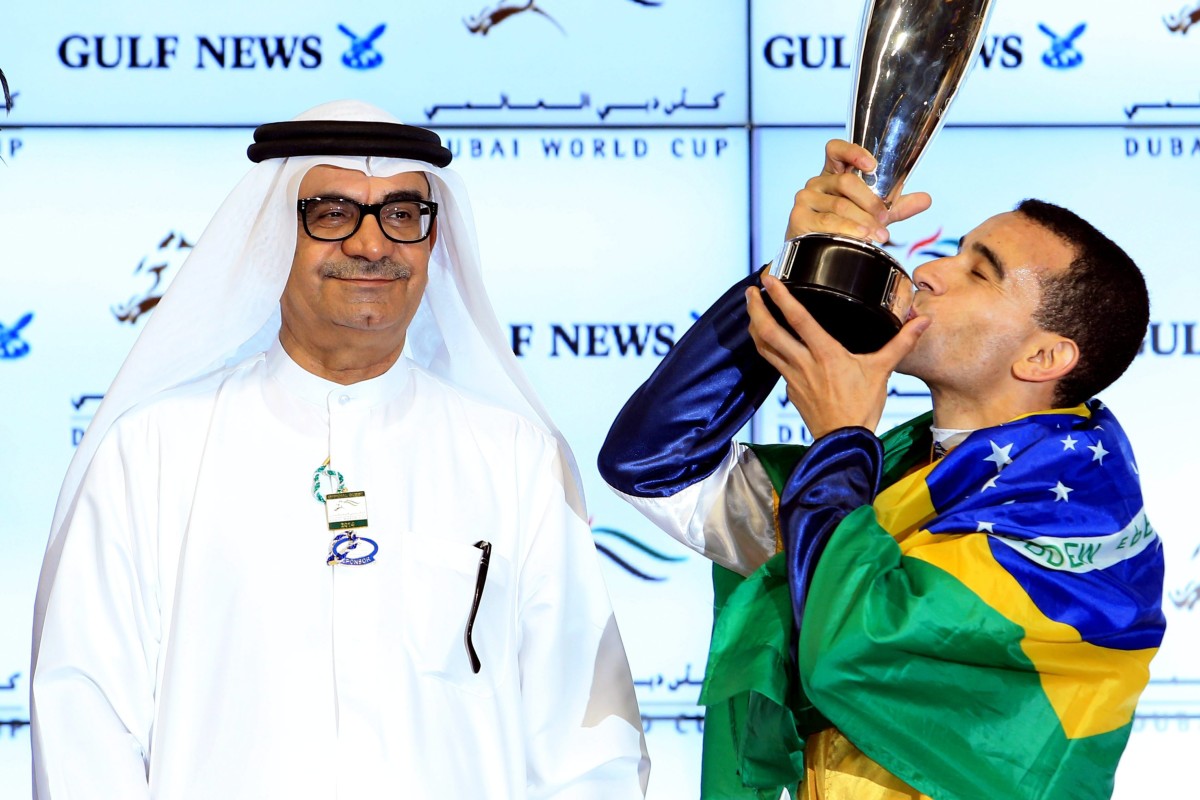 Nearly two weeks before Dubai World Cup night, after trialling speed machine Amber Sky, Joao Moreira said: "You know, I think something amazing is going to happen in Dubai."
He was right – it did. As predicted, Moreira made sure his opportunity to shine on the world stage wasn't wasted.
So now Asia's hit show "Everybody Loves Moreira" now includes, well, everybody – the world included. The Magic Man strode on to that stage and delivered a memorable turn. So as normal transmission, and sleep patterns, are now returned to normal and we have had a few days to reflect – what do we take from World Cup night?
There's the obvious – the depth and standard of Hong Kong horses is rising and Moreira is a star with serious X-factor appeal. But outside of that? Here are a few thoughts on World Cup night from a Hong Kong perspective.
Joao isn't going anywhere
The big rumour even before World Cup night was that Moreira was a wanted man from the boys in blue, Sheikh Mohammed's Godolphin operation. But is riding Saeed bin Suroor's top picks in the world's biggest races in fact the pinnacle for a jockey? Maybe. Depends what the jockey's ambition is. But one thing is clear when it comes to Moreira – he isn't that keen to leave Hong Kong, not yet anyway. But more importantly, Hong Kong isn't anywhere near ready to let him go.
When leading Sterling City back to scale after a sensational win in the Golden Shaheen, trainer John Moore was asked how long Hong Kong could expect to hang on to Moreira. Moore ummed and ahhed for about half a second before saying words to the effect of, "the Jockey Club will make sure he stays, and I'll make sure he stays." What Moreira is worth to the Jockey Club is anyone's guess – he instills confidence in punters and boosts turnover. The people and the club want him here. So does Moore, who would make Moreira his stable jockey in a heartbeat, if he could. Then there are factors of family and ambition. For now, Moreira seems settled – his son is enrolled in school, and there is a lot of unfinished business here for a man with Moreira's competitiveness to leave yet.
Amber Sky turns red hot in the desert
Amber Sky is one-dimensional. There, I said it. But you could say Usain Bolt is too, given that all he can really do is run really fast. But at least he handles a turn.
But the point is that being one-dimensional is not that bad if the one thing you do is so stupendously good that you are best in the world at it. And in terms of running really fast up a flat piece of turf, Amber Sky seems the best in the world right now. A piece of turf with undulations, and maybe a water-logged piece of turf – like he might find at Royal Ascot – might find him out, but not a flat, man-made runway of a racetrack in the middle of the desert. Meydan was seriously built for Amber Sky and he scorched his way to a track record in the Al Quoz Sprint.
Looking back at the start of Amber Sky's career, there were a few good judges, who will remain nameless, that had the son of Exceed And Excel down as a "speedy squib" or "half-mile wonder" after some eye-catching trials (that changed after his dominant first start victory). Not jockey Andreas Suborics – let's give the Austrian credit for sticking his neck out and declaring the then two-year-old a future Group One horse after his very first start, and then comparing him with the mighty Hungarian sprinter Overdose after making it two from two back in 2012.
Not all great rides are winning ones
Last week Joao Moreira made an interesting point regarding great rides, and the tendency to dub them great only when they are winning rides. So it pays to give respect to the efforts in defeat too. You have to feel for Rich Tapestry's rider Olivier Doleuze and trainer Michael Chang Chun-wai, after they did everything right – only to see Sterling City steal the Golden Shaheen in the final few strides. Doleuze did a fantastic job to find a one-out, one-back spot on Rich Tapestry from gate 12 and held the horse together for as long as he could up the straight. Perhaps, it was only the magic of Moreira that managed to beat him.
Joy And Fun is a warhorse
The term warhorse is thrown around far too loosely in racing, but there isn't any animal that better typifies that spirit of courage and bravery in recent history here than Derek Cruz-trained sprinter Joy And Fun.
Joy And Fun was trying right up until the end too – his ninth in the Al Quoz behind Amber Sky was better than it looked. The 10-year-old was beaten less than three lengths after drawing barrier one and racing without any cover for the trip in what seems the worst part of the track.
How old is Joy And Fun? He was racing when Silent Witness was still around, and competed against the likes of Good Ba Ba and Viva Pataca. He came back from not one, not two, but three career threatening injuries and raced on five international days.
Joy And Fun will join Cruz's son Trevor – a talented new trainer in his own right, who nursed the gelding back to health in 2010 in England after a terrible injury at Royal Ascot. Joy And Fun will be treated like the stable star even in retirement at Cruz's set up in Cambridge, New Zealand, the country where the honest performer was foaled.