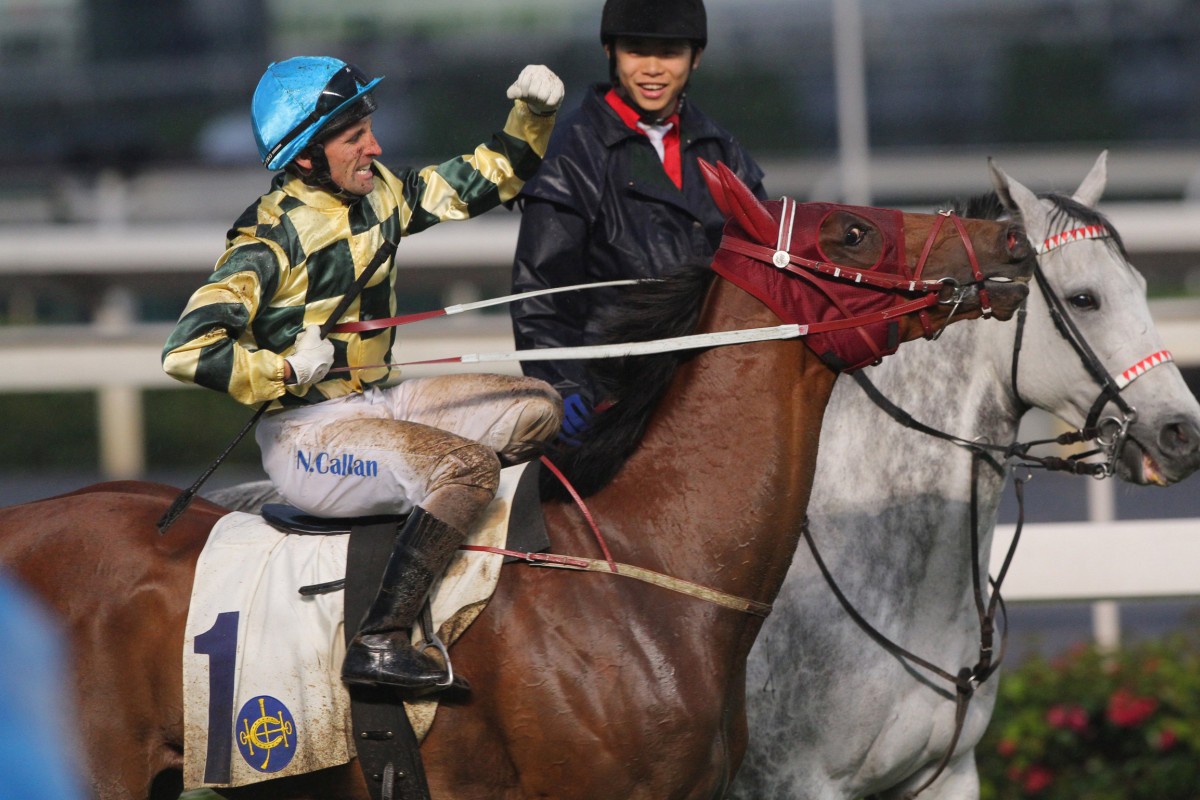 As the season drags on and the dog days of summer at Sha Tin approach, things can get a little testy between combatants out there on the track – and on Sunday the tension manifested in a touch of argy-bargy, an outbreak of aggression leading to an exchange of elbows between jockeys Neil Callan and Eddy Lai Wai-ming.
Lai was banned for a month, a total of seven race meetings, for improper riding, while Callan will serve five days after the pair traded elbows after a stretch of hard riding down the back straight. Callan was simply doing what good riders do here – trying to stay in a one-off spot and keep a fancied runner three-deep – but Lai wasn't all that enthused with the idea and rode his mount into that of Callan's. Elbows were lifted, and racing room was eventually established. It was hardly a medieval jousting arena or a remake of Ben Hur's chariot scene on the score of trying to hurt other humans while riding a horse.
Lai is a repeat offender at improper riding – he had been charged twice for similar infringements since 2001. While Callan might be more cowboy than choirboy in riding style, and his trademark victory salute is a "devil's horns" gesture a Metallica fan might flash, he is a nice fella and had kept his rap sheet clean. This was his first improper riding charge – and even then it could be argued it was retaliatory and in self-defence. Callan might have been a bit hard done by given some of the other breaches of rule 100 (1) we've seen, and as it turns out, it has been announced the in-form Irishman – who pleaded not guilty at the time – will appeal.
We are now more than two-thirds through the season, so there's been a lot of racing, but there's still a long way to go and tempers can easily flare. Last week Olivier Doleuze came this close to an improper charge of his own at Happy Valley for an "elbows up" effort. It was only a "what happens on the track, stays on the track" tight-lipped code of honour from another jock in the stewards' room that stopped the Frenchman from being punished. Anyway, Doleuze could easily have argued he was just doing an impersonation of Australian hard man Nash Rawiller, whose awkward-looking but ultimately effective "wings out" riding style is said to even stop horses from wanting to go past him.
A quick look through recent improper riding charges not surprisingly reveals some of the most intense competitors, and also some of the greatest characters to grace racetracks here in Hong Kong.
It was January two years ago when "frustration turned to lunacy" for another Frenchman, Maxime Guyon, and he lashed out at rival Keith Yeung Ming-lun at Sha Tin and struck him with the whip (see the race replay here):
Brett Prebble has over-stepped the fine line between hard-riding and riding right into people, or elbowing other jockeys – most famously in the 2010 International Jockey Championship at Happy Valley when he did his bit for international relations by issuing a "get the hell off me" elbow to Hiroyuki Uchida. Is there a more intense competitor than Prebble? You can't have that fire without a few people getting burnt.
Callan stormed off the racetrack in disgust last night, but at least he plans on coming back – unlike the greatest of all time when it comes to anything improper: the quintessential "mercurial Frenchman" Eric Saint-Martin – who racked up four charges in the latter part of a 15-year riding career in Hong Kong.
None of those charges actually got him banned for good though. It was failing to appear at a raceday inquiry on May 27, 2009 – again, at a time when the weather hots up and the racing sucks – that proved the back breaker.
When asked to be a witness at a careless riding inquiry, Saint-Martin – having finished his riding engagements for the meeting – went home to his nearby Jockey Club-provided apartment and changed into something more comfortable. We will let colleague Alan Aitken's straight reporting of the incident tell the story from there: "Upon his return to the inquiry, dressed in beachwear, stewards were unimpressed with his jovial response when asked why he had left and he was fined HK$20,000 for misconduct and stood down from riding."
Again unfair, as I do not see anything in the rules of racing regarding whether board shorts or beach towels are allowed in the stewards' room.
Saint-Martin – a brilliant rider, as good as any in the world on his day – then offered an insight into the temper that had previously caused him to ride his horse into rivals, try and push another jockey from a horse in a race and basically behave like a racing journalist's dream during his stay here with these all-time quotes.
I am very disappointed at how this has been handled – what they have shown me is the Jockey Club is totalitarian rule
"I am very disappointed at how this has been handled – what they have shown me is the Jockey Club is totalitarian rule and they don't give a f**k about anyone. That's why people don't want to come and ride here any more," Saint-Martin spat at the time. "They could have allowed me to finish the season – as it is, I have to wait for my children to finish school before we leave – but it was a matter of face to them, to sack me rather than end it nicely. After so many years, it was hard. I never did drugs. I never pulled up any horse. Still they treat me like a criminal."
Saint-Martin later failed at a show cause hearing as to why he should be able to return, ending one of the great Hong Kong riding careers – and allowing officials to breathe a sigh of relief.
Things don't usually get physical in Hong Kong, but it is hardly surprising it gets tense given how tight the racing is, and plenty of words are said on the way back to the dressing sheds that go unreported and unpunished. Although Doleuze and Tye Angland did get into trouble when picking the wrong spot "to get all up in each other's faces" and exchange unpleasantries outside the stewards' room earlier this season. We still can't find anything as good as the US racing has provided in recent years – from which a quick sift through YouTube provides a trove of highlights that could fill a pay-per-view fight night. The undercard would be the whip battle between Eriluis Vaz and Ademar Santos from Philadelphia Park in 2010...
...but the marquee match would have to be Calvin Borel and Javier Castellano's would-be scrap on Breeders Cup day later that year...
Check out the facial expression on Borel – he means business, but it is scientifically proven that small people are 100 times tougher and more confident of winning a fight when being safely held back by multiple persons in the case of conflict.
So what is happening with these jockeys? This doesn't happen in athletics. Ever heard of the acronym HALTS? It stands for hungry, angry, lonely, tired and serious, and it refers to the situations where people can get a little out-of-sorts. For jockeys two of those factors are a constant given – they are regularly hungry and pretty tired too, given the hours they have to be up for trackwork.
Angry? Sure – even the best jockey loses more than he wins. And you have to be serious to get on a 500kg animal, and then have the temerity to hit it to make it run faster. So that leaves lonely and the thought that after all, maybe all Eric Saint-Martin needed in those 15 tumultuous years was a hug.