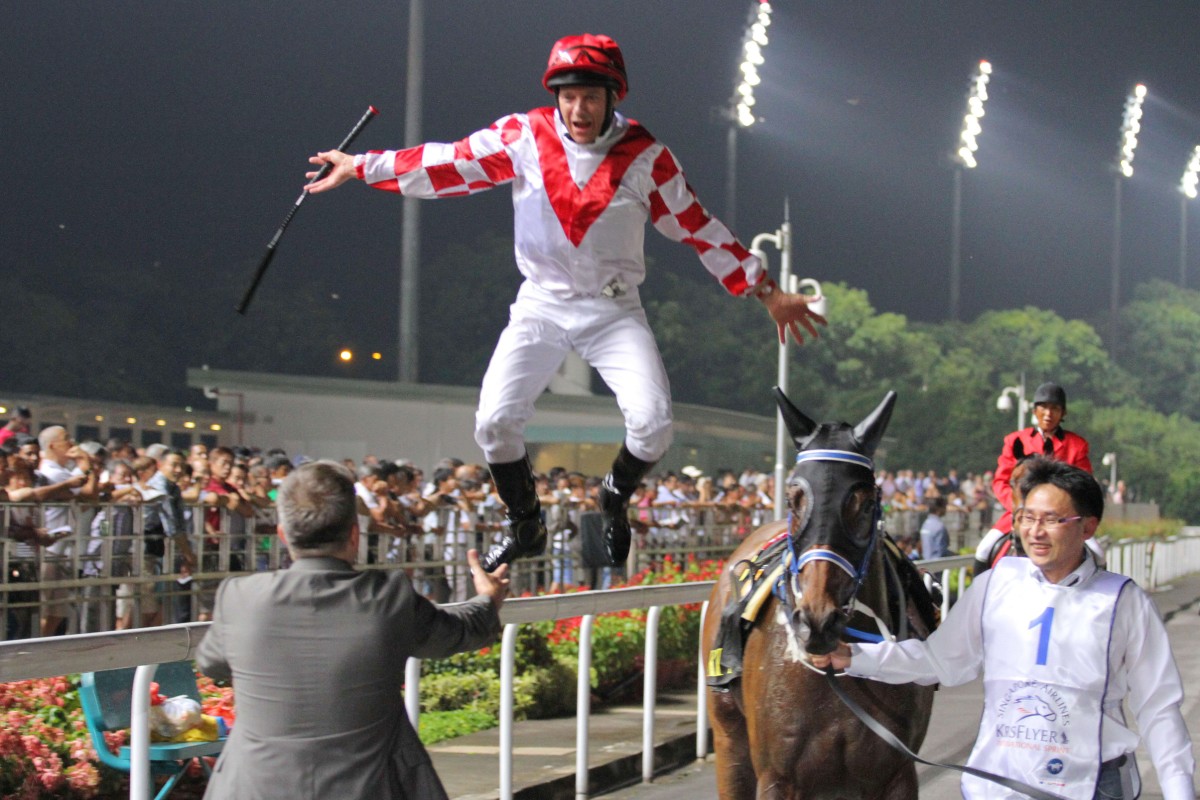 "A horse gallops with his lungs, perseveres with his heart and wins with his character," said Italian thoroughbred breeder Federico Tesio, and there aren't many better examples than the gutsy pair that covered themselves and Hong Kong in glory in Singapore on Sunday night.
There are more glamorous, naturally talented and physically gifted horses than two-time KrisFlyer International Sprint hero Lucky Nine and Singapore International Airlines Cup victor Dan Excel, but there are very few that show the same tenacity and will to win.
Both seem underrated in their own way – as much as multiple Group One winners can be – maybe because they grind more often than they dash away by big margins, and seem to be constantly fighting some sort of adversity.
On Sunday night at Kranji both did far more than grind – they smashed their rivals, making the most of good draws.
Lucky Nine has now won seven Group Ones, more than any sprinter since Silent Witness. Sacred Kingdom won six, but if you asked the average race fan, or ratings expert for that matter, "who was the better horse?", nine out of 10 would say Sacred Kingdom.
If you lined them up on their best day, Sacred Kingdom probably wins and he was sprinter of the year on four straight occasions. But those types of comparisons are better left until both horses are retired, and Lucky Nine is, remarkably, still going and zoomed past Sacred Kingdom's career earnings with a second in the Sprint Cup, before adding another HK$3 million over the weekend to edge past HK$50 million in prizemoney.
When you watch Lucky Nine and Dan Excel extend to the finishing post, it's hard not to believe they know what they are born to do
If anyone ever needed proof that a racehorse wins with its character, Lucky Nine is example A. He suffers from exercise-induced pulmonary haemorrhaging. A lot of horses do, but Lucky Nine is particularly predisposed to the condition.
To put it bluntly, the seven-year-old's lungs are susceptible to bleeding when he exerts himself fully, so galloping with lungs like that must be limiting. It is a condition that seems to strike many "triers" – but maybe normal horses just stop trying when it happens.
There's also the fact Lucky Nine's feet are so fragile he sometimes cannot wear regulation, nailed-on shoes and requires special glued-on plates, or remedial footwear-like bar plates.
Dan Excel, meanwhile, has always seemed half a run behind in a preparation, has been disadvantaged by bad barriers or unsuitable tactics, race scheduling and has existed in the shadow of stablemate Military Attack, but has still consistently punched above his weight.
When he won the Champions Mile last season critics had it marked down as a soft win, on a leader-biased track against weak opposition. Even after finishing runner-up to Military Attack in Singapore 12 months ago, a string of big-race placings and another enormous run in this year's Champions Mile, it still took some lobbying from owner David Boehm to convince Singapore Turf Club officials to grant the six-year-old a place in the field. It seems absurd now that they even needed some arm twisting – it won't be required next time.
Dan Excel might even be underrated in his own stable. While teacher's pet Military Attack gets the kid glove treatment, Dan Excel has always been a round peg in the square hole of Hong Kong's limited race schedule.
But Dan Excel just turns up and goes to work. It was telling this week that while Military Attack made a nuisance of himself by dumping a trackwork rider and showing a general reluctance to anything asked of him with much vigour, Dan Excel went to another level after months of hard racing. He led the way in work and looked as strong as on day one of the season.
What Lucky Nine and Dan Excel show us is that these horses don't compete because they are scared, or forced to – there's no other way to do what they do than wanting to push through the pain barrier at a deep, perhaps instinctual, level.
Perhaps it's romanticising, or projecting human qualities on to an instinctive animal, but when you watch Lucky Nine and Dan Excel extend to the finishing post, it's hard not to believe they know what they are born to do.