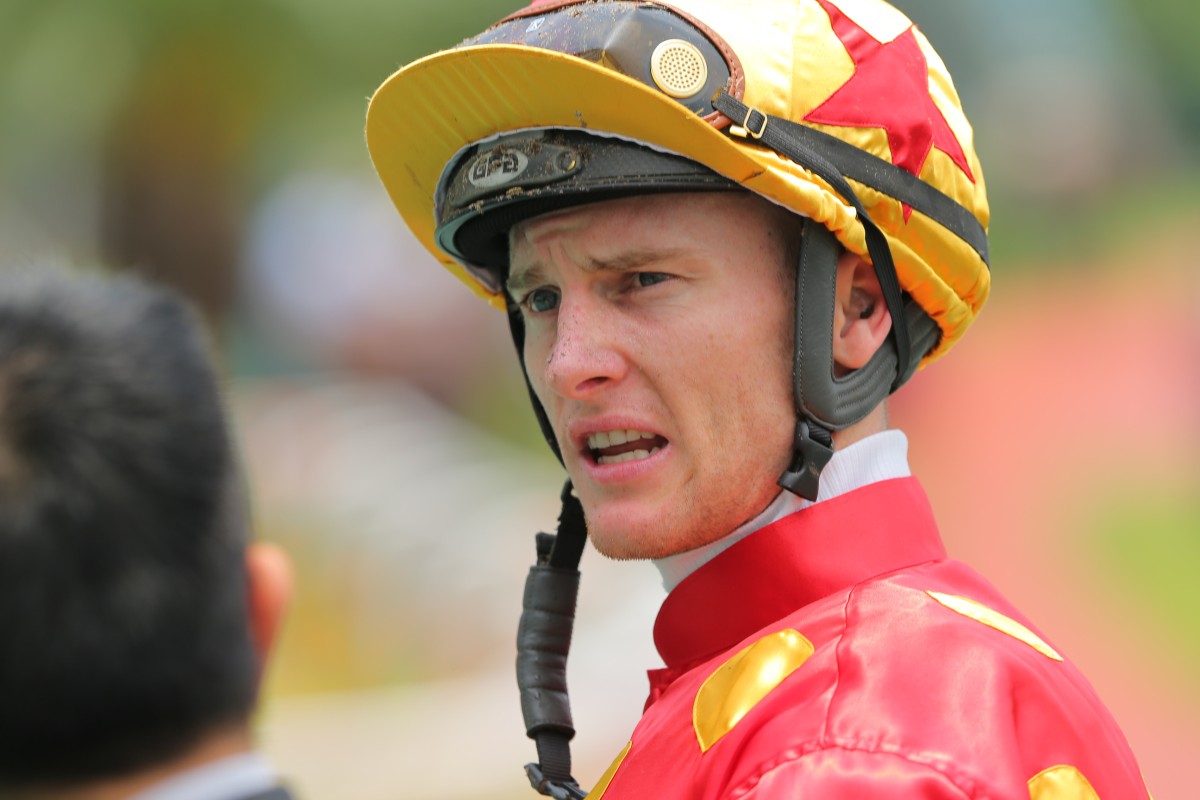 Just 32 races stand between now and the end of the season, and the main stories that will dominate the three remaining meetings are as good as set in stone.
It's a time for reflection, so we've come up with four of the numerous lessons picked up during this freshman year.
The riding ranks are more competitive here than anywhere else
There's no arguments about the quality of riders. Purton, Moreira and Whyte would be among any world's best jockeys list, while Teetan, Angland, Doleuze, Demuro, Berry and Bowman have performed well at different parts of the season.
Talent is only one part, though – to succeed, a rider must adapt to the way races are run.
It's not Australia, where a rider slots in before peeling in the straight. It's not the UK, where momentum is more important. It's not Europe and their small fields.
It's tight and rough – it takes good horsemanship and a sharp sense for how a race will play out.
The final event on Wednesday night saw a gladiatorial battle between Purton and Moreira. Purton on Gun Pit straddled the two- and three-wide line, keeping Moreira posted on Golden Addiction. Near the 800m, Moreira took off, trying to force Purton's hand.
Golden Addiction was beaten soon after straightening, while Gun Pit won comfortably, but it showed why only the best can survive in the jungle.
Don't be afraid to tip an outsider
Alan Aitken, in his weekly On The Rails column, wrote about the ratio of favourites winning, but I've found it pays to look for outsiders with a couple of factors in their favour.
The most interesting stat in his column was odds-on favourites winning at only 39 per cent this term. They should be winning at least 50 per cent.
On the flip side, 63 of the 739 races – 8.5 per cent – have been won by horses over 20-1. They should be winning at no more than five per cent.
So it's crucial to find the outsider – especially in the Racing Post tipping competition, where we are behind on number of winners but in front in terms of profitability.
It's been a good season thanks to three roughies – Shiny Day, Sugar City and Alpinefield. In fact, they were so crucial I've commissioned a life-size statue of each – shame they are bigger than the apartment itself.
Each deserved to be long odds, but could be found. On the maps, Shiny Day looked like getting a soft lead. Sugar City was lightly raced with a critical stable change from Sean Woods to Richard Gibson. Alpinefield, also for Gibson, had the blinkers applied.
There are plenty of times it goes awry, but sometimes it's well worth having a throw at the stumps.
Don't judge a horse on what they did once upon a time
Horses have far longer careers than they do elsewhere. Most are two stone lighter, with just a handful of entires and only two mares among the population.
Some race for the best part of a decade, from the griffin races until their mandatory retirement at the end of their 10-year-old season. Joy And Fun was a three-year-old when he made his debut in October 2006, and has only just been retired.
Not many are able to hold their form, though, and horses that once held their own in the higher grades slowly fall down the ladder.
The best recent example is Almond Lee's Nightlign, a Class Five winner last week. On arrival, he was a two-year-old Group One winner slugged with a 90 rating. However, he made light work of that when he won first time out in Class One.
He was then twice placed at Group level, and even ran in the 2008 Hong Kong Sprint.
In March 2010, his rating peaked at 110. But then began the long fall from grace as he went winless for almost four years, dropping down to 38 before winning again last July. This season, he needed to get to 35.
It's easy to forget how long he's been around. On June 8, four races after Nightlign failed in Class Five, Fionn's Pride blew most out of the Triple Trio. The tenuous link between the two? Nightlign won the 2007 Manawatu Sires' Produce Stakes, with Fionn's Pride's sire Alamosa back in third.
Overseas form does not necessarily equate to Hong Kong form
Nightlign's a bad example here as he did live up to his Kiwi form, but over the last few years, Private Purchases have arrived with hype because they have form around stars like Frankel and Dawn Approach – despite being well beaten. Elegance Klammer, a 10 length second to Frankel, took until start 17 to win a race here.
Another is Take The Rap. The Group Three winner arrived with a bit of fanfare, mainly because he had once finished a distant third to a handy debutant named Black Caviar.
Now a veteran of 41 Hong Kong starts, he is yet to find the winner's circle. His rating has dropped from 89 down to 17 – only four horses are rated lower – and mandatory retirement awaits.
Sometimes, they just aren't the right type for Hong Kong. Australian Group Two winner Vanilla was flattered by his three-year-old form and had too high a rating to start. And with bad legs, he was always likely to struggle on the firm tracks.
But sometimes it can just take time to acclimatise, like with Helene Super Star, who won the 2013 UAE Derby as Lines of Battle. After mucus-related setbacks, it finally all came together on Sunday.
Next time, before you buy the hype, have a look at how far they were beaten first…