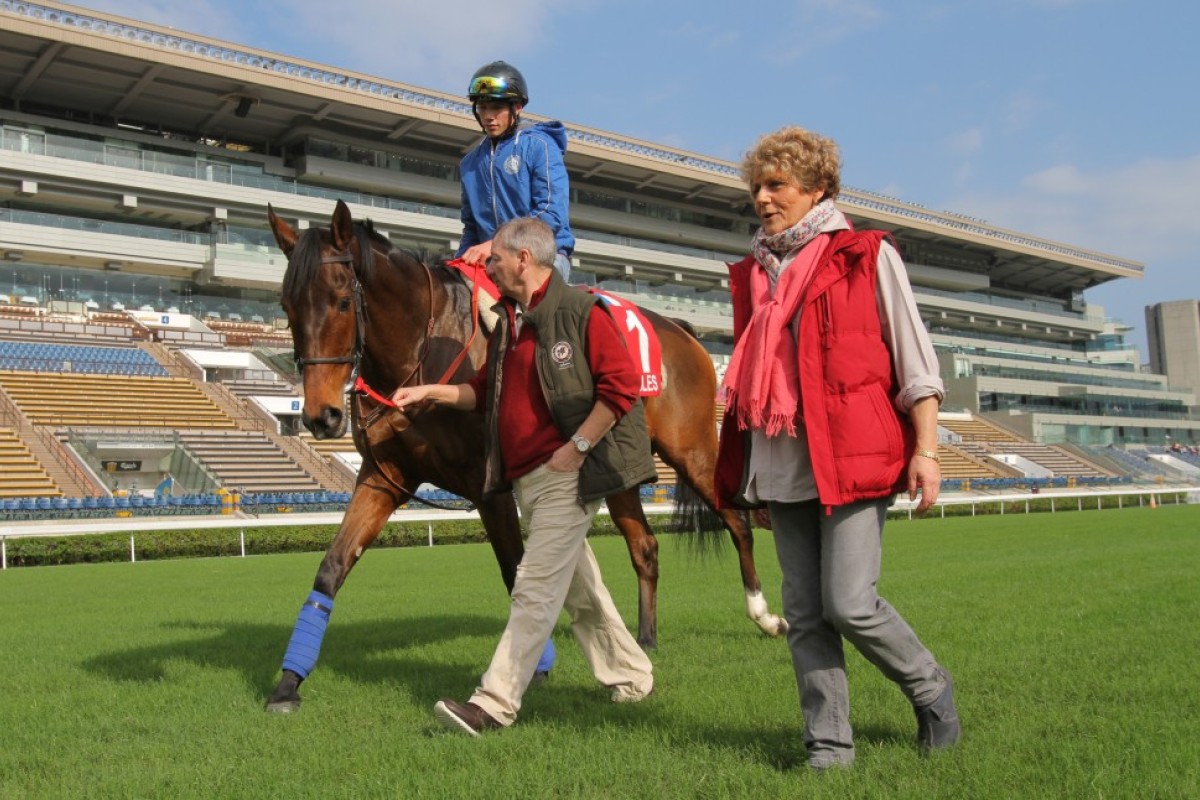 Wednesday's release of fields for next month's Longines Hong Kong International Races created plenty of social media buzz as the racing world prepares to converge on Hong Kong next month.
The SCMP racing team has been inundated with messages and tweets since the release of the fields, so in that spirit, here are four of the main talking points about next month's races.
Veterans prepare for battle once more
A quick glance at past HKIR records suggests that Lucky Nine and Cirrus Des Aigles are both set for record-equalling feats, simply by lining up on December 13.
Both will be lining up for the sixth HKIR appearance, a truly remarkable feat in an era when horses are more likely to retire after one or two seasons of racing.
Lucky Nine will tackle the Hong Kong Sprint for the sixth straight year, having won in 2011 and finishing 7th in 2010, 5th in 2012, 7th in 2013 and 11th last year at his other four appearances.
Meanwhile, Cirrus Des Aigles lines up in the Vase for the second time, having finished 5th in 2009, while his other runs were all in the Cup – 7th in 2010, 5th in 2011, 3rd in 2013 and 4th last year. The French galloper should probably be creating the record this time around, though – it's his seventh visit to Sha Tin, but he was withdrawn from the 2012 Cup after suffering a tendon strain in the days preceding the race.
Both will be long odds and justifiably so, although Lucky Nine showed a little spark last weekend when flashing home for fourth in the Jockey Club Sprint.
Speaking of Cirrus…
Family ties as Cirrus Des Aigles takes on Dariyan
Quite clearly, we are intrigued by this story and it has been something which we have received a lot of tweets and messages about.
As mentioned above, Cirrus Des Aigles tackles the Vase this year for just the second time. The only other time was in 2009, when he was an emerging three-year-old. He was already showing his warhorse qualities back then, entering the Hong Kong Vase at his 21st start and his 17th of the season. He was thriving on racing, though, and had been on an upward spiral heading into the race, winning the Group Two Prix du Conseil de Paris by six lengths before heading to Sha Tin.
That year, he finished fifth after a wide trip and was arguably unlucky not to have won, with his compatriot, the Aga Khan's Daryakana, instead taking the prize.
This time around, old Cirrus enters on a downward spiral, and not looking quite the same horse as in years gone by – and who can blame him, he's now nine. But of his 13 rivals for the longest of the HKIR features, the most interesting is Dariyan, the first foal of aforementioned Daryakana. And Dariyan enters as a horse on the up, having won the Group Two Prix Eugene Adam two back before a last start second to Prix du Jockey Club winner New Bay in the Group Two Prix Guillaume D'ornano.
It's not unheard of for siblings to race each other and the like, but this story is quite something, especially in such a big race on the world stage. Even take out Cirrus Des Aigles and it is a son trying to emulate his mother in one of the world's big races. We would love to hear from any readers of The Griffin who could top this.
Mongolians add new spice to 'United Nations of Racing' – but only the latest in odd visitors
The Jockey Club's marketing strategy for the Hong Kong International Races has been a bit of a mishmash, at least in terms of taglines. There's the Turf World Championships, the United Nations of Racing, the Greatest Show on Turf…surely it makes sense just to go with one tagline and promote it to death?
But let's go with the United Nations of Racing concept.
OK, so he will be flying the stars and stripes of the United States, not the soyombo-adorned flag of Mongolia, but he is as Mongolian as they come – it's just that he's coming from Gulfstream Park, near Miami, instead of Ulaanbaatar.
Mongolia is the newest country to join the United Nations of Racing, it seems. While the big guns of the thoroughbred world are all there, as expected, there have been a few odd participants in the past.
Perhaps the oddest came from Denmark, with Copenhagen-based trainer Flemming Poulsen preparing Dano-Mast to finish third to Precision in the 2002 Hong Kong Cup. Quite something for a country that has less than 500 horses and is not seen as a thoroughbred stronghold.
A year earlier, Saddle Up came to Hong Kong to run in the Cup after dominating racing in both India and Malaysia. The Indian-owned gelding was based in Singapore when he made the trip to Hong Kong, then trained by Laurie Laxon, but he still flew the orange, white and green flag as he finished sixth to Agnes Digital.
And despite the proximity of Macau, just an hour's ferry ride across the Pearl River delta, it still seems quite amazing that some of their best horses – who would struggle in Class Threes here – have been HKIR participants. Natural Blitz even managed to finish third to two of Hong Kong's best ever sprinters, Silent Witness and Cape Of Good Hope,
Does Australia actually race and breed the best sprinters?
After promising to be the best of the four features this year, the Sprint instead looks somewhat lacklustre and probably the least interesting – although given the other three are top-notch, it's perhaps an unfair comparison.
The defection of Chautauqua and Aerovelocity was a low blow for the race, but while there is some interest through the Japanese and the Americans, it still looks an anticlimax.
The one thing that does come to mind when looking at the Hong Kong Sprint field, though, is this: where are the Australian-bred sprinters?
OK, Chautauqua came out, but even amongst the Hong Kong-based entries, the Australians are outnumbered by the Irish four-two. There are also three American-breds and three Japanese-breds.
Flying the flag for the Australians are Not Listenin'tome, who had an established career down under pre-import, and Strathmore, who has raced solely in Hong Kong.
It raises the question: are the Australian sprinters as good as they think they are?
On Timeform ratings, the world's best sprinter this year isn't Australian – it is British-bred three-year-old Muhaarar. The second-best sprint performance came from an Australian-bred, but not one that has seen the great southern land in years – it was Able Friend's Premier Bowl romp.
While Australia's overall depth may be the strongest in the world, on a case-by-case basis it seems an overblown claim that is hardly proven these days.
With the way the Melbourne sprint programme is now set up, there is simply no excuse for them to avoid Hong Kong in December as it fits in perfectly. It may be a stretch to get them back in time for the Lightning Stakes in February, but the Newmarket Handicap in March and the T J Smith Stakes in April are still easily accessed.
Let's hope Australian trainers start to take the Hong Kong Sprint more serious - it's a win-win for both Hong Kong racing and for Australian sprinting.