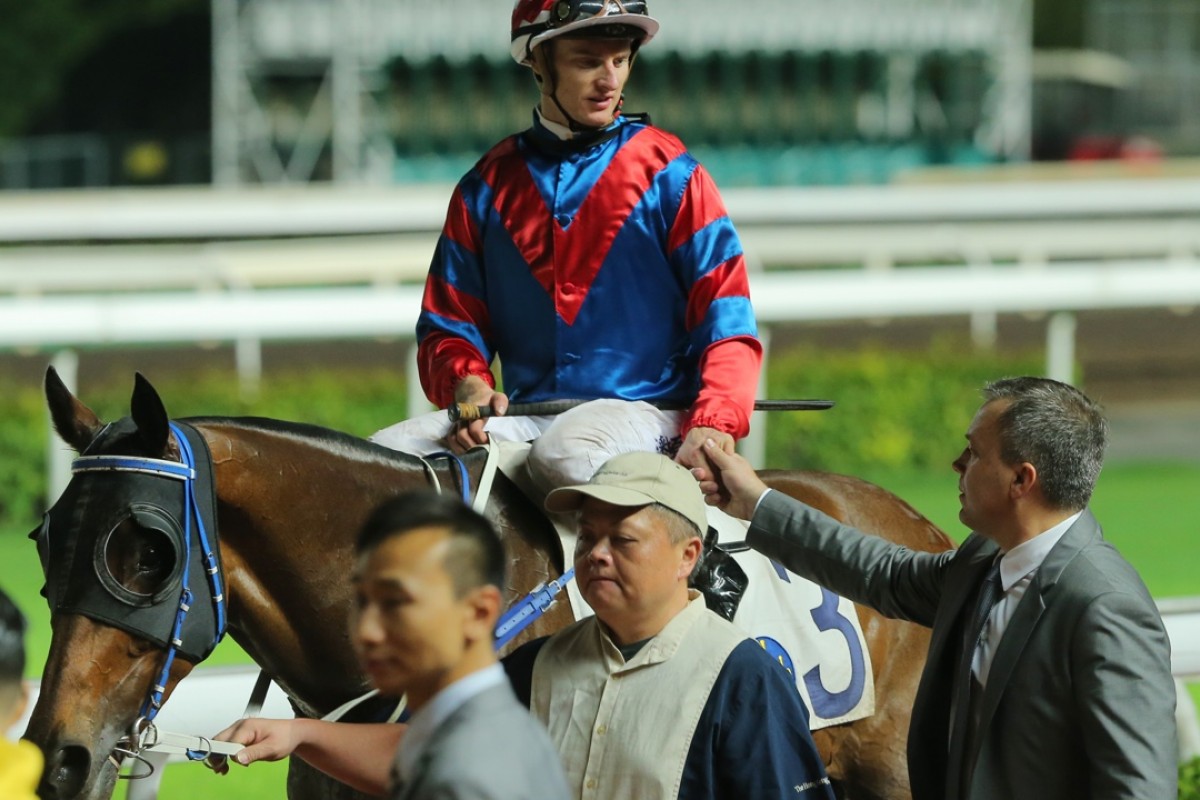 Wiser and more experienced was the best summation of Gun Pit's attempt on the Champions Cup in Nagoya today, where the unbeaten star of Hong Kong's dirt track finished a distant last in the 196 million yen (HK$12.36 million) event.
The first surprise was that jockey Zac Purton surged Gun Pit out of the gates to sit three-wide outside a strong leading pace but trainer Caspar Fownes said the state of the Chukyo dirt track forced the change of tactics on him.
"We know that isn't Gun Pit's thing, being gunned out of the start and he is never ridden that way in Hong Kong," said Fownes.
Here's @zpurton also taking time out to make some fans' day at Chukyo this afternoon...4 deep at the fence. pic.twitter.com/XYxcL1Pwbd

— David Morgan (@TheMorganGrind) December 6, 2015
"But the track was very much on-speed in the earlier races we had on the day, so we didn't have any choice but to press forward if we wanted to give him a chance."
You can't believe how heavy this track is and I don't think he handled it at all
But, moments after the race, Fownes said the gelding had failed to get comfortable at any stage on the much deeper, heavier surface and there was a suggestion that Gun Pit might have looked after himself after being checked rounding the home turn.
"You can't believe how heavy this track is and I don't think he handled it at all," Fownes said. "But I'm standing here looking at him afterwards and you wouldn't know he's had a race from the way he's recovered.
"He does have some cuts on his legs but otherwise he's fine, he's not blowing at all. I'm getting him scoped and making sure there's no blood inside but he seems to have come through it in one piece."
Purton, who came away with one win in a minor race at Chukyo, agreed with Fownes' assessment, suggesting he didn't go one yard on the sand-based surface.
"He just didn't seem to handle the track," he said. "I was following Hokko Tarumae going into the straight but I couldn't go with him, he was dead before then."
Yes. He'll still go, different surface there https://t.co/WaFgDspXTI

— Zac Purton (@zpurton) December 6, 2015
Fownes said his intention to run Gun Pit in Dubai was unchanged and he feels the trip to Chukyo will be of some benefit, mentally, to the horse.
"It will do him some good, just having a trip away, it's a different surface in Dubai and it's still on as far as I'm concerned," Fownes said.
The race went to Sambista, ridden by Japan-based Italian jockey Mirco Demuro, over Nonkono Yume ridden by another Japan-based foreigner, French rider Christophe Lemaire.