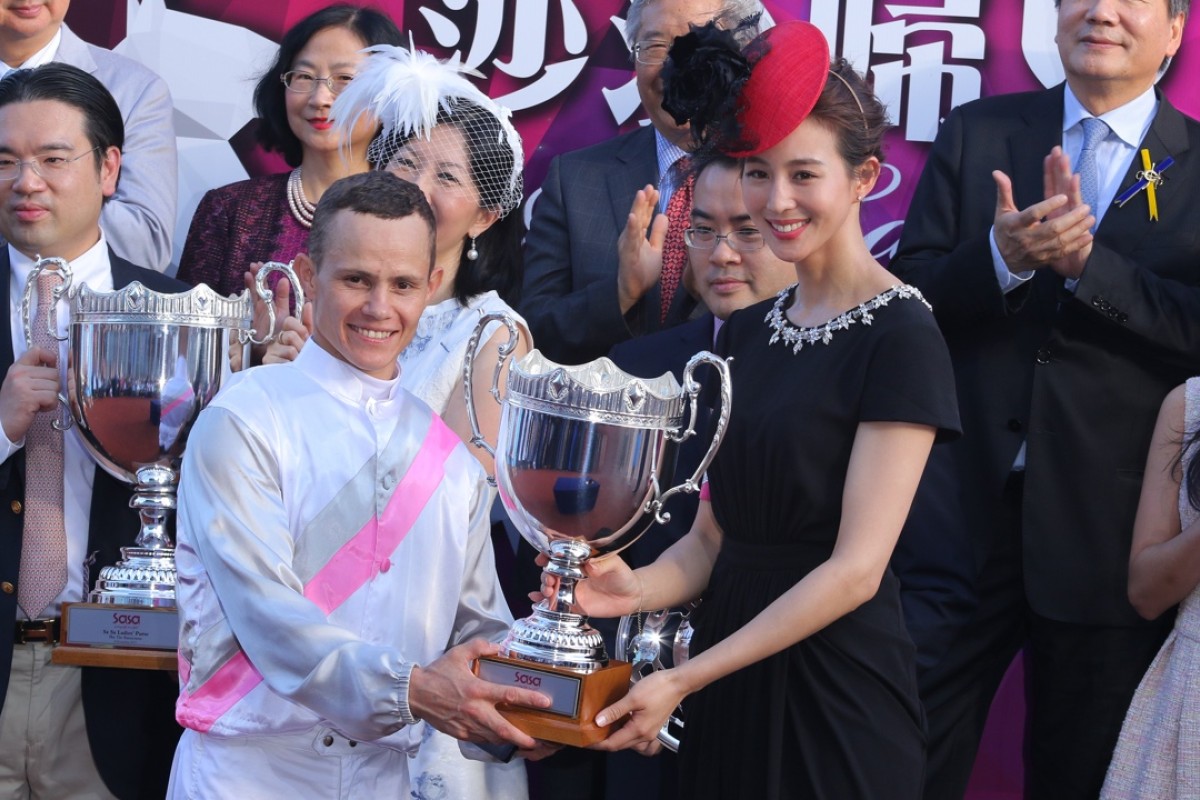 Hong Kong in 2013 was a safer place in many ways: booksellers specialising in Chinese politics went about their business, street hawkers in Mong Kok sold their fishballs for Lunar New Year without batons being wielded or bricks being thrown and lightweight jockeys lived without the threat of having their rides stolen by the ruthless Brazilian Joao Moreira.
The racing world has been tipped on its head since the start of the 2013-14 season. Empires have fallen, partnerships we thought might last forever have faded and Moreira has ridden more winners than any sane judge could have ever imagined.
So in light of Silvestre De Sousa "having a think" about whether to return to Hong Kong full-time ­­– after riding legend Tony Cruz anointed him as the man to take the sword from the stone and challenge Moreira – we offer the cautionary tale of Richard Fourie, who cut short his full-time gig last weekend and returned to South Africa.
Fourie's is a story that not only illustrates how dramatically the racing landscape has changed in less than three years, it is also a reminder of why it pays on a professional level to strike while the iron is hot and not to take anything for granted in Hong Kong racing.
Return to Sha Tin he did, but to a parallel universe where Douglas Whyte was no longer king, Neil Callan had become an established rider and Zac Purton ... had taken a chill pill
Fourie surprised many when he left here on a high in July 2013, having ridden 34 winners, stating he was going back to South Africa to win a premiership and, once that was sorted out, he would return one day soon.
Injury stopped him winning the title he coveted, but return to Sha Tin he did, but to a parallel universe where Douglas Whyte was no longer king, Neil Callan had become an established rider and Zac Purton, having won his championship and fathered his first child, had taken a chill pill.
When Fourie left there was a sense that his foundation was set – he was young and on the brink of following in the footsteps of the many South African champions to have risen through the ranks, including then-champion Whyte, whenever he returned.
The first thing Fourie's shock decision sparked was for his young rival in South Africa, Karis Teetan, to come and fill the void he left.
Teetan, like Fourie, is a lightweight – a jockey capable of riding the horses at the lower end of the weight scale – and he slid straight into the slot vacated by his fellow apprentice school graduate, even riding for many of the same stables.
Before Fourie there had been a dearth of western riders capable of getting down below 115 pounds and Teetan hit the ground running in 2013-14, landing a winner at his very first start and impressing with his positivity, both in terms of personality and in the saddle.
The biggest shift, and not just for the lightweights either, was just around the corner with Moreira's arrival, but also at this time, the partnership of trainer John Size and Whyte was slowly being pulled apart
A season earlier, a rule was brought in to ensure one jockey could not ride too often for a stable – some even dubbed it the Size-Whyte rule – and looking back the rule seems a touch unnecessary.
As Whyte's support from Size waned, Moreira arrived and extinguished it almost completely. As an aside, but this fits firmly in the category of how much things can change in less than a year, it was just under 12 months ago when Happy Lucky Dragon Win wrote of how Whyte faced a late career-defining decision of who to ride in the Hong Kong Derby: Luger or Giant Treasure?
He gave up the ride on the winner, and when the two horses fought out the finish in the Group One Stewards' Cup recently, he wasn't on either horse. Worse still, he didn't have a ride in the race.
So fast forward to start of this season, to Fourie's return: there is not only Teetan, but also Moreira, and a hungry bunch of local kids that have continued to develop. At first Derek Leung Ka-chun, Vincent Ho Chak-yiu and Keith Yeung Ming-lun seemed stunned by Moreira's dominance – at least before they were protected from the likes of Whyte and Purton, who couldn't get down to bottom weights – but the shake-up might have been the best thing for them and they now seem more steely in their resolve.
When Fourie wandered back into the Sha Tin jockeys room after just two seasons away, not only did he see Moreira, but there was also Chad Schofield, capable of riding 115 pounds himself, and of course Teetan – now with two seasons of support.
A back injury certainly limited Fourie's returns – although when he sought medical attention after it flared up earlier this month, he had already applied to cut short his contract – but it was more about lack of support that saw him opt out of the second half of the season, with just six wins from 217 starts.
Maybe the arrival of De Sousa – another natural lightweight, but with the strength and aggression of a Mixed Martial Arts fighter - was the final straw for Fourie.
De Sousa (apparently, according to the man himself, it's pronounced "De Sosa" and not "De Sooza" – but hey, what would he know?) is the flavour of the month.
After a win on International Jockeys' Championship night thrust him into the spotlight, he notched 15 victories from 10 meetings. His support from the bigger stables continues to grow and so has the question, "Why don't you stay full-time?"
The way things can change around here, who knows the world into which [De Sousa] will return?
Once on a hot streak, it pays to keep it going, and when weighing his options, it might pay for de Sousa to consider how much things can change in the space of 12 months.
Same goes for De Sousa's role back "home" in England, where he scrapped his way to an unlikely championship without the support of a major stable.
De Sousa is probably thinking he can have his cake and eat it too – compete for a second straight title and come back for a longer stint next time. The British season ends in early November and that is a good time to come back, but the way things can change around here, who knows the world into which he will return?