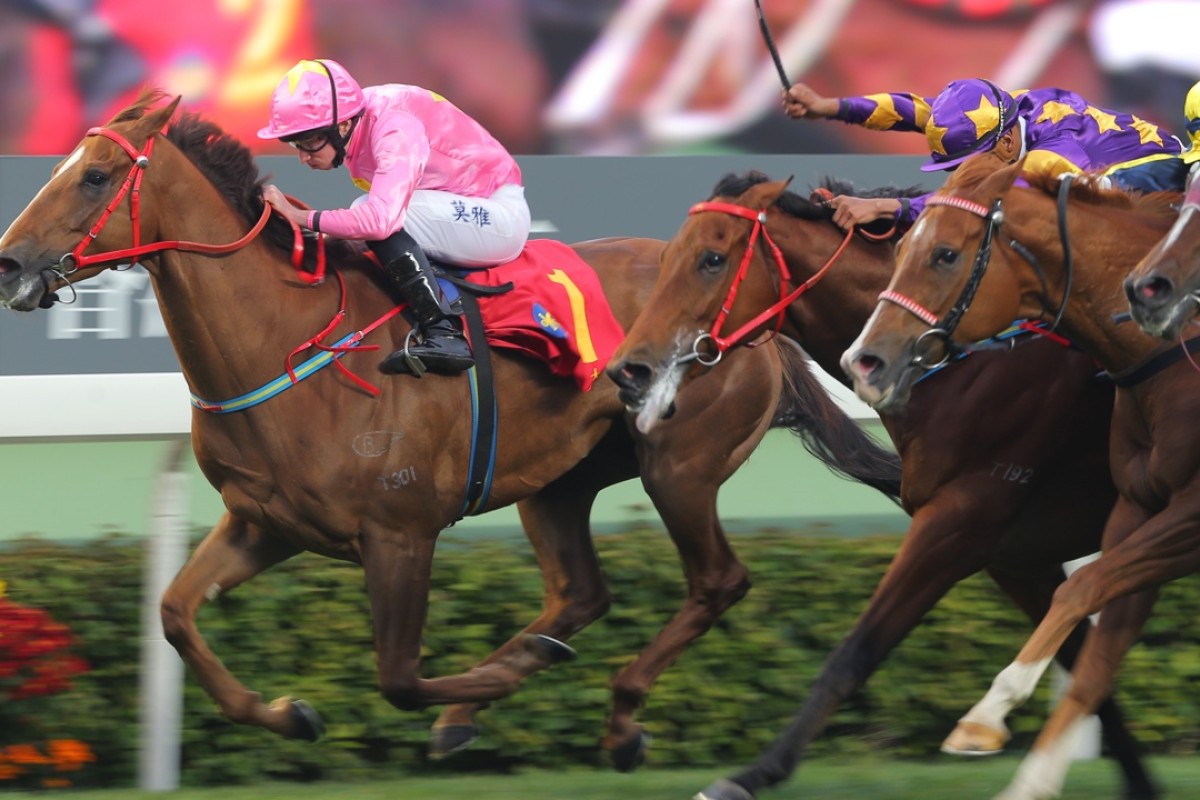 Has there ever been a better group of jockeys competing at a single non-international day meeting at Sha Tin than last Sunday?
What about a better group for a month-long stretch?
That's the type of amazing horsemanship we have been treated to of late, and not just in the feature races.
On Sunday's card, when the Classic Cup came of age as a race and produced an all-time, well, classic, some of the best riders in the world also did battle in far less auspicious, but no less competitive, events.
The jockeys' room, already containing Ryan Moore and Silvestre de Sousa for the past month, was bolstered by one-day visits from Hugh Bowman and Christophe Soumillon. Indeed, Sunday was a truly multicultural mix of champions from around the world – champions from Europe, Africa, Australia, South America and, of course, Asia, all thrown together around the 2,000-metre melting pot that is Sha Tin racecourse.
The contrasting styles were pitted against each other over 10 competitive races and set to boil.
Firstly, the Classic Cup. It was one of those races that will grow in legend as the years go by, one that will be getting replayed a decade or two from now when people are comparing great feature race finishes of a group of horses.
The quartet of Sun Jewellery, Werther, Blizzard and Eastern Express probably won't ever live up to the exploits of that illustrious group, but what a race. When race fans of the future watch those replays, English-speaking fans anyway, also on the record will be an exceptional race call by Brett Davis, who rose to the occasion. In what was an incredibly difficult finish to call, he nailed it.
The Classic Cup's relatively short history – it only started in 2006 – is littered with upset results that are symbolic of where the race has fit in, not only in the schedule but also in the average racing fan's consciousness.
It has been the in-between and almost forgotten race for four-year-olds, but hopefully Sunday's four horse war – two years after round two of the amazing Designs On Rome-Able Friend rivalry – elevates it to the type of status it deserves. It is worth HK$10 million, after all.
The old adage that a close finish is somehow indicative of poor form won't hold water here after Sun Jewellery, under a daring and desperate ride by Moore, edged out Werther, who got a typically hard-nosed, 10-out-of-10 effort from Hugh Bowman, his tough tactics rounding the bend nearly bringing his main rival's chances undone.
Just behind, deadlocked for third, were Eastern Express, Karis Teetan riding for his life like he always does, and Blizzard, with Gerald Mosse doing what he always does: giving his horse plenty of room to "breathe" around the bend. Epsom Derby fourth Giovanni Canaletto even served notice that he is a hope in the Hong Kong Derby with a sneaky fifth and, apparently, is set to retain Joao Moreira's services for the Derby.
It was a great race and the first four are all likely to bound for big things, but let's not get carried away with the overall depth. Friends Of Ka Ying was an honest sixth, but after that? Well, there are a few bloodstock agents laying low, and hey, there's always Class Two ... or maybe Class Three 12 months from now.
It might not be as simple as the longer the better for Giovanni Canaletto in the Derby which, while only 200m longer than Sunday's Classic Cup, begins from a tricky starting point, features two bends and is often run at a testing stop-start tempo. Giovanni might have looked like an Italian sports car getting through his gears late on Sunday, but he could just as easily be left spinning his wheels if the Derby becomes a quick sprint home after sluggish sectionals down the back.
While we are on the car analogy, watching the likes of Moreira, Moore and Soumillon compete in a Class Four or, heaven forbid, a Class Five is a bit like taking Lewis Hamilton, Kimi Raikkonen and Sebastian Vettel down to the local second hand car yard and seeing how they go.
The lower grade races with these jockeys matching wits is actually not such a bad test of skill – and if not the same spectacle of watching the top pilots on the finest thoroughbreds, it is an interesting case study nevertheless.
It's not necessarily a fair fight when riders come in for a one-off day of riding – they essentially pick up scraps much of the time and are often left twiddling their thumbs in the jockeys' room.
But the last five weeks have seen three-time British champion Moore and the current British champion De Sousa winning here "full time" – as it were – and it has provided some entertaining moments.
A personal favourite was watching Moore, De Sousa and Moreira extract all they could out of lowly Class Four runners Silver Dragon, Graceful Kingdom and Diamond Friends in a three-way tussle at Happy Valley – the combined competitiveness of the riders about a million to the power of 10 times more than that of the decidedly average horses beneath them.
The other side benefit of the incredible collection of riding talent on display in Hong Kong right now is what it is doing for the overall standard of riding – the young locals are really in the deep end, but their numbers are looking good.
It is easy to forget that Chad Schofield is still 22 – maybe because the second generation rider was already in the public eye relatively early as an apprentice, but probably more because carries himself with the calm demeanour of a far more seasoned individual. Riding against the likes of hardheads like Zac Purton, Nash Rawiller and Brett Prebble week-in, week-out ... well, if it doesn't make you want to quit and go home, it can only make you stronger.
And on Sunday, Schofield was a standout. He even edged out legend Douglas Whyte in a photo – Ambitious Champion beating short-priced favourite Victory Magic, much to the chagrin of the crowd, with whom Whyte is about as popular as Hong Kong chief Leung Chung-ying at the moment.
De Sousa finished his scintillating six-week stay yesterday, and Moore has another two meetings before he heads back home to prepare for the flat racing season.
Hopefully Moore will be back to ride Sun Jewellery in the HK$18 million Hong Kong Derby on March 20, a day when the best of the best will be back together again, banging heads in the lower grades as well as the big one.
Really, the Jockey Club should gather this special group together for a parade ring photo for posterity.