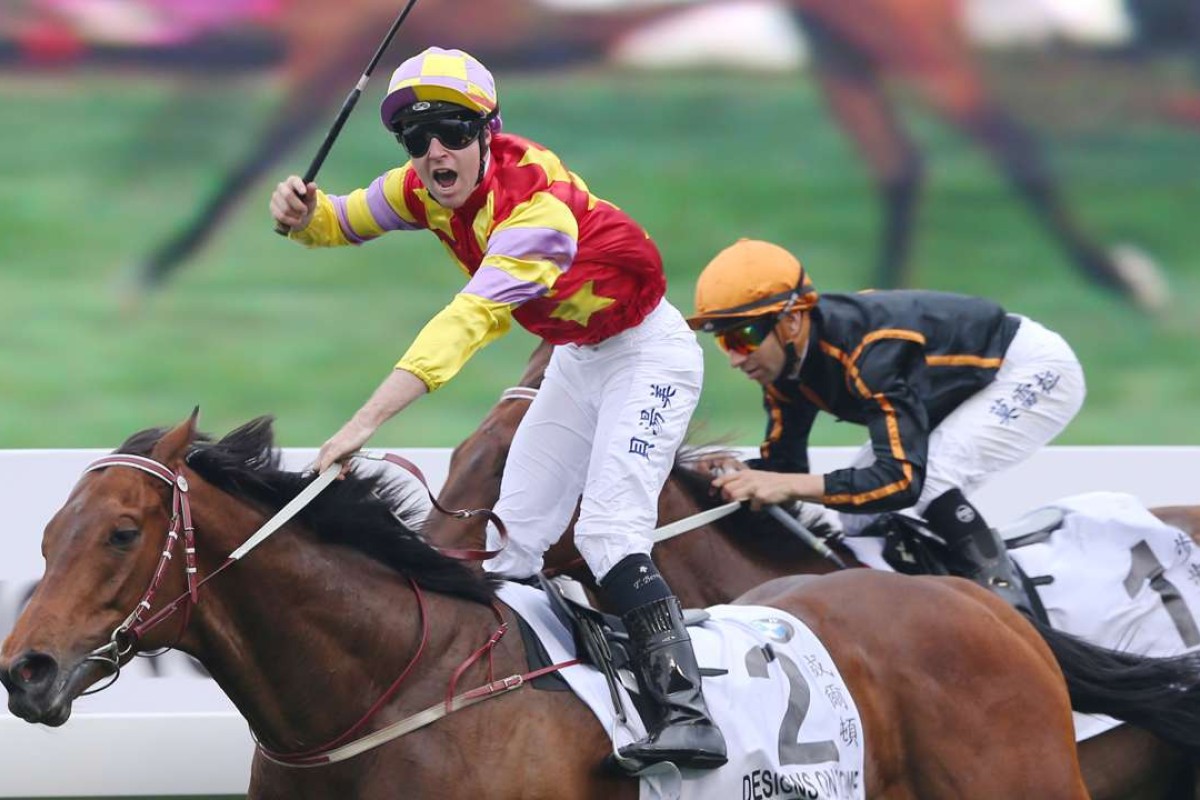 Perhaps it is brand name recognition or the once-in-a-lifetime allure of the Hong Kong Derby that convinces connections to go that extra frequent flyer mile, but there is certainly no fixture on the calendar that motivates owners more to secure a big name overseas-based jockey for a guest appearance.
While the big names add to the occasion, does a mercenary rider really make any difference to a horse's chances?
Six of the 14 jockeys riding in Sunday's HK$18 million feature will be brandishing business class boarding passes following overnight flights into Chek Lap Kok – it would be seven if not for a Christophe Soumillon suspension – and while the big names add to the occasion, does a mercenary rider really make any difference to a horse's chances? And are owners too readily ignoring the abundance of talent that is left sitting on the sidelines?
Former leading trainer David Hayes used to call meetings like Derby day "show-off days" and it does seem like getting your very own foreign jockey has become the equivalent of a luxury watch or handbag: it is the must-have accessory for entering the Sha Tin parade ring for a Group One.
Three of the six jockeys flying in for guest appearances will be reacquainting themselves with horses they have ridden already this season – Ryan Moore on Sun Jewellery, Hugh Bowman on Werther and Silvestre de Sousa on Lucky Girl.
Fair enough for owners and trainers wanting to maintain a winning combination – it is an approach that has worked in the past with three of the past 10 Derbies won by a fly-in jockey in a similar situation.
Soumillon saluted on Viva Pataca in 2006, Maxime Guyon on Ambitious Dragon in 2010 and Tommy Berry on Designs On Rome in 2014 – that trio all rode the same horse in lead-up races, yet the one-off, pinch-hitter approach hasn't been as successful.
The first time Berry sits on Helene Paragon will be in the parade ring minutes before the race, although that is far from an uncommon situation for a modern jockey. Berry won the 2013 Audemars Piguet QE II Cup on Military Attack as a 21-year-old on the first day he ever had his Australian passport stamped.
Familiarity – at least with a horse, but even a racetrack – doesn't seem to make much difference really. In last year's Derby, Tye Angland, who flies in to ride Benno Yung Tin-pang's Friends Of Ka Ying for the first time on Sunday, managed to sneak Romantic Touch into the placings at 153-1 for the trainer in the same situation.
Ahead of him in second was Moore on another outsider, Got Fly, after the English jockey had to make a mad dash to get to Sha Tin after flight delays and arrived at the track just 20 minutes before the big race.
This time Moore has been brought back to try and complete a historic three-peat on Sun Jewellery after wins in the first two four-year-old features.
Size is obviously happy to have the same jockey aboard for the big day, but doesn't seem to place too much credence in who is in the hot seat – as long as they are good, of course.
For him, it is always all about the horse.
Once, when pestered for confirmation for which jockey would ride Glorious Days in an upcoming feature, Size answered with a parable of the type genius trainers tend to use when dealing with annoying reporters.
"When you go and watch Romeo and Juliet, are you going to watch the play or the actor playing the lead role?" he said to a slightly bemused pressman with little knowledge of writing beyond the type found on the back pages of newspapers. "It might be better to have a good actor playing Romeo, but any decent actor can do it. The real star is the play itself."
The Romeo and Juliet analogy is a good one – a poor actor fluffing lines can butcher even Shakespeare, as can bad riding on a live Derby chance – but even the greatest jockey in the world can't do a thing without talent underneath him. At least Moore, having ridden Sun Jewellery before and having been on the big stage plenty of times, knows his lines.
Meanwhile, De Sousa is working a challenging Off-Broadway production – he can extract everything from Lucky Girl but it will take close to a miracle for the horse to be in contention, yet for owners having a big name fly in for the day isn't just about results.
The Derby is a race where simply having a runner carries a certain cachet, so bringing in a jockey is a cool way to impress your friends and business associates – and why not make the big day even bigger?
The biggest of big names, Frankie Dettori, was even offered the ride on White Magic – a horse that will start at long odds – but knocked it back. Still, it didn't matter what chance the horse had, how cool would it be to get your photo taken with Frankie?
In a world where brand name is king, Dettori might be the Gucci of jockeys but White Magic now gets Blake Shinn, not necessarily a Gucci knock-off from across the border, but maybe the hip streetwear alternative – a talented young jockey a couple of rungs down the international notoriety ladder perhaps, but who will be desperate to impress and push claims for a full-time spot here in the future.
The influx of overseas-based riders means Brett Prebble, he of plentiful big race experience, in superb form and third in the jockeys' championship, will sit the race out, along with Neil Callan, always hungry, entrenched in the top-five riders and a winner of multiple Group One races over the past few seasons.
The six one-day licensees also leave us with the question of where all of these jockeys are going to fit? Barring any mishaps at Happy Valley on Wednesday, there will be 26 available riders crammed into the Sha Tin change rooms on Sunday.
When the 14 jockeys walk into the Sha Tin parade ring for Sunday's feature, there will be 12 staying in the jockeys' room
As an aside, that number doesn't bode well for new arrivals Gavin Lerena and Eurico da Silva, neither of whom have been able to win a race during the early part of their tenures.
Comparisons between the new pair and the efforts of Gregory Benoist and Vincent Cheminaud now seem a little unfair. In January we wrote that the French-based duo had done incredibly well with a combined 11 wins from 188 starts, and while they did ride well, of course, they were certainly helped by a jockey room depleted by injury and suspension.
Since then, Matthew Chadwick, Ben So Tik-hung and Kei Chiong Ka-kei have returned, stewards have eased up on the suspensions and new arrivals have been left scratching for opportunities.
When the 14 jockeys walk into the Sha Tin parade ring for Sunday's feature, there will be 12 staying in the jockeys' room, and after the race there might be six sets of owners wondering whether it was worth splashing the cash for a ticket to ride.