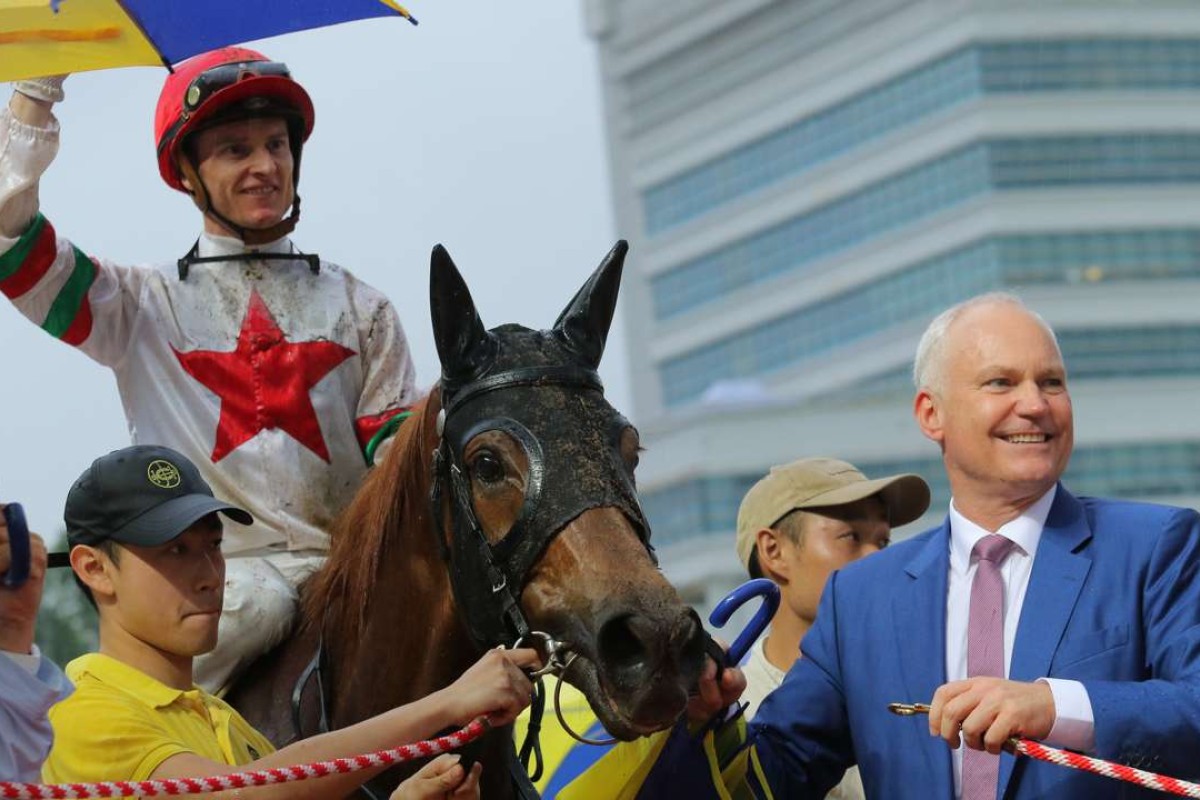 David Hall could be forgiven for doing a little rain dance yesterday after the trainer took the final two races at a drenched Sha Tin with Solar Hei Hei and Berlini.
The rain had been on and off all day, more a nuisance than anything substantial, although it did cause a track downgrade – first to a good to yielding track after race three, and then a yielding track after race six.
But Mother Nature held off the worst of the rain until after the running of the Audemars Piguet QE II Cup – just in time for Hall to saddle up his double.
Solar Hei Hei (Brett Prebble) stepped up to a mile for the first time and the honest type seemed to relish the trip and the conditions to score a tough head victory over Unicorn, catapulting himself into Class Two in the process.
"He's been a pretty consistent horse all year, his form says a lot," Hall said. "Early in his career, I thought he'd be a 1,600m horse but he kept doing it at 1,200m and the only time we stepped him to 1,400m he was disappointing after being caught wide. So we dropped him back to 1,200m and he won again so we probably took a little bit longer than we should have to step him back up in trip again, but we did always think he would handle it."
Prebble did put some credit down to the soft track but still believes the mile was the crucial factor in his dogged win.
"He was crying out for a bit of give in the ground, I think," Prebble said. "He's always shown that he has that sort of action, but I said to David after his last run that I think 1,600m wouldn't be out of reach for him now, so he got all the ticks today. He's a funny horse – when he wins, it always feels like there is more there but he just gets the job done."
Arguably the ride of the day came in the last race as Zac Purton hugged the rail early on Berlini, saving a lot of ground as he gradually moved through the field before bursting through at the top of the straight and finding enough to hold off Santa Fe Sun.
Berlini, a noted backmarker, broke through last start under new front-running tactics, but Hall said he just wanted the horse to be comfortable yesterday, wherever he was in running.
"I didn't want Zac to be held down to instructions," Hall said. "I was aware that he might not jump as well from the inside so I just said to Zac, leave him be where he wants to be, as long as he's not pulling the horse will be fine. He loves the ground and the way that Zac rode him was outstanding. The horse has travelled well, the other jockeys seemed happy to stay away from the fence and we got that easy passage up the inside, it was a masterclass."
Purton, however, said that the six-year-old made him earn his riding fees with the horse not responding well to any sort of direction or pressure.
"He's obviously a very tricky horse to ride," he said. "It actually worked out well because the others all wanted to stay away from the fence so it allowed him to cruise into it without me having to restrain him or wrestle with him. In the end, that was the difference between winning and losing. He hates being told what to do."