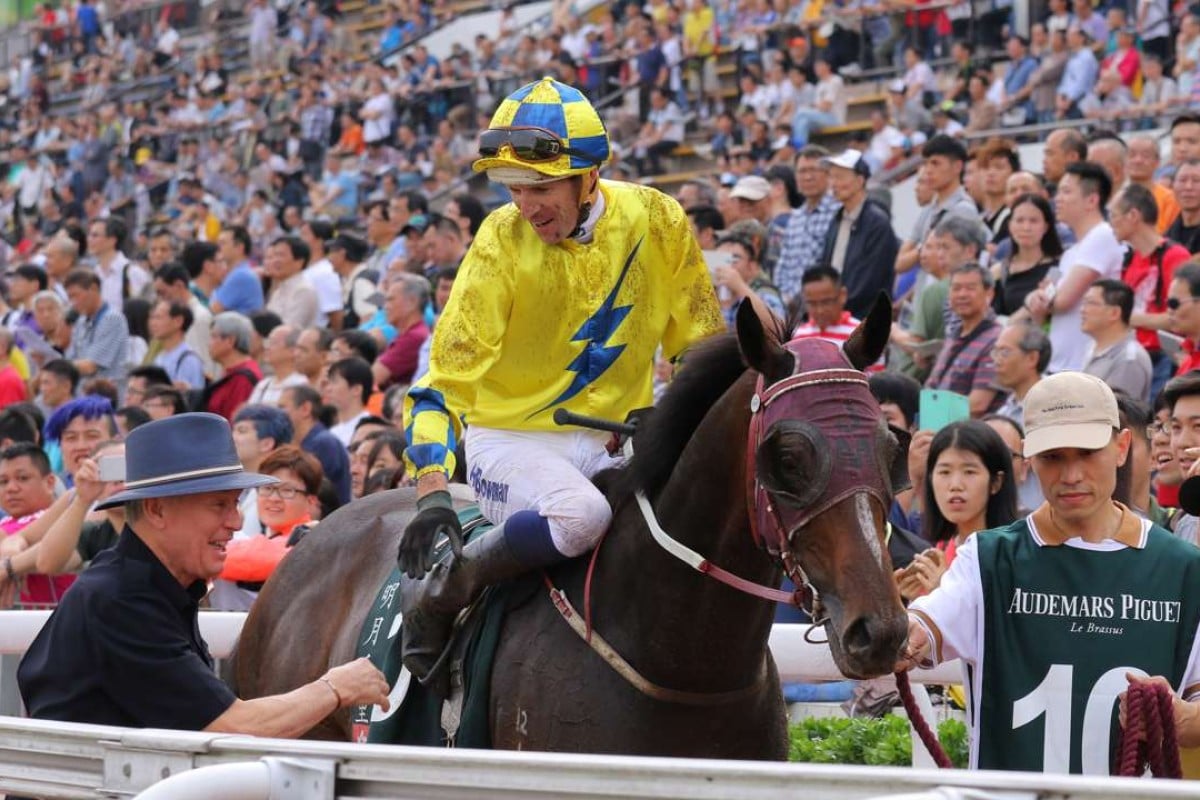 There are big races that play out to the script. There are others where the script is revised by an outcome and still others where the revisions carry on in running.
The plan was to be in the first five on a slowish tempo but there was a lot of pressure and I just didn't want to be any part of it
The 2016 edition of the HK$20 million Audemars Piguet QE II Cup looked more like a race where the script had been Google-translated into Sanskrit, then to ancient Greek, then back into English so that nothing looked at all the way it did when yesterday began.
It started with the threat of rain, then the actual rain, then a mystery plunge on Horse Of Fortune which had spectators wondering if the tote displays had lost a zero, and continued with an opening gambit from seven different jockeys to take up the running for half a league, half a league onwards as they descended side by side on the first turn.
It was "like the charge of the light brigade", as John Moore put it after Werther's colossal victory gave him his fifth win in the race and punters with Werther and daylight on their quinella tickets queued up to be paid.
Hong Kong Derby winner Werther 'world class' in QE II Cup demolition for John Moore
Of course, everyone remembers how the charge of the light brigade turned out – spoiler alert, badly – and winning rider Hugh Bowman's grasp of modern military history in assessing the situation obviously came into play. That, or at least a vague sense of impending doom that stopped him joining that particular fray.
"The plan was to be in the first five on a slowish tempo but there was a lot of pressure and I just didn't want to be any part of it," Bowman said later after playing a waiting game, then navigating a bold path risking the slower lane, but he could have come through peak hour on Gloucester Road and won.
Moore is ever the optimist going to these big events, a helpless condition brought on by frequent success, and had approached the strongest QE II Cup on record giving himself a sporting chance: "But I was still never, never expecting that. Werther's taken the big step to prove himself on the world stage, so Hong Kong has another champion in its midst."
WATCH: Werther completes Hong Kong Derby and QE II Cup double
It was supposed to be a triumph for the Japanese, who sent three of their best, but the irony was in the favourite's name and Lovely Day enjoyed anything but as he gave Joao Moreira a wrestling match early and a figure skating display later on the soft, slippery ground to which he was new. Bowman used him to bring the Derby winner into the final 300m then laid Lovely Day aside like an umbrella after the storm.
Not that umbrellas were to be put aside generally until quite a bit later. It was thundering down.
"As you can see, our planning was very good – the really heavy rain comes after the racing," said chief executive Winfried Englebrecht-Bresges, in buoyant mood with the result despite the intrusion of Mother Nature. "We are more than delighted with this result. More or less the same betting turnover as last year and the best attendance for five years at this meeting – in the circumstances we are very happy with that. And the races themselves, in challenging conditions, appear to have unearthed a new star."
The intensity of the rain increased, Engelbrecht-Bresges' speech was almost drowned out and he took his cue, handing on to handicapper Nigel Gray to assess the QE II Cup's place in the world after much had been made of it as the world's ninth-ranked race and Gray indicated not much would change: "I'd say we're looking at a rating similar to where the race was when Military Attack won it three years ago."